I've Got A Mind To Ramble
Brackens Blues
This article originated when I was looking for someone to play at our final destination for the Kentuckiana Blues Society Blues Cruise. I had Billy's Place at 2523 W. Broadway set up to be our venue. Billy Williams had nobody lined up and asked me for some suggestions. Hmmm...who would be a good fit at Billy's Place? The blues gears began to grind. It had been nearly 4 ½ years since I had last heard George Brackens when he opened for Marcia Ball at Jim Porters.
At the time, I was impressed with the original songs he played on his guitar and violin. George has been actively playing around town and Southern Indiana, at Jim Porters, Phoenix Hill, Heather's on the River and Stevie Ray's. A call to Mike Kinney, who books the music at Stevie Ray's, got me George's number and soon we had a deal at Billy's Place. My phone conversations with George lead to an interview to get more information out of this gregarious guy. His mother, Anna Mae, who was a pastor for thirty years at Greater Mount Zion Apostolic Church in New Albany, had just passed away, so there were some matters he had to attend to before we got together.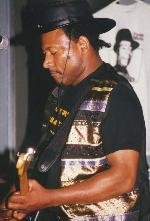 George Brackens
George's earliest musical influences were in his mother's church, which started in their living room in 1962. James Sanders, an elder in the church, showed George some basic guitar techniques when George was only eight years old. He quickly picked these up so he could accompany the services. The Taylor Brothers, who had a soul band, lived next door and George would sit in when they rehearsed.
George started playing the violin in the sixth grade at Grantline School after being inspired by Rubin Sher. Sher had studied violin at Julliard and had a wonderful way with kids, mixing magic tricks with music. He would go to the school, teaching the students to play. He later started the Louisville Youth Orchestra at the Jewish Community Center. Brackens still keeps in touch with the 84-year-old Sher.
The first band with paying gigs that George played in was Street Noise from 1969-1971. Brackens, who was still in high school, played violin in this jazz-oriented group, one that included the Burns brothers.
Then came George's big break performing at the Bull Island Rock Festival in Evansville, IN. on Labor Day in 1972 before 300,000 people. It all started with a band called Montana that was traveling through Louisville. When they were in a music store in New Albany, they told the shop owner they needed a violin player to play a big festival. George didn't get the message until a week before the festival, so he got on a bus to Evansville and met up with the band, whose members were all ten years older than the then 18-year-old Brackens.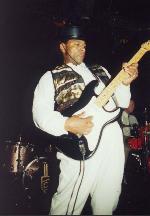 George Brackens
The Festival was promoted by Bobby Alexander, who had worked with Dick Clark. He also had the Beatles, Bob Dylan, Rod Stewart and Joe Cocker on the bill. Montana, with George, moved to Hollywood, California, into a big house on the same street where John Lennon and Canned Heat lived and recorded for Paramount. Alexander remained their producer and would book them for festivals together with several other bands, chartering a Boeing 707 to fly them to their gigs. In 1974, he packaged Leon Russell and the Gap Band as the headliner, Ike and Tina Turner, Dr. John, New York Dogs, Quicksilver, Rare Earth and Wolfman Jack as the emcee. Once when there was some turbulence on a flight, Wolfman got on the plane's speaker to say in his raspy voice, "Dr. John is up here in the cockpit, so everybody relax." George had just seen Dr. John walking down the aisle with his eyes as red as blood and he thought "we gonna crash." George remembers Dr. John, a.k.a. The Night Tripper, as being very down-to-earth and "all the way soulful."
Through various personnel changes George played guitar, violin and piano and became the main songwriter and eventually the bandleader. The group changed its name to Axis and they recorded an album, Frozen Fire Burning, on the Underground label, with Sam Cobb on bass, Tom Doyle on guitar and Doug Kinnerly on drums. Axis moved to St. Petersburg Beach, Florida, in 1974 and toured up and down the East Coast, doing classical rock.
George returned to New Albany in the mid-eighties and got married at 33. He played a country fiddle with the Concrete Canyon Cowboys and solo piano at Billy Dee's on Grantline Road. It was there he met guitar and harmonica musician Herman Anderson. The Derby City Blues Review was formed in 1985 and was one of Louisville's most talented and versatile blues bands, with George Anderson, Kush Griffin, Glen Duke, Bill Jordan, Riley White and Fatback in the lineup. George was impressed with Griffin's musical knowledge. He said, "he saw some genius he never saw anywhere else. If you knew music, Kush could talk to you and make you sound better."
When the band was recording at Mom's, Griffin would write out the chords in the studio to make the arrangements that would get the sound right. Brackens and Anderson were the first act to perform at Stevie Ray's on October 21, 1994, when they opened for Lamont Gillespie and The Homewreckers. After Anderson went to Florida, George started his own band, which included Alec Rhodes on the drums and Eric Collins on bass. Ron Allen took over on drums five years later.
Once when George was playing at a benefit for Lorene Wells at Zena's, he broke into a country hoedown on his fiddle with the 10th Street Blues Band. He said, "That place went bananas. I never got that kind of a response before, even with a country band. Fred Murphy got down on the floor and was kicking his feet up in the air." Foree Wells came up to George afterwards and said "You can't play no good," which was his way of making a compliment. Actually, Foree's sons played at George's wedding.
The current George Brackens Blues Band has Paul Bennett playing bass, Rob Barmore drumming and Allen McPheeters switching between keyboards and guitar. The band evenly mixes originals with their distinctive covers. George doesn't sing all his cover songs word for word, as he likes to improvise, doing his version.
He still does some of his original songs that go back twenty years ago like, "Flyin," "Live to Love" and "Too Many Lonely Girls." His basic philosophy for performing is to include the audience in a song and don't go over their heads. The band has recorded some live CDs at Phoenix Hill and Barretones for booking gigs. They are now rehearsing more originals to go into the studio for a self-produced CD that will be released by the end of the year.
George plays a Fender Stratocaster, which is a long way from the Kent acoustic guitar that his parents first gave him. He also plays a beautiful custom Fender, built by Roy Roper who owns the Music Parlor in New Albany. It has white inlaid mother-of-pearl with the upper body notched out. The regular Slinky strings are set low because he doesn't use a pick.
While George was playing in the early 90's he was also assisting Paul Moffett and Jean Metcalfe at Louisville Music News selling ads. When he was doing something similar for the Contactors Directory, he decided to put out his own publication and started the Entertainment Directory, which lasted from 1992-1995. This informative monthly publication listed all types of entertainment. When George is not playing, he manages a pressure washing business called B.B. Pressure Cleaning. His wife has been doing the accounting for the past seven years.
I asked George about his take on the local music scene. He said "The musicians need to support each other more, maybe have some kind of an association to exchange ideas, build up morale, back each other. When the people see this, there will be more turn-out at the clubs. Musicians won't have to compete with survival."
If you want to hear the George Brackens Blues Band, Lamont Gillispie and the 100 Proof Blues plus the King Bees all in the same evening, it's not too late to join the KBS Blues Cruise, set for May 17th. Mary Ann Fisher will also be along for the ride and maybe George will treat us to another blues hoedown.