Louisville Rock Upclose
By Eddy Metal.
Name: Terry Harper
Age: Eighteen years old
(Eddy: don't let this guys age fool ya! Dude is a seasoned vet with tons of experience!)
Instrument: Drums.
Band/Former Bands: I currently play for Sara Tonen, Tornacade and Not Of This World. I used to play drums with Sen.
How Long On Instrument: Been playing since I was 10, but I slacked for a few months, so I'd say I have 9 years experience.
Equipment: Five piece Pearl export series drums, Zildjian cymbals, Remo heads, Pearl double bass pedals.
Influences: Morgan Rose (Sevendust), Mike Portnoy (Dream Theater), Josh Napier (Contortion/old Tornacade) and Ryan Murphy of (End Of Me).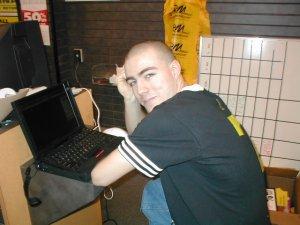 Terry Harper
Hobbies: I'm a huge `Simpsons' and WWF (old school) fan.
Favorite Movies: 3000 Miles To Graceland, Speed, Men Of Honor and Dumb and Dumber.
Favorite Food: Pizza.
Favorite Place: Chicago.
What I'm Listening to nowadays: 30 Seconds To Mars, End of Me, Outspoken, Taproot and Dimmu Borgir (Swedish metal).
Coolest Thing I've Done: Made the choice of going into high school not to pursue my sports career, but to dedicate 100% of my time to music and start being really active in the local scene at an early age. I think it has paid off so far.
Most Embarrassing Moment: September 18, 1998 at Pandemonium arcade I introduced False to the Louisville scene by helping them get their first show.
In the weeks before, the only person I talked to was a sweet person named Shannon who was in contact with the band. Needless to say this "sweetie pie" ended up being a seven foot monster who was their vocalist. Not to worry, he's still my "sweetie pie" though.
(Eddy: Damn, Terry. It's a good thing you didn't try to meet for a romantic encounter! Shannon probably would have killed you. LOL).