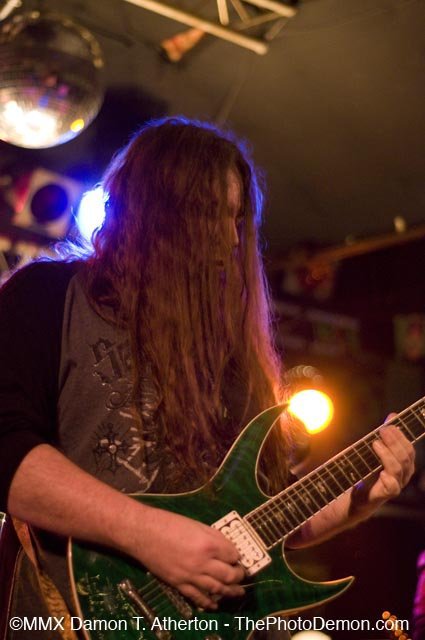 News From the Pit

Hello, all. Have a seat, kick back and enjoy me running my mouth about all kinds of stuff regarding this music scene. Local news good and bad, juicy gossip, showdates and more than likely whatever else you can think of.

Derby is here, along with a bunch of shows I plan on attending. I live two blocks from Churchill Downs and I tell you it gets pretty wild down here! Like the time two chicks got wild in my front yard, or the time when we took our amps outside to jam and three drunk Mexicans proceeded to do the Mexican hat dance to death metal!

But there's always a down side to derby as well. The traffic, the derby messing with the attendance at local shows and drunkards yakking in my front yard.

Anyways, to me derby is a fun time and I hope you people get out and check out some local shows if you can drag yourselves away from the Infield and the chow wagons. But then again, the Infield does sound pretty sweet.

The Metal Grapevine

Live Louisville Music CD Coming Soon! That's right; a CD of live Louisville artists doing what they do, rocking out "live." I absolutely love the concept, honesty and freedom that this project brings. No musical limits, no editing lyrics, no cliques or certain little groups of bands, no bullsh*t, in other words.

This, my friends is how it's supposed to be. Variety without bias. The CD will be available in late May or early June.

The bands featured are False; Incursion502; Element H; Factor 9; 13th Level; Silent Q; Kallus, Puc; Hallowtide; Gasket; The Exhaustion Method; Execrate; Phrail and One With Misery.

OutspokenToPlayFestivalInTheField:Louisville rockers Outspoken will be playing Churchill Downs' Festival In The Field in the Infield on the Thursday before Derby, with Seether, Trappt and Saliva. So get out there and support our hometown band!

MusicForLife!Any bands interested in being on a compilation CD featuring exclusive new songs recorded just for this project with all proceeds going to a charitable organization such as Crusade for Children or a cancer research fund or something of that nature should contact this email: msdfreak@hotmail.com.

StrappingYoungLadIsComing!For those who like the heavy stuff, check out Strapping Young Lad at Headliners on May 11. These guys are super talented and have a drummer who is unbelievable. Drummer Gene Hoagland used to play with one of the inventors of death metal, the band Death! If brutal bursts of speed, metal and insane vocals are what you are into, then do not miss this show! I was fortunate enough to see them when they played with Testament (another of my faves) at the Toy Tiger a few years back. And they ruled. Canadian singer Devin Townsend is a musical genius, period!

So if you like radio friendly top 40-ish rock music, you may want to stay home. Three Louisville acts will be opening for them, so be early.

TheHaunted:Swedish metal meisters The Haunted will be at Tekworld on May 24.

This is another must see metal experience!

NewBandAlert:The Exhaustion Method is a four-piece metal band from Mitchell Indiana. I like this band quite a bit. To me, they are a breath of fresh air. I get so tired of seeing the same bands playing out all the fargin time. It's a good thing seeing the occasional out of town band do well here.

Check them out, they are a very talented band and seem like nice guys.

ReturnOfTheBigheads!No, it's not return of the Jedi! Nor is it the return of Godzilla! It's the return of bands who think they are all that and a bag of chips.

That's right, these guys are counting chickens before they are hatched.

I hate chicken counters! Just because you have a lot of friends does not necessarily mean you are going big time. So leave the attitudes and ridiculous demands at home, if you please. When you get a gold or platinum album, then you can be a bunghole all you want. We will somewhat expect it then. Until then, remain somewhat humble if you can, please. I talked to one band who said the money wasn't sufficient enough for them to drag their equipment out. Since when is playing metal in this town about money???? If you are into the Louisville music scene just for that, then you might as well pack up and move on down the road.

1080NeedsSinger:The metal band 1080 is looking for a singer and they are a good band, so if you are a singer I'd jump on it if you are into the heavy stuff.

Email murf10808@cs.com.

TheWarOfWordsIsOver:I am glad to report that the war of words is over between a certain radio DJ and myself. He has made an attempt to patch things up and I accept. I never wanted this stupid war in the first place and I'm glad it's over. So there you go, he's sorry, I'm sorry, everyone's sorry.

Hell, I might even have the Fox come up and help me host the Saturday, June 7 show at Phoenix Hill. WLRS on Friday, WTFX on Saturday,.

That way, no station can be mad at me! HaHaHaHa

Upcoming Shows

class="subheadline">Expo

5

Sorry people, but no one sent me the show listings for Expo 5.

Saturday, May 10 - Tim Ferguson Benefit with Static Pulse, 11:34, Industry 11, Harlot, Aperature, Pulse 8, Severed Soul, Right Of Passage and One With Misery. 4 p.m.

class="subheadline">Headliners

Sunday, May 11 - Strapping Young Lad with Incursion502, Assisting Sorrow and Gaebalein.

class="subheadline">Phoenix

Hill

Tavern

Friday, May 9 - District Down, Magnetic Flux, High Output, Month Of Sundaze.

Friday, June 6 - Plan Of Man, The Constant, Element H, Evil Engine # 9.

Saturday, June 7 - Factor 9, After The Fall, My Own Victim and Voodoomachine.

Tailgaters

Thursday, May 1 - Malcolm McLaughlin

Friday, May 2 and Saturday, May 3 - Jet Lawrence, Four and Never.

Friday, May 9 - Underdog and The Blue Umbrellas.

Friday, May 16 - Eclectic, Four and Jet Lawrence.

Friday, May 30 - Boozer, 2 pump Chump, Magnetic Flux and South 75.

Saturday, May 31 - Never.

Tekworld

Friday, May 2 - Summer Dying, The Revenants, Assisting Sorrow and Gaebalein.

Saturday, May 3 - Evil Engine # 9, Blyss, Silent Q, Spil and Phrail.

Friday, May 9 - Born Yesterday,, Spindle, Puc, Wasted Dayz and Sex Tractor.

Saturday, May 10 - Pflanz, Countermeasure, Redemption Song and Sacred Sorrow.

Friday, May 16 - Sara Tonen, Ghost Busters, Without Wings, Collapse, Harbinger, Pitboss2000 and Bad Luck 13.

Saturday, May 17 - Cell 13, Nemesis, Versyte, Ketchup Stigmata and Dominion.

Friday, May 23 - Winters End debut show with Harbinger, The Kodan Armada, Hymn To Aton and Kathleen Barbra.

Saturday, May 24 - The Haunted(from Sweden), My Own Victim, Shai Hulud, Kataklysm, and bleeding Through.

Sunday, May 25 - Sara Tonen, Nemesis, One With Misery, Puc and Agent Of Evil.

Saturday, May 31 - Agent 51, The Revenants, Ants In An Argument and Right On Red.

class="subheadline">Outtatownerz

and

Otherz

Tuesday, May 6 at the Rudyard Kipling: Absense Of Faith.

Props Of The Month

This months props goes out to Expo 5 for stepping things up a notch or two and really getting out there and supporting us Louisville bands. And they are giving a lot of bands shows, not just the usuals who play every fargin weekend and at every national show that comes to town. That gets old real fast.

On Saturday, April 19 they had a big Derby show which had 25 bands play on three stages! Unfortunately I had to work that night, so I missed it. But from what I hear, a lot of people were going there. So support Keith Age and his club Expo 5, they have gotten their groove going and are ready to rock out! Great job and good luck, Expo 5!

Be sure to send me all your info by the 15th of every month. If you don't, you will be left out in the cold. So drop me a line at Eddymetal1@aol.com.

Meanwhile I'll see you freaks at Strapping Young Lad!