Bluegrass Beat
Ho, Ho, HO, Merr _
Oops, uh, make that Happy Thanksgiving. The stores do enough of the Ho Ho Ho stuff too long before Thanksgiving for me to help 'em. Anyhow I'm one of us folks who remember when Thanksgiving was just as big a deal as Christmas and Santa C. wasn't even mentioned before turkey, giblet gravy, oyster dressing, hot rolls, real butter (none of which had to be thawed first) and it was a day to remember. Now that we've got our priorities straight, let's see what's been happening.
IBMA Hoo-Rah
Ricky Skaggs mingled with fans in the hallway
September overlapped into October by way of IBMA. The big hoo-rah brought the opportunity to visit many good and cherished friends. Took some good pictures and made some new friends. None of which are bad things. Better do it while I can. They are going to skip town in 2005, going to Music (?) City. There seem to be mixed emotions concerning this switch. Lot of folks think if it IS going to move anyhow, move back to Owensboro. There are also many who are uncertain of the future of bluegrass in Nashville. We all know what it did to country.
Back to the Basics ...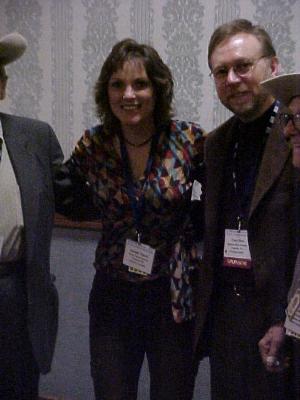 Rhonda Vincent posed with some fans
Following IBMA, some of us were able to get back to basics at The Tennessee Fall Homecoming, Museum of Appalachia, Norris, Tenn. I believe the crowd was up this year, partially indicated by a large crowd Thursday afternoon. The chairs set up arm-to-arm reached from the main stage front to the cane press. Those of you who have been there have a pretty good idea what a bunch of lawn chairs would be required to do this. The get-together was blessed this year, NO RAIN and great temperatures. A very small shower Friday night while all of the crowd was in their motel rooms and not enough to make any mess at the museum.
Had a very pleasant surprise on Saturday. A lady called me over to the "fence" and I didn't recognize her. You know how a change of hairstyles can make a difference with the ladies. Some more than others. She asked if I recognized her and I asked her to help me a little. It was Eunita, Brother Oswald's widow. I said something about the hair and she did also. I, of course, asked her how she was doing. She smiled a little smile and told me she was doing OK now. That was good to hear. They - she and Os - told me several years ago that she had followed him from show to show at every opportunity until she finally caught him, or the other way around. A very nice lady.
There were a lot of good moments, as there always are, at the museum. I came back from there and IBMA with a load of new material you will be hearing on my show, if you are listening. See end of .
The Hammer Sisters from Missouri were not at the Homecoming this year. I was told one of them was sick. Claude Boone was scheduled but didn't make it. I had to do a lot of chasing around at times hunting for folks, who in some cases were not there. Also introduced Ramona Jones on my stage and when they were back again, I realized I should have introduced her as Ramona Jones Gober. Corrected my earlier small blunder.
After getting a start a few years ago, our friends Bill Stewart and family have been regulars at the Fall Homecoming. They were there again this year and will continue to be for years to come. Some of you may have heard Bill and sons Kent and Mark on the Redd Stewart Tribute show on Sunday Bluegrass.
I've been thinking about how the Tennessee Fall Homecoming at the Museum of Appalachia has a way, or so it seems, of bringing Thanksgiving into focus. The atmosphere, the culture it is preserving just takes one to the time of a simpler lifestyle and the real values of life. When we took responsibility for our actions and commitments. When communities were safe, a hard days work was routine, when family and Christian values were the motivator on which a person's word was a bond.
Excerpt from Old Fashion's Good Enough For Me
So, you call me old fashioned/Go ahead if you like/I can remember family gatherings/Big Thanksgiving dinner, _fore Christmas was in sight/There was always that big turkey/Hot buttered rolls and oyster dressing/Peas `n gravy and mashed potatoes/Hurry Papa, say the blessing/Plates were passed and filled up full/Then back for second helpin'/If that's old fashioned well fine with me/Just take me back again. BB
Folks like to say, "Times have changed" and they don't like to say "Naw, we've changed the times."
Coming Up In The Area Music-wise
All I have at this time is the Shepherdsville Music Place schedule:
November 7, David Parmley & Continental Divide. November 14, David Davis & The Warrior River Boys. November 21, Carolina Road. November 28, Bluegrass 101, DECEMBER 5, Doyle Lawson & Quicksilver. Mark your calendar now: JANUARY 9, Dr. Ralph Stanley plus Tommy Brown & County Line Grass.
Streamin'
Well, quite a few folks at the different events in the past couple of months have asked for our "streaming address." Folks from many different states plus expressed a desire to get our Sunday Bluegrass Show. As many of you know, the show originates from WFPK 91.9 FM, Sunday night from 8-11. To get the stream, go to WFPK.org and click on listen live. Follow the instructions from there. You can e-mail me during the show using studio@wfpk.org. Thanks to all who listen and to all who may become listeners.
Happy Thanksgiving and make it a traditional one. When you've been there and done that, you know, just like the music, it's the best kind!