Name: Tim Flaherty.
Age: 33.
Instrument: 6- and 7 string guitars.
Band/Former Bands: I am now with Hot Action Cop; former bands include E-Flat, Roomforemotion, Shattered Reality, Holy Terror an Kings Ransom.
How Long On Instrument: A long time: twenty years.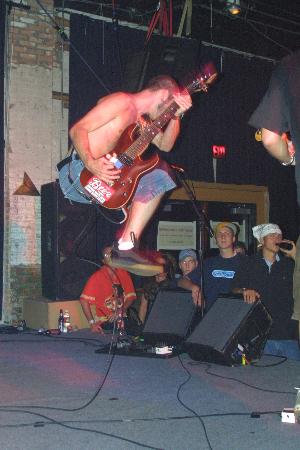 Tim Flaherty
Equipment: Schecter C-7, Mesa Boogie triple rec and Line 6 amp heads, Mesa Boogie 4x12 cabinets, Boss GT-3 effect unit, Cry Baby wah wah pedal.
Influences: Angus Young of AC/DC, Ace Freley, Faith No More, Fear Factory, (Old) Sepultura, (Old) Metallica, (Old) Anthrax, (Old) Megadeth, Randy Rhoads, David Gilmore.
Hobbies: Listening to Music, BMX, Soccer, Reading, Watch Sci-Fi Movies.
Favorite Movies: Matrix, Groundhog Day, The Jerk, Ace Ventura.
Favorite Food: Baby Back Ribs, Food on the grill, Thai Food, a good salad.
Favorite Place: Outside festival shows on stage, parties with my friends, riding my bike, being on the road.
What I'm Listening to Currently: Mastodon, Acid Bath, Porcupine Tree, Taproot, 18 Visions, Flatlyne, Kallus, Incursion 502.
Coolest Thing I've Done: Playing a guitar for a living. Going to Germany, just traveling all over with the band. Playing second stage at Lollapalooza this year, starting a side project (The Liver Project).
Most Embarrassing Moment: I do embarrassing stuff all the time, it's too much to mention!