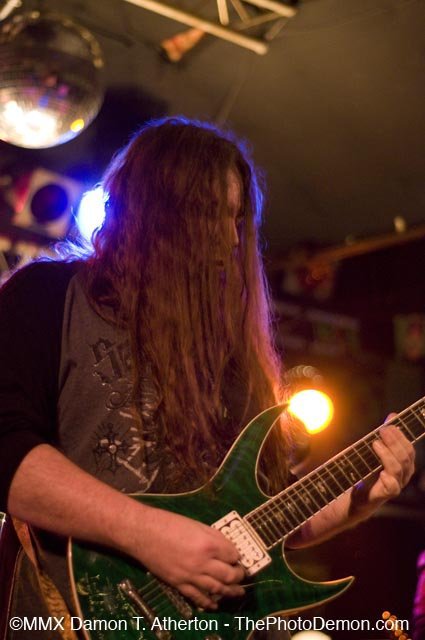 News From the Pit
WLRS Waterfront Show: A year ago if someone had told me LRS would be hosting a show at the waterfront with Suicidal Tendencies and eight local bands, I would have said "yeah, right, you bes' git on back to yer crack pipe"! Well, it has come to pass and it looks like the Louisville bands have written a moment into Louisville music history. The LRS Fest Five at Waterfront Park was a huge show for the Louisville original rock scene. WLRS' O'Malley's Band Battle conclusion show at Waterfront Park was definitely the best local rock concert in Louisville history as far as I'm concerned. When have that many local bands played a show of that caliber and diversity at the waterfront in front of that many people? Never. The Louisville bands stole the show, plain and simple. Not because we are better than national act's such as Trappd , Sponge and metal legends Suicidal Tendencies, because we are not. We had better weather.
Weather thinned the crowd for the national acts. The few light showers on and off during the day, were tolerable and the sun even came out for a few hours. But as nighttime fell, the weather really started to suck.
I retreated during Trappd, because my gonads were straight - up frozen! The wind from the river was kickin'. The good news is that the Louisville bands who played when the weather was decent pretty much saved the day, for the 5000 to 7,000 music fans there, because later during the headliners it was so cold that a lot of people said "I can't stand it" and left. The sponsors of the show should be as grateful to us Louisville bands as we are to them for giving us the chance to play such a good show..
I was fortune enough to be in one of the bands that played (The 13th Level ) and I tell you. "it was unreal looking out over the sea of faces." When I got offstage, I felt as if I had four orgasms in a row. Legs like noodles.
Mom's and DC Productions did a great job on the switching of the stages. When one band was done, another band immediately started. Excellent!
A lot of people liked the sound from the second stage better, though and I agree with them. The reality is that LRS has climbed on the Louisville music bandwagon and I can see that they don't intend to get off.
I have been giving LRS props lately because they have earned it by being fair, unbiased and for giving a lot of the newer, unheard and different bands a chance to be noticed, instead of helping just a few selected bands. After all, successful bands got to start somewhere. Take the time to check out some new stuff.
Hey, Sponsoring Businesses! The only bad thing about the Waterfront show was that there were one or two bands complaining about not getting this or that, petty stuff like free beer or backstage passes for the headliners. This kind of upset the sponsors a bit towards the Louisville bands and I understand. But the actions of one or two bigheaded bands don't speak for all of us. The bands I know that played were very happy with the treatment they received. Hell, to be honest, I probably would have paid to play to that size crowd.
So, to the sponsors: Thank you and don't let a few whiney chumps ruin future Louisville music endeavors at the Waterfront.
LMIA at the Iroquois Amphitheatre
I also went to L.M.I.A's Music In The Metro concert at Iroquois Amphitheater a couple of weeks back, intending to catch some of the rock bands including Flatlyne, Silent Q, Breckenridge and Voodoomachine.. First things first: the new Amphitheater is the bomb! As a musician, I drool at the thought of jamming there. The L.M.I.A. people were courteous and seemed to have their stuff together sound system- and sponsor-wise.
I figured the lighter acoustic stuff would be before the rocking stuff, so I arrived around 6 P.M or so. To my dismay most of the rock bands had already played and some acoustic bands were playing. I appreciate different types of music but this acoustic Indigo Girls type music wasn't doing it for me, in fact, after awhile it was unbearable. Good musicians, but incredibly boring. I was laid up in the bleachers snoring! After cello solos, my friend and I couldn't stand another acoustic song, so we left, without seeing Silent Q and Breckenridge.
I guarantee the turnout would have been better for L.M.I.A, though and I felt sorry for the bands who had to play to such a small number of people.
I commend L.M.I.A for their efforts, but with all due respect, the acoustic lighter stuff they usually promote will bore the common guy half to death. Please put more bands on your show that get the blood pumping! I would like to see L.M.I.A have Incursion502, Jefferson County Drunktank, The 13th Level, False, M.S.D or Nemesis on some of their shows. In fact, I double dog dare you! ( in a friendly sort of way :) I guarantee It will reduce the snore ratio anyways. At least, my snore ratio.
The Metal Grapevine
Lacuna Coil, Metal Iltalian Style:
The Italian Gothic/rock/metal band Lacuan Coil is coming to Louisville for the first time and you should not miss it. Ever heard of Evanecense? Well, this band is who started that sound. They are a talented band. And singer Christina Scabbia's voice is as beautiful as she is. Go see them at Phoenix Hill Tavern Wednesday November 19 at 8 P.M sharp. This is an early show.
Flaw Auditioning Drummers: Drummer Chris Ballinger has left the band. Flaw is auditioning drummers, so if you drum, you might like to contact them. This could be your big chance.
LouMusNews Music Showcase Coming! Starting in December on the third weekend of every month at Uncle Pleasants there will be a Louisville Music News Showcase. Four bands each night playing forty minute sets each. The idea is to get the bands more exposure with radio ads and newspaper advertising to back it up, which is something not many venues provide. (Sponsors make that happen by contributing money to the cause.) For those of who don't know about Uncle Pleasants, it used to be called the Crunch Zone, Flashbacks and before that, Uncle Pleasant's. It's on Preston Street ( not Hwy ) one block north of the White Castle on Eastern Parkway.
District Down Seeking Voice: The vocalist of District Down, a band that has done very well in a short time, has left the band for unspecified reasons. This stuff kills me. Why quit when you are doing so well? The band is seeking a replacement vocalist. They also intend to go heavier. Interested people should contact 727 - 3745.
Eclectic Wins! Out of the 200+ bands that entered the WLRS O'Malley's Band Battle, Eclectic won. Congrats! Those guys deserve it. They play out so much it's ridiculous! Nice guys and great musicians.
Superface Returns! Superface, one of Louisville's longest - running original rock bands, is returning to the local music scene. The band had recently taken time away to write new material and focus on the future of the band. They have also reunited with local drummer John "JD" Warren. Look for the band to have a new name in the near future and start playing shows in November. The group should be hitting the studio again sometime early next year and will be doing a return show at Headliner's Music Hall on Friday, November 21, with other bands T.B.A. soon.
Flatlyne Revived! After a long search for a full time drummer, the search is over. Terry Harper is now the new drummer of Flatlyne.
Pics On Our Site! In my column Louisville Rock Upclose, on the website www.louisvillemusicnews.com, there will soon be a monthly picture gallery of Louisville bands in action. Got a cool picture of your band playing out? Send it and maybe LMN will hook you up. Some of them could wind up in the paper, too.
Hey, You Copied Me! Uncool. My Column Louisville Rock Upclose was my idea on getting to know Louisville musician's on a closer level. I have noticed that another Louisville music magazine has totally ripped off my idea. Helllooooooooooo, get your own fargin ideas! That is so lame. But maybe I'm just being picky over details. So to speak.
Waterproof Blonde Release CD: You can purchase "Glitter Lust" at www.waterproofblonde.com.
Some New Assisting Sorrow: To hear some of the bands new stuff, go to garageband.com/artist/assistingsorrow.
Soul Parade To Slakjaw! After recent member changes Soul Parade has opted to change the name to Slakjaw. I like it. lol.
New Band Alert! East 146 is a new band that is supposedly got an underground buzz going on about them. See them live at the Hill on October 25 and judge for yourself. www.east146.com
One With Misery In Misery: The band has decided to call it a day. Good luck to those guys in future projects.
Upcoming Shows
Gerstles
Thursday, November 6 - High Road Crown and Porno Fishtank.
Headliners Music Hall
Friday, November 21 - Superface.
Friday, December 5 - Bloodshed, Nemesis, Caustic, Lust4hate, My Own Victim, Beautiful, Filthporn, Flatlyne and DeadSunday, 6 P.M.
Saturday, December 6 - Downsix, Engrind, Kallus, False, MSD, Coldshovel, Jefferson County Drunktank, Incursion502 and Maltese Cross. 6 P.M.
Jillian's
Thursday, November 20 - High Road Crown and Herbie Hinkle Ensemble.
Phoenix Hill Tavern
Friday, November 7 - Evil Engine # 9, Gasket, Luther, Jefferson County Drunktank and Maltese Cross. 8 P.M.
November 8 - Halfway Hollow & the Acoustapimps.
Thursday, November 13 - Highline, Multiple Personalities, Lost In Life.
Friday, November 14 - Run Of The Mill and Y.O.U.
Wednesday, November 19 - Italy's Lacuna Coil.
Friday, November 21 - Phearus CD release show w/ 13th Level, Month Of Sundaze and Sixth Floor.
Thanksgiving - Voodoomachine.
Friday, December 5 - 99 MPH ( the originals), The Constant ( with new female singer ), Sugarbuzz ( the originals ) and Garden Of Stone.
Outtatownerz and Other
Saturday, November 1 at the Twice Told in Buckner KY - Nemesis and The Revenants.
Saturday, November 15 at the Twice Told in Buckner KY. - East 146, Apogee and two other bands T.B.A.
Saturday, November 22 at the Sun Valley Community Center - From Within, Flatlyne, Among The Fallen, Blyss and Snapdragon Expressway.
Props Of The Month
This months prop's goes out to Uncle Pleasants for giving back a cool venue to the scene. Janet is a real nice lady and the venue purchased a PA, which is great, considering the bands used to have to pay for it! Thanks for hooking up LMN and L.M.I.A with our showcases, not to mention the other shows you put on.
All you local music fans be sure to drop by and see the new look of Uncle Pleasants. I hardly recognized the place. It's sweet. Oh, Jillian's and 100.5 the Fox get thumbs up for bringing in Queensryche.
More metal please.
Final Note
Please send Showdates, Pics for Louisville Rock Upclose and any kind of info or gossip to me no later than the 18th of every month. Or you will be a left out bee - yotch. Eddymetal1@aol.com.