I've Got A Mind To Ramble
The Biscuit Rises Again
This year marks my fourth trip to the sacred and profane sites of the Delta to experience the 18th King Biscuit Festival. Driving down Highway 61 on Thursday, October 9, the festival's opening day, the rains got heavier the closer we got to the Isle of Capri Casino, the destination for our lodging. Thanks to Jeannine Williams we got a room at the casino which is just across the Helena Bridge from the festival. The convenience was worth it even though we had to put up with the constant "plinkity plink" calypso music that was piped in and strolling through the slots to get from bed to board. Since all the musicians were put up at the casino, we got to see Anson Funderburgh show off his cute, little, 2 year old, brown-eyed girl in the lobby and had a chat with Pinetop Perkins, Little Arthur Duncan and Bob Stroger in the lounge.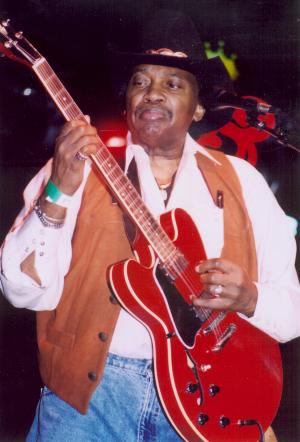 Otis Rush
Several other blues dignitaries attended the festival, including Dick Waterman, who was promoting his new book of black and white photos. Record producers Bruce Iglauer from Alligator and Michael Frank from Earwig were in the crowd. Mr. BluEsoterica, Jim O'Neal, was wearing his Living Blues tee-shirt, the magazine he co-founded. I talked with Jim about Foree Wells' unissued CD, It's A New Day Brother, and he said he's trying to get the rights back from Bottled Majic Music and issue it on his own. I won't believe it until I see it. So much for the name dropping, now to the music.
Thursday evening featured Hash Brown, Travis Haddix and Sherman Robertson. I last saw Hash accompanying Henry Qualls on guitar at the 1997 Chicago Blues Fest. He is now playing harp and leading a rockin' Texas band called the Browntones. Shawn Pittman is his lead guitarist and they did a spirited set in front of a small, soggy crowd. One of his originals went: "I feel my life is slippin' by me so fast, I can see my reflection in the bottom of this whiskey glass." Travis Haddix, a soulful blues singer and guitarist from Cleveland, Ohio, via Walnut, MS, was resplendent in a bright red suit with silver spangles. He energized the audience by having them respond on "No No No" and his risqué but funny "Two Heads are Better than One." which was directed to the men in the audience.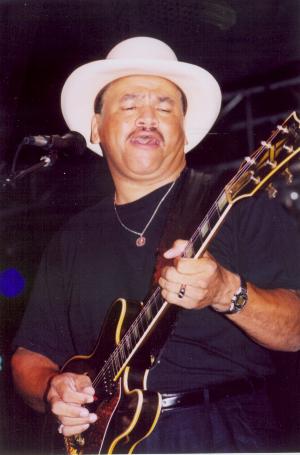 Sherman Robertson
The rain eased up a bit when Sherman Robertson - he with the powerhouse voice - hit the stage, wielding a guitar that did not let up during his extended two-hour set. I've seen Robertson perform at the Louisville Blues Festival and at Six Flags, but this night, he was on fire. He broke a string on his Gibson during "I Don't Want No Woman" and quickly switched over to his Strat while scatting guitar licks during the transition. His slow blues like "I Wonder Why These Things Happen to Me" and "I'm Looking Up at the Bottom" are gut-wrenching. When it got near the end of his set, Sherman looked to the stage manager who indicated he should keep on playing.
The weather was perfect on Friday for a full day of blues. Helena's main drag, Cherry St., was like a crowded midway at the State Fair, with hawkers selling food, African crafts, John Deere equipment and instant tattoos. The blues buskers hooked up their equipment for tips and the side streets were filled with smoky barbecue and local parties. The levee in front of the Sonny Boy Williamson Main Stage quickly filled up with people and chairs for twelve hours of music. The other stage by the old Helena Wholesale Co. doubles for acoustical music during the afternoon and heritage music in the evening.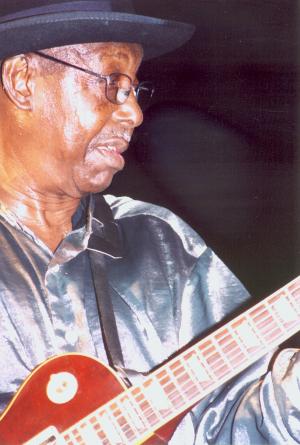 Texas Johnny Brown
Friday's highlights included Michael Burks going out into the crowd as he played "I Can't Stand the Rain," and when the simple innocence of Precious Bryant contrasted with her singing "You're One Dirty Rat." Drink Small had the same iridescent violet suit, which he called his blues suit, that he wore at this summer's Chicago Blues Festival. He filled the spaces between his songs with anecdotes like, "I'm not afraid to play by myself because I make love to women by myself." He stated later, "I'm a womanologist. When they say amen, I say awomen, bless the lord." His deep voice hit rock bottom on "Rock Me Baby."
Bob Margolin's set with Pinetop Perkins also had Mark Wenner, who had just performed with the Nighthawks, sitting in on harp. The band played "Ice Cream Man" as a tribute to longtime Chicago bluesman John Brim, who died recently. Duke Robillard's Band followed with his jump/swing take on the blues. Helena native CeDell Davis very unusual guitar sound may seem off key to many, if not most ears, but this atonal bottleneck technique comes from using a butter knife held in his polio gnarled fingers. His raw, razor-edge style is the essence of the Delta blues.
Otis Rush closed out the main stage after receiving the Peabody Award for his legendary influence on other musicians. Rush is an enigma for he plays his impassioned songs with little emotion. After an opening instrumental he removed the toothpick from the corner of his mouth and sang "Double Trouble," followed by "All Your Love." His soaring falsetto voice has gotten a little rougher but his minor key guitar work is still very strong. Otis featured his classic "I Can't Quit You Baby" for an encore number.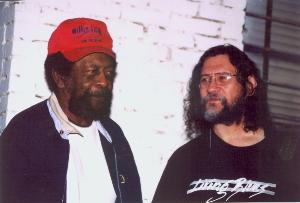 Will King & Jim O'Neil
We returned to Helena on Saturday to visit the new Delta Cultural Center at 141 Cherry St. The visitor's center recently opened, with a large room devoted to the blues and a new radio studio for "Sunshine" Sonny Payne to broadcast the King Biscuit Time over KFFA six days a week. Sonny was just finishing his show after interviewing local bluesman Foster Wiley. Payne has been hosting these broadcasts since 1953. It has been a tough year for Sonny, as he lost his wife Josephine last January. The exhibits include an informative photo mural of Arkansas musicians and "Sounds of the Delta" where you can listen through headphones to interviews with these musicians.
Roy Bookbinder opened the acoustic stage. This troubadour sang "Travelin' Man Blues" and told stories of being on the road for 35 years. He said, "I like my women young and my guitars old." Smokin' Joe Kubek and Bnois King teamed up during the Eighties, producing seven recordings on Bullseye Records. Kubek's driving, Texas-style guitar blended nicely with King's smooth emotional vocals and rhythm guitar. They were joined by Bob Corritore from Phoenix, Arizona, on harp.
I will never miss a Louisiana Red show; since he lives half the year in Hanover, Germany, his appearances in the U.S. are rare. Bob Corritore was back with his harp, supporting Red's unpredictable guitar. They are not unfamiliar with each other, since Bob recorded Red in 1982 when he briefly lived in Arizona. Red paid tribute to Fred McDowell with his gospel "You Got to Move." Nobody plays the blues harder and more intensely today than Louisiana Red.
There were some tough choices between the Main Stage and the Heritage Stage that evening. It necessitated going back and forth along the levee between these stages to soak up as much blues as possible. Texas Johnny Brown is a Texas guitarist who has a mature, open and airy sound and spaces his notes out. His beautifully fluid style came through on "Nothing but the Truth" and "So Help Me John." Johnny, who originally played with Amos Milburn, Bobby Bland and Junior Parker, is finally getting the recognition he deserves. The rain delayed Willie King's set for an hour, but when the rain subsided he was ready to lay down some of the strongest socially conscious blues you will hear, including "Prayer for America," "Uncle Tom Is Back" and the poignant "I've Been Terrorized." Willie is the real thing if you want to hear that juke joint music.
Charlie Musslewhite closed out the night on the Main Stage. His classic instrumental, "Christo Redemptor," gave me the chills. After the show Charlie said he used to do "Christo" at the end of his shows, but now does it somewhere in the middle.
Next month I'll tell you about my post-festival activities in Clarksdale and Memphis.