Bluegrass Beat
September, I have heard you whispering that fall is blowing in the breezes, revealing shadows that summer is slipping away to wherever it is summer goes so as not to get caught in the frosty rush of the coming seasons. Summer's end, fall passing through and winter winds – all have their trade-offs. The pleasant summer days for the promise of the holidays. And life goes on.
September Losses
Life – some more of it left us in September and took little pieces of many of us with it: Johnny Cash, huge star in the country music business found spouse June Carter Cash waiting On The Far Side Banks Of Jordan; John Ritter, son of the great western singing star Tex Ritter; and just today, the day I'm writing this, Sheb Wooley, a hit man in his alter ego of Ben Colder ("Ain't been no colder here than anywhere else.") Johnny Cash, like many of the other top country singers, left an indelible mark on the country music scene. Just to mention a few, Cash, Hank Williams, Roy Acuff, The Carter Family, Jimmie Rodgers, Marty Robbins and Ernest Tubb engraved the music business in such a way that the foes of traditional country music will never be able to erase. The spirit of true country music will outlive all of us.
Strictly Hot Bluegrass
The Strictly Bluegrass Festival, a creation of local music man Gary Brewer, was another great weekend last month. Hot, yes it was hot and in the early afternoon there were seats to be filled. The show goes on and as the day went on more and more of the faithful began to form a decent crowd. A yearly FREE show of some of the best in bluegrass talent. Go get • em, Gary and my thanks to you for letting me be a part of it this year.
Tribute to Redd
Redd Stewart was another of those who passed on in August. I did a tribute hour to Redd on the 24th of August. Redd's brother Bill and Bill's son Kent joined me in the studio for this event. Bill's other son, Mark, participated by means of a CD they had put together that included parts of an interview I had done with Redd several years ago. The story of the writing of "Tennessee Waltz" and the inspiration for "Soldier's Last Letter" were told, among others. We had many very good responses to that show. Thank you all for participating.
Fall Fun-D Drive
PRP – that's Public Radio Partnership in Louisville – had its Fall Fun-D drive last month. As of this writing, it was very successful, thanks to all of our listener supporters. Michael Young, of Roots & Boots, was my pitch partner. We've been trying to get to do this for years. It should become a regular team. Thanks for all the help, Michael.
Something to Crowe About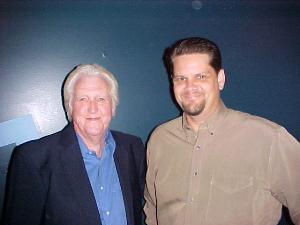 J.D. Crowe & WFPK's Michael Young at Derby Dinner Playhouse. Photo by Berk Bryant
J.D. Crowe was at Derby Dinner for another fine show. Michael Young and his wife, Kris, joined me. Kent Stewart, his brother Mark and his wife were also there. None had met J.D. before and we were able to pull that off before the show. Had a good but somewhat brief visit. Felt like I got a little better acquainted with the banjo man.
Be There or Be Too Late
IBMA World of Bluegrass is here and you should be down at the Galt House. Next year will be its last year in Louisville. I know you've already heard that, so let this be a refresher NOT to miss being there at least part of the time. There are so many people to see, so many musicians to hear and just so much going on for bluegrass fans.
Correction
Must make a small correction to last month's . The picture in the was of part of the Flint River Boys and not Everett Lilly as captioned.
Coming Events
• Storefront Congregation will be at Farnsley-Morman Landing on October 11.
• Shepherdsville Country Music Show gets underway this month on October 10 with Bluegrass 101. October 17, Tommy Brown & County Line Grass. October 24, Vince Combs & Shadetree Grass.
• Nashville Classic Music Festival, Smiley Hollow, Ridgetop, Tenn., October 10-11. Friday: Rhonda Vincent, Marty Raybon, Larry Cordle, Lonesome River Band, Pine Mountain Railroad, The Jackson Gang & The Tennessee Mafia Jug Band and more.
Saturday: Jimmy Martin, "Cowboy" Jack Clement, Reel Time Travelers, Josh Graves & Kenny Baker, Williams & Clark Expedition and more.
• October 9-11, Tennessee Fall Homecoming, Museum of Appalachia, Norris, Tenn.: Just a few of the great artists during the weekend are Mac Wiseman, Dr. Ralph Stanley, Raymond Fairchild, Leroy Troy, Rhonda Vincent, Raymond Fairchild and so many more. 339
Remembering John
The John Hartford Tribute Cruise will take place October 3. Boarding time will be 10 a.m. Many of John's friends that he played with will be on hand for this. As of now, Jamie – John's son – will be here. Also expected is an old friend of mine I have seen only once in too many years – banjo player Tony Ellis – is coming down for this. Everybody's buddy around here, Leroy Troy, is another of the artists taking part. I am very much looking forward to this and am honored to be asked to MC the event again this year. All of the money taken in will, as before, go to the Sarah Cannon (Minnie Pearl) Cancer Center in Nashville.
Winding up and winding down.
Well folks, this is one of those times I have had so much going on and yet I am winding up with a short . Will encourage you all to continue listening and supporting Sunday Bluegrass, WFPK 91.9 FM each Sunday night, 8-11. The shortest, fastest and bestest three hours in radio. Thanks again to all listeners and readers.