I've Got A Mind To Ramble
The Blues Makes Its Point
The Two Rivers Blues Festival at Carrollton, Kentucky's Point Park has never really grown up. It celebrated its ninth year on September 5 and 6 and was like a big lawn party with some blues thrown in the mix. When I arrived on Saturday, there were about fifty people sitting in those ever-present collapsible canvas chairs in front of the pavilion, waiting for the music to begin. The food vendors were down to only two this year, which was good for them but "slim pickins" for us. The Rock Garden Blues Band got the music started promptly at 1 p.m. This down-home trio was the recent winners of the Kentuckiana Blues Society Unsigned Blues Competition. They performed a set very similar to what they did at the competition. I was hoping for a little more gusto this time, since it was to a larger audience. "Bell Street Whiskey" was a new, original song that stood out. Brian Badgett, David Emery and Karen Ephyria will need to do some serious woodshedding before they go to Memphis for the International Blues Competition in January.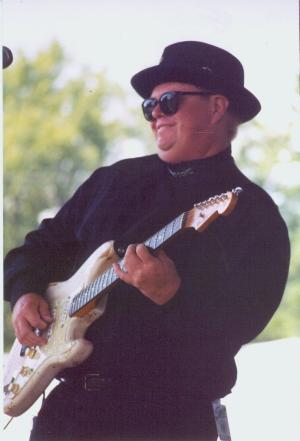 Jimmy Roberts at Blues to the Point 2003. Photo By Keith Clements
When I first ran into Jimmy Roberts, the guitar slinger from Salvisa, I didn't recognize him. He had to reintroduce himself to me, as he has cut his hair short, down to a crew cut. The ponytail was gone but his powerful guitar licks are still there. Jimmy said he is getting into some bluegrass but has not played it professionally. The cluster of people had swelled to a couple of hundred. Jimmy got started with his power trio. Big Darrell Hamilton has always been his bass player and Greg Cope is back on drums after a brief hiatus. Jimmy's mastery of his well worn Fender is excellent. He just needs to work on developing more of his own material. He was out of the pavilion and into the audience several times, serenading the sedentary sunbathers. From Rollin' & Tumblin' to Red House, Jimmy covered the spectrum of blues rock guitarists.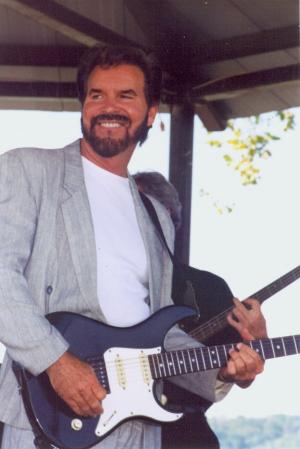 Wayne Young. Poto by Keith Clements
One nice feature at Carrollton has always been informality of the bands and musicians. They drive up in their vans, unload their equipment behind the stage and hang out and chat before they go on. They are all very approachable. Wayne Young and The Youngsters arrived in their flashy white van with their equipment trailer in tow. Wayne is showman with a solid band that includes Gary Underwood on drums, Bernie Hancock on bass plus two keyboard players, Jim Lewis and Mike Brody. Mike also blew a little harp on "Tore Down." The band paid tribute to some of our local songwriters, performing Rusty Ends "Midnight Screams" and John Burgard's "I Found a New Love." Their take on Lonnie Mack's "Satisfy Suzy" brought back memories from when Lonnie was there in 2000. Later in the set Mary Pat Willis sang "Natural Born Woman," which rounded the vocal duties nicely. When the crowd wanted an encore, Wayne responded with "Down at the Crossroads." Wayne is the new President of MERF, which has been inactive the past few years. He announced that there will be a multi-venue benefit on Sunday, November 16 in Louisville.
The crowd kept themselves amused between acts throwing horseshoes, tossing bean bags and gyrating huge hula hoops around their hips. The American Queen cruised by on the Ohio River and several ultralight planes, that looked like large colorful insects, sailed overhead.
Before Tab Benoit went on, a lady bopper from Louisville asked him what his favorite song was and he replied in his Cajun accent, "the song I'm singing right now." Benoit's laidback demeanor backstage contrasts with his emotional persona on stage. When he plays his `72 Thinline hollow body Fender, he is in deep reverie. Tab mixes Cajun swamp sounds with East Texas blues; "Hot Tamale Baby" and Professor Longhair's "Her Mind is Gone" stirred up the Louisiana gumbo pot. His voice is strong and gritty, which complements his taut, spirited guitar groove. This was my first exposure to a live performance by Tab and I was impressed by this handsome 35-year-old rising star.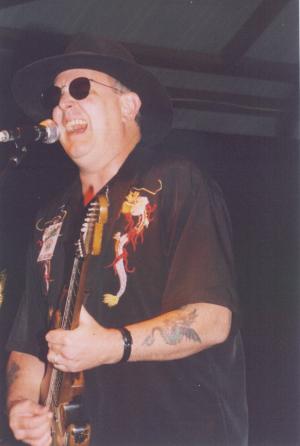 Jimmy Thackery. Photo by Keith Clements
After the sun set, the temperature quickly dropped and a layer of moist dew settled on everyone and everything. When darkness falls, the crowd got a little looser and the security got a little tighter. The area in front of the stage quickly filled with people swinging and swaying to the rhythms, especially three young girls who were dancing with complete abandon.
James Thackery arrived early and spent most of the time sitting on his amp, patiently watching Tab and his three-piece band from backstage. Jimmy is a blues-rock warrior from Washington, D.C. who first went on the road as the lead guitarist for the Nighthawks in 1974. Jimmy left the Nighthawks in 1987 and formed his own group, the Assassins. His present band, the Drivers, started in 1991. They recorded seven albums for Blind Pig and have recently switched labels to Telarc.
Thackery opened with a long version of "Okie Dokie Stomp" for an instrumental warm up. There is a deep and moody quality to his guitar, likely the result of years of experience on the road. His drummer, Mark Stutso, did some nice vocals on "Detroit Iron" and "Dangerous Highway." "Crazy `Bout A Saxophone" showcased his saxophonist, Jimmy Carpenter, on a Buddy Johnson jump tune.
An awkward moment came late in the set when Jimmy tore into a distorted version of the "Star Spangled Banner" and the crowd didn't know whether to remain seated or stand up. The grand finale was the merging of Jimmy's and Tab's band for a jam set based, on their recent collaborative CD, Whiskey Store, which came out last year on Telarc. There were two synchronized drummers sitting side by side, keeping the rhythm. Tab and Jimmy were trading licks as we made our exit through the wet grass.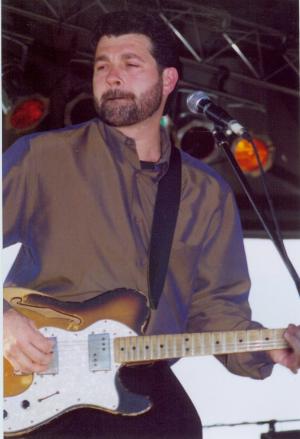 Tab Benoit at Blues To The Point 2003. Photo by Keith Clements
I give Doug Ramsey, the festival director, a lot of credit for staging a decent event with a much tighter budget this year, though there was one snafu. When the festival T-shirts were delivered they said "Blues to the Rock" instead of "Blues to the Point" so they had to be returned. The Kentuckiana Blues Society cashed in on their mistake by selling a bunch of our KBS shirts for souvenirs and to cut the evening chill. I hope the blues returns to the Point for many years in the future.