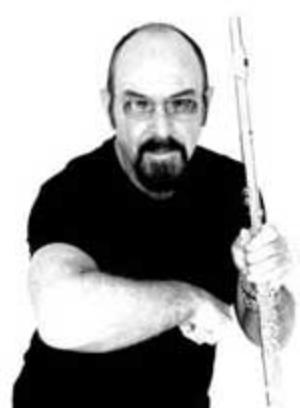 Rubbing Elbows (Long Distance) with Ian Anderson
By Paul Moffett
Ian Anderson, Jethro Tull front man / flautist / songwriter and all-around madman, has such a long history in every rock `n' roll book, website and album collection that a complete story can be (and probably has been) written by cribbing and condensing the readily available material. A writer might also suspect that his interviews would be equally derivative and - dare I say it - boring, simply because the man has answered the questions so many times that he could easily do it on autopilot, like Mark Twain's famous museum guide.
That would not be Ian Anderson, however. Serious artist and musician, Anderson has plenty of other passions he is willing to talk about, from Monet's use of loud colors as a metaphor for what songwriters do (exaggerate a bit for emphasis) to the endangered Andean Mountain Cat, of which, he said, there have been only two photos taken. He is also practiced and articulate, as would be expected after thirty-plus years in the business.
Speaking from his home outside Bristol in the southwest of England after an evening of rehearsal, Anderson described his "Rubbing Elbows with Ian Anderson." format, which he calls "a talk show with too much music, or a music concert with a tendency to wander off into obscure spoken topics." He invites a local radio person - "probably a rude morning person who's nevertheless quick and witty and completely professional," plus a couple of audience members on stage and they chat about various things, including questions from the audience. Anderson and the band also perform some eighteen or so pieces of music, including one song by a pre-selected local musician, as well as old Tull songs and new material.
"It's essentially inviting the audience into my living room - entirely improvised with a strict format underneath, " he noted. "The content is different every time and requires two hours of total concentration on my part. It's exhausting mentally, not like a Tull show, which is exhausting physically." He explained that after a "Rubbing Elbows" show, "I might be a bit damp under the arms and in the nether regions, but after a Tull concert, I have to wring out my clothes.
"And wash them out in the hotel basin. Not exactly what people think about the life, but a man has to do what a man has to do."
"I wouldn't want to do [this kind of show] all the time and I certainly relish getting back on the road with Tull, but it's fun doing something mentally taxing."
He had, he said, refined the format "a little bit, we learn what works and what doesn't, what drags it down and maybe try to pick up the pace a little.. It's not a perfect show every time - no show is perfect. But we learn from the mistakes and try not get smug about it."
The tour also serves to promote his new solo CD, Rupi's Dance, and an upcoming Christmas project, The Jethro Tull Christmas Album. [A review of Rupi's Dance is elsewhere in this issue.]. While a black cat appears on the cover and there are two songs about cats on the CD, "Old Black Cat" and "Rupi's Dance," the pictured cat is not particularly special, rather he used the two, one of which was old and had liver cancer and so was put down in the winter and the other, which appeared shortly thereafter, courtesy of some friends who rescued them, as stand-ins for all the creatures, people and relationships in life that are loss and the subsequent mixed sense of guilt and loss - "oh, shit, that's gone and I'll miss it." - that follows.
Anderson does focus a bit on "small wild cats, not lions and tigers - they'll take your leg off " and does his little bit to try help with conservation. On this tour, he's raising some money at an invite in San Francisco.
"Elton does his bit for aids, and Bono does his. My duty is to the little fellows," he explained.
The Louisville artist has been picked but Anderson declined to identity who it was, as that was part of the deal with radio. The show will be in the Brown Theatre rather than at the Louisville Palace, where the last two Tull shows have been stages.
"We try to get rooms of about 800 to a 1,000 seats. Bigger than that and it doesn't work. Any smaller and there's not enough money from ticket sales to pay for the tour."
"Of course, a main requirement for a venue is that the toilets work. You don't want a toilet with nasty black rings around the bottom or one that doesn't flush.
"I find that the places where the orchestras and operas and ballets perform have the best plumbing, as conductors are very demanding. That's where you get a better quality of loo."
His backing group he described with a laugh as "a bunch of complete `no-hopers' from around here. Fellows who show up for rehearsal every time.
"They're just guys who do the music for the various BBC documentaries that are done around here; radio shows and that sort of thing. Versatile working musicians who enjoy the chance to say `goodbye and I'll see you in four weeks' to the family and get on the big airplane and travel to America.
"We're all just traveling minstrels, really, but in the end there's a check and it goes in the bank and feeds the mouths for a little while."
"Rubbing Elbows with Ian Anderson" will be staged at the Brown Theatre on October 11. Tickets are available by calling 1-800-775-7777.