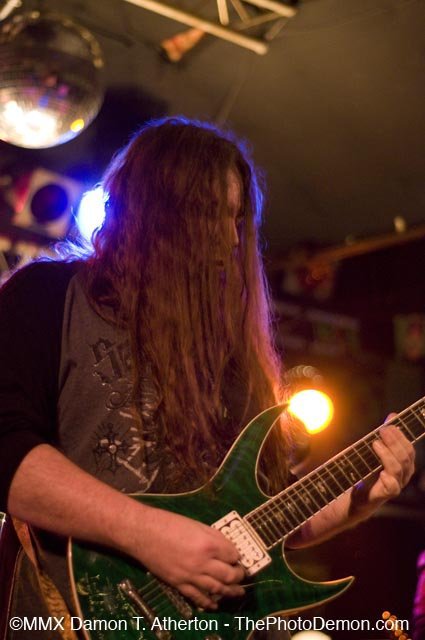 News From the Pit
What up. I had intended on going to see the LRS band battle tonight featuring District Down, Evil Engine # 9 and Phearus, but instead I'm sitting here sick as a dog! I was foolish and went cruising in my Jeep Wrangler at night with the top off. I was trying to squeeze a few more jeep days in. Now I'm paying the price.
Not too much going on lately since Tekworld closed, especially if you are an underage band or fan of local music. I'm really sorry to all you young people who loved supporting Louisville music at Tekworld.
That's how it is in this music scene, though. One minute a club is kicking and you think "hell, yeah, I can get used to this" and then whammo, the club folds and your band is out on their arses. So yeah, we have a small venue drought happening. Every band in town is scrounging for gigs.
The other venues need to take in some of the slack caused by the closing of Tekworld, by booking more Louisville bands. I am trying to convince the Phoenix Hill Tavern to up the proverbial "Louisville music ante" by allowing me to book more than one or two shows a Month. This would help out quite a bit.
It looks like The Original Rock Showcase may be getting the first FULL weekend of every month starting in January as opposed to just the first Friday. It's not confirmed yet but it is looking pretty good. And Headliners needs to increase metal shows to more than one a month. In my opinion, they need at least three good sized rock shows a month to really start getting people back in there.
The Metal Grapevine
Louisville Musicians To Open For National Acts At Waterfront Park: By the time you read this, it will be over, but this show has created a buzz in this music scene. Playing live at the Waterfront Park on Sunday, September 28 was Trappd, Sponge and the singer for Everclear, and on the second stage, all the semifinalists in LRS' band battle will be showing their stuff.
True, the national act lineup isn't as strong as some would have liked, but it's not very often that Louisville original rockers get to play the Waterfront Park.
Rockin' Iroquois Park: Louisville original music will featured in the new Iroquois Park Amphitheater. Hopefully, all types of Louisville music, even the heavier stuff.
Attitude Network Concert: In December at Headliners, there will be a metal concert with the heaviest bands around. Black Frank from 100.5 the Fox and Julie will be putting the two - day, show together. Look for more info next month.
The Verdict Is In: The new band Intheclear featuring Andy Paul, formerly of Factor 9, jams! I recently caught them live for the first time and I was digging it. They sounded kinda like Deftones but not quite: much less whining.
To be honest, I used to think Andy sounded too much like the cat who sings for Tool, but no more. His vocals were as strong as I've ever heard them and he seems to have come into his own style of late. He also sings much more in this band than in the previous one/
No Thanks: I just learned that a venue near Cardinal Stadium purposely left out good metal bands because of their musical standards that vary by one millionth of a millimeter. They have lighter melodic metal, but not the brutal or hardcore stuff. That's like accepting Deftones trendy style music but shutting out the heavier Slayer types. That's not right. Or it could be because of some incident that happened in which the heavier bands accused were innocent. I recently heard My Own Victim was denied a show there because a band M.O.V had open for them started a fight and caused a bunch of trouble. M.O.V was blamed and pretty much banned for another band's actions.
I explained this to the club, but the owners have their mind made up. So to you - Rumpraiders, "All you have done is screw yourself out of selling a lot of beer"!
Eddy: Since I wrote this, the manager contacted me and asked me to help arrange a Halloween show there featuring metal bands.
One real metal show a year? And on Halloween no doubt.
I feel as though we are being called freaks, whom only can come out on Halloween. lol.
I thank the manager for thinking of us metal bands at least once, but past actions by the club owners against true metal bands and lousy sound quality there has made me somewhat hesitant in putting on a metal show there.
In my eyes one Halloween show won't make up for us bands getting ignored for a whole year. These comments are not directed at the manager. He tried.
Outspoken Not Broke Up: Alright, I shall now dispel some rumors.
The band Outspoken is not broken up. In fact, they are working on some new material. Guitarist Kevin McCreery, though, has joined the cover band Speed Of Sound to get some extra cash and have some fun but he made it perfectly clear that Outspoken is not through.
Come Be A Punk! I understand that Uncle Pleasant's is having Punk rock night on Sundays, so get your combat boots on and go check it out. Check out www.punkrocknight.com for more details.
Acoustics At The Blue Martini: At the club the Blue Martini, located right by Have A Nice Day, Cafe, there will be original rock bands showcasing their stuff "unplugged." Give them a call for more info.
Seeking Guitarist: Original rock band Farewell To Kings is searching for a guitarist and piano player. Email farewellkings@aol.com for more info.
Doubting The Obvious Seeks Skinsman: Interested parties should contact Kyle@doubtingtheobvious.com. And the new E.P produced by Todd Smith (Days Of The New) comes out in mid October.
Upcoming Shows
Blue Martini
Wednesday, October 22 - High Road Crown.
Main Street Lounge
Thursday, October 2 - High Road Crown.
Thursday, October 16 - Silent Q.
Pappy's
Friday, October 4 - Coldshovel, Maltese Cross, Jefferson County Drunktank.
Phoenix Hill Tavern
Friday, October 3 - Never, Sow The Seed, Otium and Silent Q.
Thursday, October 16 - Magnetic Flux and The Dead City Rejects.
Friday, November 7 - Gasket, Luther, Jefferson County Drunktank, Evil Engine # 9 and Maltese Cross (Columbus IN) .
Uncle Pleasant's
Friday, October 17 - Deadsun, False and Incursion502.
Saturday, October 25 - 13th Level, Maltese Cross and Coldshovel.
Outtatownerz and Such
Saturday, October 11 Nemesis will be playing in Adams TN at the Red River Rock Festival with Public Disturbance, Submethod, Volume 13 and many more.
Saturday, October 18 at the Illuminati in Marengo IN. - Nemesis.
Saturday, November 1 at the Twice Told Coffee Shop in Crestwood, KY -
The Revenants, Nemesis, Apogee, Cosmonaut and Paradox 44.
Props Of The Month
This month, props go out to the sponsors of Louisville music concerts.
These business' buy radio time to promote Louisville original music and their business. I guess you could call it killing two birds with one stone.
Mom's Music, Showcase Musicians Depot, Jays Needful Things, Canyonstudios and ear X-tacy have all helped the scene by purchasing radio time to promote local shows.
Thanks and keep up the support!