Cowboy Corner
Louisville Loses a Country Legend
Louisville lost a country music legend last month with the passing of country singer-songwriter Redd Stewart. Stewart, best known for co-writing "Tennessee Waltz" with Pee Wee King, died August 3 at the age of 80. Born Henry Ellis Stewart in Ashland City, Tennessee., he began his songwriting career when he was hired to write a song for a commercial for a Louisville car dealership in 1935. He joined Pee Wee King's Golden West Cowboys in 1937.
The classic "Tennessee Waltz," which Stewart and King wrote in 1948, as well as Ernest Tubb's 1944 #1 hit "Soldier's Last Letter," helped Stewart gain induction into the Nashville Songwriters Hall of Fame. In addition, he wrote the smash hits "Bonaparte's Retreat," "You Belong To Me" and "Slow Poke." Throughout his career, he garnered two gold records and numerous industry awards.
Stewart was preceded in death by his wife and frequent singing partner, Darlene, who passed away July 26.
Shania Prepares to Hit the Road
Shania Twain finally announced dates for her long-awaited Up! tour last month. A mere 18 dates have been announced thus far for this, her first tour in more than three years. Six of the shows will be in her native country of Canada, the remaining 12 being in the northeastern parts of America. Twain promises this tour will be full of surprises. "I want the show to be a huge party. The stage will be set up in a way that puts me in the middle of my fans, which is right where I want to be."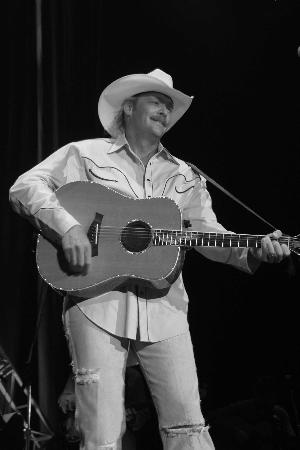 Alan Jackson
The Up! tour, appropriately named after the title of her current smash CD, will kick off in Hamilton, Ontario, September 25, followed by Ottawa, September 27; Pittsburgh, September 29; Buffalo, NY, September 30; Toronto, October 2; Grand Rapids, Mich., October 4; Boston, October 7; East Rutherford, N.J., October 8; Philadelphia, October 10; Albany, N.Y., October 11; Uniondale, N.Y., October 12; New York City, October 14; Washington, D.C., October 17; Detroit, October 24; St. Paul, October 28; Calgary, Alberta, December 4; Edmonton, Alberta, December 5; and Vancouver, December 7. Tickets for all of these shows are already on sale and Twain announced that additional Canadian and American shows will be announced in the near future. I'll keep you posted if she heads anywhere near our neck of the woods.
Hall of Fame Inductees
On August 9, famed singer-songwriter Hank Cochran was inducted into the Mississippi Music Hall of Fame. Cochran was the only country artist of the 10 inducted into the Hall of Fame. During the ceremony, he performed three of his most successful songwriting credits: "Make the World Go Away," "I Fall to Pieces," and "Don't You Ever Get Tired of Hurting Me."
On August 16, three of country's finest were inducted into the Texas Country Music Hall of Fame. Singer-songwriter and actor Kris Kristofferson, the late Lefty Frizzell and songwriter Johnny Bush ("Whiskey River") were each inducted. Willie Nelson was on hand to pay tribute to the honorees, as was David Frizzell, Lefty Frizzell's brother.
Just last month, the Country Music Association announced the next two inductees into the Country Music Hall of Fame. Carl Smith and the late Floyd Cramer will be inducted into the coveted Hall of Fame during the 37th Annual Country Music Association Awards on November 5. Smith, who was once married to June Carter and is the father of singer Carlene Carter, was a mainstay on the country music charts during the 1950's with hits like "Loose Talk," "Are You Teasing Me," and "Hey Joe!" The world renowned pianist Cramer was a highly sought-after studio musician for artists like Patsy Cline and Elvis Presley and even hit the charts himself with "Please Help Me, I'm Falling," "Last Date," and "San Antonio Rose". Cramer passed away in 1998.
Congratulations to all the Hall of Fame honorees!
Jackson & Nichols Heat Up State Fair
The 99th Annual Kentucky State Fair was kicked off to a great start with a virtually flawless performance by Newnan, Georgia native Alan Jackson. Always a fan favorite, Jackson delivered a near two-hour performance, chock full of one chart-topping hit after another, from his very first #1 hit, "Here In The Real World" to his current #1 duet with Jimmy Buffett, "It's Five O'Clock Somewhere."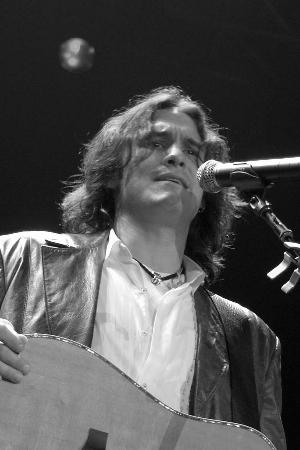 Joe Nichols opened for Alan Jackson
Jackson is one of just a handful of modern-day country artists who can wow the crowd without overrated theatrics-he simply needs a guitar, a microphone and his unprecedented set list. The fair-weather country music fan might complain that the country superstar makes slim to no changes to his show from year to year and would just as soon sit at home and put Jackson's two greatest hits CDs in the CD player and that's okay. But for any die-hard country music fan, Alan Jackson is the real deal - a country traditionalist from the old school of truly country entertainers. Although he throws an occasional modern theme ("www.memory") into his reportoire, the bulk of his music consists of timeless themes of love, home, family and a little much-deserved summer fun on the river. He delivers his masterfully crafted songwriting gems in a genuinely honest country fashion. Hats off to Jackson for keeping "country" music alive and for resurrecting the use of steel guitar, fiddle and mandolin.
Newcomer Joe Nichols offered a crowd-pleasing 45-minute opening set which included his two chart-topping hits, "The Impossible" and "Brokenheartsville," as well as his current single, "She Only Smokes When She Drinks." Although his looks may not strike you as a traditional country singer, Nichols proved he is deeply rooted in country music when he paid musical tributes to influences Merle Haggard and Johnny Paycheck. Joe Nichols is one newcomer who is going to be around for a while and has the potential to leave a mark on country music.
Two of Country's Finest Honored
The "King of Country Music," the late, beloved Roy Acuff, will be honored by the United States Postal Service later this month. The Country Music Hall of Famer will be the subject of a commemorative stamp which will be unveiled during a ceremony at Nashville's Grand Ole Opry House September 13. The stamp features the black and white photograph of Acuff with a fiddle under his arm which appeared in the March 5, 1949 issue of Collier's magazine. The stamp is being released in conjunction with the 100th anniversary of Acuff's birth.
Butcher Hollow's favorite "Coal Miner's Daughter," Loretta Lynn, made Ky., as well as all of country music proud when it was recently announced that she will be one of only five performing artists who will receive a Kennedy Center Honor this year. The 26th Annual Kennedy Center Honors ceremony will be held in Washington, D.C. December 6 and 7. Usually attended by the President of the United States and the First Lady, this year's ceremony will also honor R&B singer James Brown, comedienne Carol Burnett, director Mike Nichols and violinist Itzhak Perlman. This grand event is usually filmed for airing on broadcast television at a later date, but no details have been released yet. Keep reading in the coming months for more details.
Congratulations to Loretta and the late Mr. Acuff!
Tim McGraw Celebrity Softball Game Scheduled
Plans are well underway for Tim McGraw's Ninth Annual Swampstock celebrity softball game and concert. The highly-anticipated event will take place at the Tim McGraw Sports Complex in McGraw's hometown of Rayville, Louisiana on September 14. Artists confirmed to participate in this year's event, which will benefit Rayville's Dixie League Baseball program and provide academic college scholarships for graduating high school seniors, include the lovely Mrs. McGraw, Faith Hill, Nashville Star winner Buddy Jewel and the Warren Brothers.
In addition to the concert and softball game, the Third Annual Swampstock Online Auction is currently running at www.cmtauctions.com. New items will be posted each Friday. This year's auction, which will run through September 26, will feature autographed items by McGraw, Hill, pal Kenny Chesney, Rascal Flatts, Shania Twain, Brett Favre and many other country music artists and professional athletes.
Toby Keith Displays His Patriotism
Toby Keith is currently displaying his true colors at the downtown Nashville Country Music Hall of Fame and Museum. He has loaned the museum items relating to his recent smash patriotic anthem "Courtesy of the Red, White and Blue (The Angry American)." The exhibit includes the handwritten lyrics to the song, the patriotic guitar he played while performing the song on the 2003 CMT Flameworthy Awards and the American flag which flew in his father's yard (as referred to in the lyrics). Also included are the shirt and hat Keith wore during his USO tour entertaining American troops back in May.
Well, that's it for yet another month. Here's wishing each of you a safe and happy Labor Day weekend. Always remember: "Keep your boots shined up and your hat on straight, `cause country music is comin' your way."