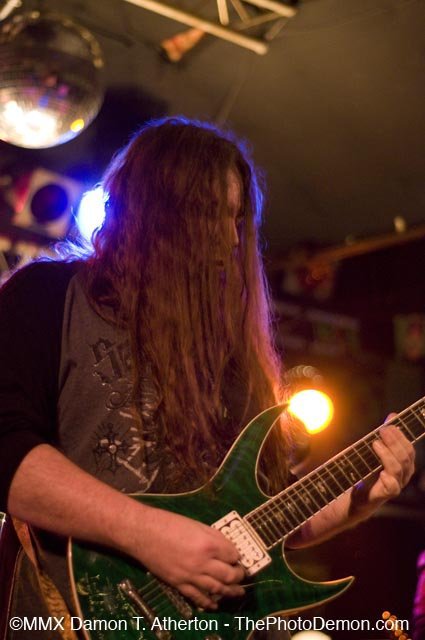 News From the Pit
Alright people, it's time to admit I'm not very happy with the type of national bands that these big time promoters around here are bringing in. It's 90% trendy bubblegum radio music that makes me ill. When was the last time we had a big national metal show here? Think hard.
I'm not talking Tekworld shows, Tekworld has done a great job in bringing metal acts here, but let's face it, even with all of Tekworld's good intentions, the place was too small. I'm talking Freedom Hall, Louisville Gardens, The Palace or Cardinal Stadium.
Remember when we used to get some good metal bands here? I'm 33, so I remember Sepultura at Louisville Gardens with Ozzy, or Pantera and White Zombie, Megadeth and Type O Negative at the Brewery, or older shows like Judas Priest, Anthrax, Slayer, Kiss, Van Halen, or the outdoor Ozzy concerts at Cardinal stadium in `84 and `86 with Metallica (yes, Metallica in Cardinal Stadium!), Motley Crue and German rockers Accept.
Now these venues have nothing to do with heavy music, therefore we always get bypassed by the big heavy metal bands, but if a rap show comes along, look out for the rolling red carpet.
Why should we have to drive 200 plus miles to see a good show? Why not an Ozzfest here in Louisville?
The City of Louisville is always having lame concerts down at the waterfront. What, Foghat again? Who in the world is booking these bands, the crustmeister general?
We get old, has-been classic and southern rock bands and brand new skater bands that no one over fourteen has heard about. Yay. That about sums it up and yes, I am being sarcastic.
It's such a nice place down there, you would think they would try to expand their horizons a bit and maybe take the risk of having a real rock concert. I recently went to a real concert in Ohio (see Iron Maiden review in this Issue) and it was unreal. It made me mad that I had to drive so far to see a good metal show that we could have had right here in town. I guarantee the show I saw would have done well here also, but apparently we got a bunch of wussies running the show around here.
I wish someone with some testicles would step up and put on some real concerts, so maybe Louisville would not be left out of the major tours like we ALWAYS are...
The Metal Grapevine
And The WLRS Band Battle Finalist are: The WLRS band battle has been a very cool affair. I had a great time being involved in such a fair and equal venture. Total props to WLRS for their effort. Nice venue, nice crowd. Out of 200+ bands, sixty were selected to compete against one another. Now there are only eight bands left, with only two shows left to determine who 7 and 8 are, but here are the finalists so far: Evil Engine # 9, District Down, Eclectic, Phearus, Pilotfish and the 13th Level.
I'm guessing bands #7 and #8 will be Month Of Sundaze and Phrail, but that's just a guess. Come check out Jet Lawrence and Month Of Sundaze competing against each other on Thursday September 4 at O'Malleys. And don't forget the semi-finals are every Thursday night in September at O'Malleys.
Whoa, They Listened: Cool, another instance where my complaining might have done some good: Uncle Pleasant's on Preston Street is now having local music shows, of all kinds.
Julie, formerly of Vixenvideo. is booking and is off to a good start, so be sure to attend a show or two, you won't regret it, I heard it's a very good room since they did some major remodeling.
Rocknation Is Coming: Rocknation is a concert series started by Larry Bailey, a guy whom I understand has a lot of connections in the music business. The shows will be held at Expo 5 and many clubs in other cities. Larry's goal is to take the local rock scene thing to another level for bands that are ready for it. The idea is to have very talented out of town bands trade gigs with Louisville bands.
First, they come here and you jam with them, then you go to their town, be it Chicago, Boston, Cincinnati, etc, etc. The plus is that you get to play in front of record label people. But ...there is a catch. You have to be a member of Rocknation in order to get these opportunities.
And because there are record people attending these shows, your band will be heard by the right people. It costs $25 dollars for each band to be involved, so if interested, contact Larry at Rocknation.ka.net for more information.
Eddy: Hell, I'd pay 25 dollars if I knew for sure I'd get some phat outtatown shows!
Flaw's Self-Titled CD Set For November Released: Yup, that's right, November. I've heard the music and it's excellent. I can't wait to get my copy!
What Would You Do? A little question for you. If some representative from a radio station threatened to not play your band again if your band played at their competition's local music events, would you submit, or would you say "Dude, we'll play wherever the farg we want"! I ask because this is happening again and it really bugs me! Well, it turned out that most of you have the guts to resist such a lame blackmail attempt. That's good. Don't let anyone tell you where you can or can't play!
Local Music At The Fair? It's about time. I heard Breckinridge, After The Fall and Magnetic Flux played there. That's pretty cool. Chuck from Breckinridge told me it was absolutely killer! I think the 100.5 the Fox made it happen.
If so, thanks for thinking of the Louisville original scene instead of one cover band after another, as has been the case at the fair forever. Next year, quadruple the amount of local bands!
And throw in some metal too!
Phearus CD Coming: Phearus' debut CD will be released on Happy Jack Records in October. It will be available to buy on their website Phearusmusicnews.net.
New Band Alert: Sow The Seed is a dark acoustic rock outing fronted by former Rathbone bassist Jeff Hillerich, a.k.a. Gomez. He has gathered some formidable musicians, so I look forward to seeing them soon and so should you.
One With Misery To Release CD, Now Seeking Drummer: An eleven-song CD should be available in late September. Interested drummers should contact owm_email@yahoo.com.
Point Of Anger Report: Point Of Anger has finally found a drummer and is ready to get back in the swing of things. Vocalist Mike Stout says "look for us in October."
Congrats to Mike and family on the birth of his son, Aiden Michael, on July 12.
New Band Alert: Luchadoresdelgato is a four-piece alternative/rock hybrid band from Louisville. Ex zoobabies/Bride guitarist Steve Curtsinger describes the music as Queens Of The Stone Age meets Nirvana. www.Luchadoresdelgato.com.
New Band Alert: Bloodshed is a heavy metal band from Louisville that is ready to start playing out. You can check them out at www.bloodshedmusic.cjb.net/.
Flatlyne Releases 2 New Songs: Flatlyne recently recorded two songs at Mom's Music and it turned out really good. Those of you into modern Korn type music will love this.
Upcoming Shows
Expo 5
Sunday, September 28 - Kings X.
Pappy's
Wednesday, September 3 - Bloodshed and national act Bad Wizard.
Friday, September 5 - The Middle Fork.
Saturday, September 6 - Silent Agony, Makeshyft and Paradox 44.
Friday, September 12 - High Road Crown, District Down, After The Fall and Chronic Jones.
Friday, September 19 - Exo.
Phoenix Hill Tavern
Friday, September 5 - 99 MPH (the original music), Blackhorse, Intheclear and Hushroom.
Friday, September 12 - The Shantee (Columbus IN)
Friday, October 3 - Never, Sow The Seed, Otium and Silent Q.
Riot Skate Park
Friday, September 19 - God Forbid, Amongst The Swarm, Cosmonaut, Kallus and The Whitman Tragedy.
Saturday, September 13 - From Within, All Access, Blyss and Closer Than Far.
Thursday, September 18 - The Plain White T's. The Shanks, The Kodiacs and The Sickies.
Sunday, September 21 - The Movielife (MCA recording artists), Fairweather, Honorary Title, Squarewell, Snapdragon Expressway, Day, In The Life and East 146.
Rudyard Kipling
Sunday, September 7 - Luther, Odesa, My Own Victim and Leadfoot (former members of C.O.C.).
Uncle Pleasant's
Saturday, September 6 - Beautiful with Puc and Caustic.
Wicks Pizza
Tuesday, September 9 - Phearus, Two Pump Chump and South 75.
Outtatownerz and Othez
Saturday, September 6 at the Legion in Salem, Indiana - Nemesis, District Down, One With Misery, Indecensy and Bloodshed. All ages.
Friday, September 5 - at the Illuminati: Bloodshed, Full Tilt and Execrate.
Props Of The Month:
Goes out to Uncle Pleasant's for admitting that they need us as much as we need them. That's pretty cool, lol. Thank you for not being snobs who turned your backs on us. You shall be paid back in kind. And if anyone messes up the place or causes you trouble, I will kick their teeth in.
Final Note
Remember folks, send in your showdates, information, or whatever to eddymetal1@aol.com on the 15th of every month. I cannot print what I don't know. You got to be on your game and be sure to get the proper information to us here at Louisville Music News for us to properly do our job.