I've Got A Mind To Ramble
KBS Competition
There is always a sense of excitement that precedes each Kentuckiana Unsigned Blues Contest. It's a mix of tension and camaraderie between the musicians and their supporters. The first moment of anticipation came when our president, Brenda Major, threw down on the stage at Stevie Rays six folded pieces of paper. These concealed the numbers to determine the order of play. A musician from each competing band snatched one up and we were underway.
It's tough to be first, for you have to break the ice with the crowd and set the standard for the five judges to score. EZ MO NY got the opening honors. They were elegantly dressed in black attire plus their black music box and music stand. The duo consisted of a guitarist, vocalist and the mysterious backup band that included drums, bass, and keyboards that came through the sound system. Their music was original and easy to listen to, sort of like lounge blues. The guitarist played some tasteful laid back licks on "What Kind of Fool Do You Think I Am."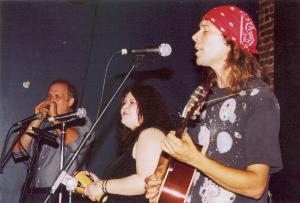 Rock Garden Blues Band. Photo by Keith Clements
The tempo picked up with One Shot Johnny. This power trio of drums, bass, and lead guitar fronted by Randy Colvin put on a tight, well rehearsed thirty minute set. Colvin gave a good workout to his black and white Fender Telecaster on "Someone, Somewhere." This was the fourth shot for One Shot Johnny to compete in our contest.
Michael "Blind Dog" Gatewood also gets the prize for competing the most times. After winning the competition last year he was back for his fourth try, too. Michael said when he opened his set, "I play the old style back porch, street corner blues." And he did, all by himself, using a polished chrome dobro guitar and slide, harp on a rack, and tambourine secured to a foot tramp. Michael mixed originals like "Blow Whistle Blow" with classics like "Flip, Flop & Fly" and "Hoochie Coochie Man." Later in his set he switched over to his banjo to play "Hold That Bus." Michael told me he wanted to enter as many contests as possible to get the exposure and experience. He will be performing at the Crossroads Competition at the Slippery Noodle on September 7 and The Sonny Boy Blues Society Competition on September 22.
If you didn't get your barbecue early from Q Master you were out of luck when it came to the dinner break for they had sold out. Dinner had to be ordered out for the patient judges.
The Blues Cruisers are four musicians and singer who started their set off with "Who's Been Talkin'." There was no lead guitarist until the keyboard player switched to guitar for the last two songs. harpist, Rick Marr, used to sit in with Lamont Gillispie at Churchill's where he honed his Hohner skills.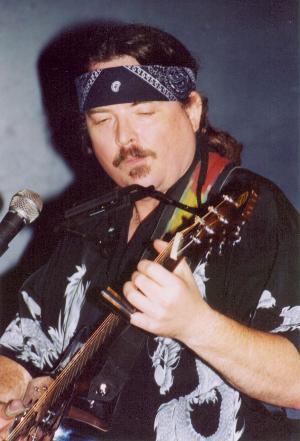 Blind Dog Gatewood
One Card Shy was back for the second time, with their youngest guitarist, Kevin Hines, grown up. He's now old enough to play inside Stevie Rays Bar with the band instead of out on the sidewalk, which happened two years ago. They opened with "That's My Story" which was an Allman Brothers style of rock blues. My favorite song was "Headin' to Memphis (With a Guitar on My Back)" that featured Ron Cundiff's powerful voice.
The Rock Garden Blues Band closed out the evening. This unpretentious trio played their music as if they were also on a street corner or someone's front porch having a good time. No flashy frills, just basic traditional songs that went all the way back to "Sitting on Top of the World" and Brownie McGee's "I'm a Poor Man, But a Good Man." Brian Badgett wore a red bandana around his head and used a string for his guitar strap. Karen Ephyria was the percussionist using a bongo and a washboard and David Emery played dobro on his lap and harp.
The moment of truth came when Brenda announced the results which were based on very close scoring. The five judges were Dick Irby, Jim Baugher, who substituted for Jeff Carpenter at the last moment, and three members of the Crossroads and Greater Cincinnati Blues Societies. The winner was The Rock Garden Blues Band, which surprised everyone, especially the band. They have been together for only a year doing mostly parties playing country blues and bluegrass. The band got started with an ad Brian put in the paper for jug band musicians who played delta blues. Dave responded after awhile and Brian had known Karen for a long time. She started out with classical vocal training and later sang in an electric R & R band. They got their name from where Brian lives in Fern Creek. The band used to practice in his backyard next to a rock garden. Good thing they weren't next to a septic tank. August 17, 2003 will be remembered as their big break, for now they will go to Memphis early next year representing the KBS at the International Competition. The band will also be the opening act at 1:00 p.m. on Saturday, September 6, at the Blues to the Point Festival in Carrollton, KY. They won't have any problem filling out their set in Carrollton for Brian said they can play 3 ½ hours and know 70 songs, which ever comes first. They will be sharing the bill with the Jimmy Roberts Blues Band, who won the KBS competition in 1999, Wayne Young & the Youngsters, Tab Benoit, and James Thackery and the Drivers.
CoffeeStop Finale
The CoffeeStop has been as institution at Bardstown Road Presbyterian Church for the past ten years. The idea was conceived by Brian Arnold, who was the associate pastor at that time. The purpose was to raise money for Highland Community Ministries by tapping the wealth of our local acoustical musical talent with a series of monthly concerts. When Brian left, I took over coordinating by booking the acts, mailing the flyers, and serving as MC for the performances. Some of the highlights included CoffeePalooza when we celebrated our first 18 months with 14 (count them 14) acts. Jazz has been featured with Walker & Kays, The Ron Jones Trio, Steve Crews, Jamey Aebersold, and the memorable evening with Dick Sisto and Harry Pickens. We even had our illustrious LMN editor Paul Moffett share the stage with Ray Major and Ralph Sidway. Shannon Lawson performed twice before he headed to Nashville and made it big. Karen Dean and Out To Lunch brought us both nostalgia and laughs with her wacky quartet of three. I could fill this page trying to mention all the wonderful musicians who gave us such memorable Sunday evenings. But after a decade of a labor of love, all good things must come to an end. Our last two performances will feature two all time favorites, Mary Ann Fisher on September 21 and Coterie on December 14. Mary Ann has graced us with her jazzy blues many times and this time she will be performing with the band she recorded with on her recent CD, "Song Bird of the South." Mary Ann is the "Godmother of Louisville Blues" and you must see her while she is still able to "sing the blues for you." Coterie has done our Christmas program the past five years and if they don't get you in the yuletide spirit, I will personally refund your $2.00 donation.