I've Got A Mind To Ramble
Swan Song for the Songbird
This isn't going to be easy. Saying good-by to a dear friend I have known for twelve years is tough. Mary Ann Fisher (Porter) peacefully left us on Friday, March 12. She was under Hospice care at Norton Hospital when she slipped into a coma just two days before she passed on. It was hard to believe less than three weeks earlier Mary Ann was paid a once-in-a-lifetime tribute at Stevie Ray's on Sunday evening, February 22. This house party was arranged by Leslie Graham and Marjorie Marshall. Relatives, friends and musicians came together for an evening to honor the Songbird of the South. Project, Mr. Wonderful Production Band and Louisville Connection traded off as the house bands, playing in a funky `70s groove most of the evening. Mary Ann was treated like royalty wearing a regal crown. She received numerous awards and honors, plus singing and verbal tributes from Camille Davis, Mr. Jones, Latania Jones (Mrs. Apollo), George Burney, Donna Mason, Harvey Cook, Ruby Hyatt and Butch Williams, to name a few. Mary Ann was supposed to get up to sing only one song in her frail condition, but buoyed by the love in the house, she sang two sets, finishing with my favorite "I'll Sing the Blues for You." This was a night to remember, closing the last chapter of her colorful 81 years.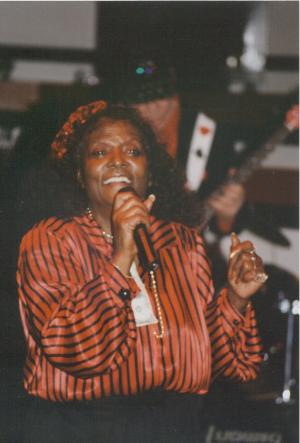 Mary Ann Fister at Rick's Square Piano, Feb. 26, 1997. Photo by Keith Clements
Just three nights before, on February 19, Mary Ann was singing in front of 2,000 people at the Frankfort Convention Center. She opened the show for the 2004 induction ceremonies to the Kentucky Music Hall of Fame. Mary Ann sang "Down Home Blues" that segued into a few other medleys. She was striking in her tan buckskin suit and carved walking cane, while everyone else wore tuxes. While Mary Ann was backstage before the ceremonies, she had the chance to meet country/bluegrass master, Ricky Skaggs who was one of the inductees.
There are so many chapters to Mary Ann's fascinating life of heartache and joy that need to be told.
1. Experiencing the tragedy of her father fatally shot in a poker game dispute in Henderson.
2. Going to Louisville to stay at Miss Bessie Allen's orphanage, the Kentucky Home Society for Colored Children.
3. Enduring a traumatic childhood back in Henderson with her mother and upon her death living in Indianapolis with her aunt.
4. Getting a reputation as a blues singer in Louisville performing with the Morgan Brothers, Elmo Tucker, Doc Green, Cliff Butler and winning a talent show at the Lyric Theater.
5. Meeting Ray Charles at Fort Knox and traveling on the road with him from 1955 to 1958. These experiences could be a book in itself.
6. Leaving Ray Charles and going off to New York for a solo career with Joe Louis, the prize fighter, managing her.
7. Recording several great R&B songs on the Segway label in New York.
8. Adopting Tracy, her son and her relationship with jazz singer, Little Jimmy Scott, in Los Angeles.
9. Mary Ann's encounters with R&B and jazz legends like Marvin Gaye, Sam and Dave, Clarence Carter, James Brown, Moonglows, Earl `Fatha' Hines, Little Esther, Bobby Bland, B.B. King, Jackie Wilson, Dizzy Gillespie, Lou Rawls, Dinah Washington, David `Fathead' Newman, Mickey & Sylvia, Peggy Lee, KoKo Taylor and the list goes on and on.
10. Returning to Louisville to resume her career, raise Tracy, work at GE, sing in Zion Baptist Church choir, participate in the 1st Midnight Ramble with Jimmy Scott and featured in a KET program.
11. Returning briefly back to New York for one last try at a new career, performing in clubs with Ron Wolfe.
12. Mary Ann's last glorious year with the release of her CD "Songbird of the South," the dedication of her exhibit in the Kentucky Music Museum in Renfro Valley, opening for the Kentucky Music Hall of Fame 2004 induction ceremonies in Frankfort and the Tribute House Party at Stevie Ray's.
The stories she could have told would be an inspiration to all of us. Joyce Barnett started a rough draft for a book in 1996, did not get any grant money, so it never got completed and published.
When I came to Louisville, I had heard so much about Mary Ann but didn't get the chance to see her perform until February 1993. Pen Bogert arranged a concert at the Western Branch Library with Mary Ann, Boogie Morton, Kid Pete and himself as a Black History Month event. I have kept close touch with Mary Ann ever since. In 1996 Mary Ann was unanimously selected to receive the Sylvester Weaver Award by the Kentuckiana Blues Society. It was a special honor to present the award to her at the Garvin Gate Blues Festival.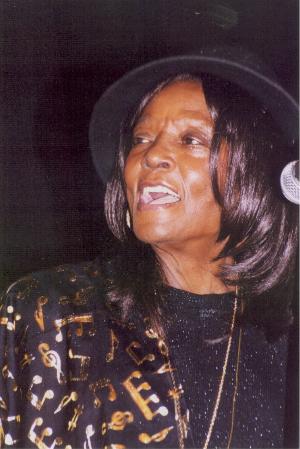 Mary Ann Fisher at her CD release show at Stevie Ray's on January 19, 2003. Photo by Keith Clements
Bardstown Road Presbyterian Church had a monthly fundraising event called the CoffeeStop from 1994 through 2003 where we featured local musicians. Since I booked the acts, I would have Mary Ann perform every couple of years. She always brought an interesting mix of musicians with her. Billy Rudolph backed her up on keyboards for the first concert. Ernie Threlkeld was in the audience and ran home to get his sax to sit in for the second set. In 1998 Mary Ann brought an amalgamation of veteran musicians called Bar-B-Que, Booze and Beer that included Marshal Anderson on guitar, Don Harris on keyboards, Lee Wales on bass and Ellie Paige drumming, plus Donnie Fugett assisting on vocals. The CoffeeStop in 2001 included the late Ron Wolfe playing keyboards with Peter Rhee, Ed Chestnut, Jr. and Jerry Harshaw on violin, guitar and drums. Mary Ann's last concert in September 2003 had the same band that played on her CD. Each of those CoffeeStop concerts were special moments and I was able to tape most of those shows. Mary Ann was our special guest on two of the KBS Blues Cruises, singing at the various stops along the way. She so loved to sing she would often break out in some chorus of an old song she recalled while talking to you. Every Thanksgiving she treated my wife and me to a homemade sweet potato pie. Nobody makes a sweet potato pie as good as Mary Ann. I would slice it up into little wedges to make it last as long as possible.
The visitation and funeral services were at G. C. Williams Funeral Home on March 16. The long chapel was filled with people whose lives Mary Ann had touched with her voice and spirit. The recording of David "Fathead" Newman's "Precious Lord" and her own version of "God Bless the Child" never sounded so good. Her pastor from Zion Baptist Church closed his remarks saying, "Mary Ann has not left us, for the song may be over but the melody lingers on." Tracy plans to take Mary Ann's ashes back to her birthplace in Henderson, Kentucky. Following the service, my wife and I toasted all the wonderful memories of our Songbird with a stiff swig of scotch and milk, her favorite drink.