Cowboy Corner
Alan Jackson Dominates ACM Nominations
Traditionally, country music has been a male-dominated industry, but in recent years, the ladies have made great strides in breaking down those gender barriers. One wouldn't think so, though, when reading the list of the 39th Annual Academy of Country Music Awards nominations which were recently announced. Besides the obvious Top Female Vocalist category, Martina McBride was the only female nominated in one of the top categories, landing a nomination for Album of the Year and Video of the Year.
The reigning CMA Entertainer of the Year, Alan Jackson, led the pack of nominees with a whopping eight nods, including Entertainer of the Year, Top Male Vocalist, Single Record of the Year and Song of the Year for "It's Five O'Clock Somewhere" and "Remember When," and Vocal Event of the Year and Video of the Year for "It's Five O'Clock Somewhere" along with Jimmy Buffett. Brooks & Dunn and Toby Keith followed on Jackson's heels with five nods each.
And the nominees are: Entertainer of the Year: Brooks & Dunn, Kenny Chesney, Alan Jackson, Toby Keith and Tim McGraw; Top Female Vocalist: Terri Clark, Sara Evans, Patty Loveless, Martina McBride and Shania Twain; Top Male Vocalist: Kenny Chesney, Alan Jackson, Toby Keith, Tim McGraw and Keith Urban; Top Vocal Group: Alabama, Diamond Rio, Lonestar, Rascal Flatts and Trick Pony; and Top Vocal Duo: Blue Country, Brooks & Dunn, Montgomery Gentry, The Bellamy Brothers and The Warren Brothers.
Top New Artist: Dierks Bentley, Pat Green, Buddy Jewell, Josh Turner and Jimmy Wayne; Vocal Event of the Year: James Taylor & Alison Krauss' "How's the World Treating You," Alan Jackson & Jimmy Buffett's "It's Five O'Clock Somewhere," Tracy Byrd, Andy Griggs, Blake Shelton & Montgomery Gentry's "The Truth About Men," Phil Vassar & Huey Lewis' "Working for a Living," and Vince Gill & Emmylou Harris' "Young Man's Town"; Album of the Year: George Strait's Honkytonkville, Martina McBride's Martina, Brad Paisley's Mud on the Tires, Brooks & Dunn's Red Dirt Road and Toby Keith's Shock `N Y'all; and Video of the Year: Toby Keith & Willie Nelson's "Beer for My Horses," Brad Paisley's "Celebrity," Martina McBride's "Concrete Angel," Johnny Cash's "Hurt," and Alan Jackson & Jimmy Buffett's "It's Five O'Clock Somewhere."
Single Record of the Year: Toby Keith's "American Soldier," Alan Jackson & Jimmy Buffett's "It's Five O'Clock Somewhere," Brooks & Dunn's "Red Dirt Road," Alan Jackson's "Remember When," and Randy Travis' "Three Wooden Crosses"; Song of the Year: Alan Jackson & Jimmy Buffett's "It's Five O'Clock Somewhere," Brooks & Dunn's "Red Dirt Road," Alan Jackson's "Remember When," Kenny Chesney's "There Goes My Life," and Randy Travis' "Three Wooden Crosses"; and Radio Station of the Year: Nashville's WSIX, Denver's KYGO, Tampa's WQYK, Chattanooga's WUSY and Indianapolis' WFMS.
In addition to these nominees, finalists were announced in the following categories: Producer of the Year, Audio Engineer of the Year, On-Air Personality of the Year, Nightclub of the Year, Casino of the Year, Don Remeo Talent Buyer/Promoter of the Year, Guitarist, Bassist, Drummer, Steel Guitarist, Piano/Keyboardist, Fiddler and Specialty Instrumentalist of the Year.
The ACM Awards will be handed out May 26 at the Mandalay Bay Resort & Casino in Las Vegas. Reba McEntire will host the gala, which will air live on network television.
Congratulations to all the nominees!
Local Band Wins Top Honor
I recently heard from LMN old pals Rick & Renda Aiken, former operators and stars of the Shepherdsville Country Music Show. Due to popular demand and ever-increasing audiences, the Aikens set out for a new venture when they opened their very own classic country theater named Junction Jamboree in Lebanon Junction, Ky. in May 2002. Their show has since been named the #1 Country Music Show in Ky.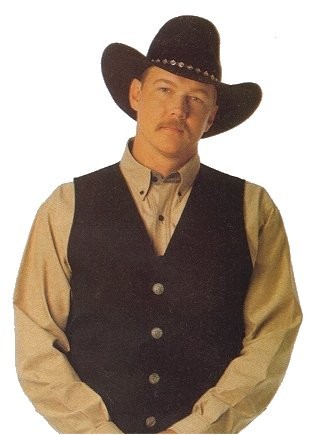 Trace Adkins will be at Belterra Casino on April 10

Last October, Rick Aiken & The Country Cookin' Band and Singers were named the Kentucky Country Music Association's Traditional Band of the Year. This honor afforded the band the opportunity to compete in the North American Country Music Association, International competition and awards show at the Country Tonite Theater in Pigeon Forge, Tennessee last month. During the competition, Aiken and his band were named the NACMAI's 2004 Traditional Band of the Year. The band performed during the awards program along with country greats Bill Anderson, Razzie Bailey, Helen Cornelius, John Conlee, David Frizzell, Jeannie Pruitt and Jett Williams.

For more information regarding Rick Aiken & The Country Cookin' Band and Junction Jamboree, either log on to www.countrycookinband.com or send an email to JunctionJamboree@aol.com

.

Congratulations to Rick, Renda and the gang!

New Classic Country Radio

Since the demise of 93.1-FM WYBL, "The Bull," last summer, 97.5-FM WAMZ has been filling the classic country music void by adding a classic tune or two to its playlist each hour. But if that's not quite enough to whet your appetite, classic country fans will be glad to know that a brand new station has hit the airwaves honoring the country music of yesteryear. 104.3-FM "The Eagle" recently hit the airwaves, offering classics by artists like Waylon Jennings, George Jones, Tammy Wynette, Restless Heart, Ronnie Milsap and many, many more. Be sure to tune in to hear true classic country music.

CMT Flame Worthy Awards

The final nominees for the 2004 CMT Flame Worthy Video Music Awards are being tabulated as I write this column. The third annual awards program will honor the best country videos, as well as best country video artists as seen on Country Music Television. The awards program, which will be hosted by none other than superstar Dolly Parton, will be broadcast live from Nashville at 8 p.m. April 21 on CMT. Artists scheduled to perform include Sheryl Crow, Toby Keith, Alison Krauss & Union Station, Martina McBride, Parton, Rascal Flatts, Shania Twain and Keith Urban.

Country Artists Continue to Support the Troops

Country crooners Darryl Worley and Mark Wills were keeping pretty high company just last month during a special concert at Fort Campbell, Ky. Worley and Wills, along with contemporary Christian artist Jaci Velasquez and singer/songwriter Lane Brody, performed an acoustic concert leading up to President George W. Bush's speech at the military base. Held on the one-year anniversary of the beginning of the Iraqi war on March 18, President Bush and the performers thanked the 101st Airborne Division's service men and women who served during Operation Iraqi Freedom. President Bush was joined by First Lady Laura Bush and nearly 20,000 soldiers and members of their families.

Country songstress Lorrie Morgan was recently honored by the Nashville VFW Auxiliary. Morgan received the Better World Award from the Ladies Auxiliary to the Veterans of Foreign Wars of the United States. The honor is a humanitarian award recognizing citizens who have made a significant contribution to creating a better world.

Due in great part to his patriotic anthems "American Soldier" and "Courtesy of the Red, White & Blue (The Angry American)" and his unwavering support for our troops, Toby Keith was recently honored prior to a concert at the West Point U.S. Military Academy. Keith was presented a West Point Saber, the official sword of every West Point Cadet. A West Point official stated: "Toby Keith hit a bull's eye at West Point. His tribute to the American soldier warmed the hearts and souls of the cadets and soldiers who were in attendance for the concert."

Country Music Does & Doesn't Go Commercial

Trace Adkins' career is in high gear these days, thanks in part to his current hit single, "Hot Mama." His current album, Comin' On Strong, was recently certified gold for having sold 500,000 copies, as well as were two of his previous albums, Chrome and Greatest Hits Collection, Volume I. Adkins' success has been recognized by the advertising industry and the long-legged, pony-tailed baritone has been tapped to be the new voice of Kentucky Fried Chicken. Adkins beat out more than 500 contenders to provide voiceovers for television commercials promoting Col. Sander's finger-lickin' good secret recipe chicken.

The children of the late Johnny & June Carter Cash are up in arms these days concerning a potential commercial opportunity involving Johnny Cash's "Ring of Fire." Merle Kilgore, who co-wrote the classic tune with June Carter Cash, was contacted by the makers of Preparation-H hemorrhoid-relief cream to explore the possibility of using the song to promote their product. Kilgore was humored by the request, but the Cash children didn't quite find the humor in the proposition. Daughter Roseanne Cash recently told Nashville's The Tennesseean newspaper, "We would never allow the song to be demeaned like that."

Dollar Signs Aplenty

Rock magazine Rolling Stone recently released its annual list of the music industry's top money-makers. Three of country music's finest landed in the list of the top 10 most profitable singers of 2003. The Rolling Stones topped the list having made an astounding $84.1 million last year. Bruce Springsteen came in a close second with $81.7 million, followed by The Eagles in third place with $62.9 million. The Dixie Chicks were last year's top country money-makers and fourth overall in all genres of music with $39.8 million, thanks in part to their smash album Home, their sell-out Top of the World Tour and an accompanying live CD and DVD. Toby Keith landed at the #6 spot on the list, having made $38.7 million, followed by Shania Twain at #8 with $36.1 million. Although they didn't make the Top 10 list, other notable country money-makers were Kenny Chesney with $21.9 million, Tim McGraw with $16.7 million and Brooks & Dunn with $13.6 million.

Well, that's it for this month. Always remember: "Keep your boots shined up and your hat on straight, `cause country music is comin' your way."