Louisville Rock Lowdown
I have a soft spot for girl bands, especially when they are really, really good.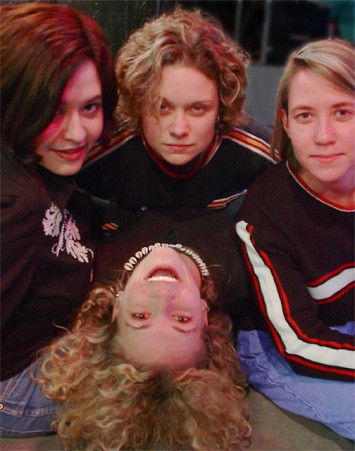 The Blue Umbrellas
The Blue Umbrellas hosted their CD Release party at Uncle Pleasant's on March 13 and it was a monumental success. The place was packed full with their loyal fan base, a.k.a. the Blue HQ. The band also captured the affection of the rookies immediately. The event featured a pre-party hosted by Tony BoomBozz Pizzeria. The food was delicious, the room was adorned with little blue umbrellas on the tables and the alcohol flowed freely (not "free") from the tap... the Blue Girls know how to make friends and throw a party and they also know how to play and sing.
The show was in honor of their new full-length release, Metamorphose, which has been a major source of excitement for the band lately. The disc is a follow-up to the groups' first recording, a 4-song self-titled EP.. That one is sold out, but you can pick up a copy of the new 12-song album in local stores now, or better yet, get one at a show. It is a great listen.
The band performed the songs from the new CD in order at Uncle P's and proved they can duplicate the sound of it live. The girls are talented and energetic and maintain a great connection with the crowd throughout the entire show.
Let's meet the band: On lead vocals and rhythm guitar is Kelly Shouse. Gloria Marshall carries the duties of lead guitar and backing vocals. Stephanie Wolz plays bass and sings as well. On drums is Rhonda Baker. The songwriting seems to be done predominately by Shouse, but the title track of the CD was written and sung by Marshall. The girls have great harmony in many of their songs and share the parts of performing quite well.
The group has gigs under their belt all over town, including Air Devil's Inn, Blue Martini, Gerstle's Place, Granville Inn, Longshot Tavern, Phoenix Hill, Rudyard Kipling, Tailgater's Bar, Tink's Pub, Uncle Pleasant's and more. They also have credit for some out-of-town shows and festivals and are looking to tour more in the upcoming year.
The Blue Umbrellas combine an array of originals with some sweet cover songs when they perform live. Their list of covers is quite diverse, ranging from Prince to Guns 'n Roses to Britney Spears and of course, Lynyrd Skynyrd-- NASCAR, Sum'bich!
Musically, the band is diverse in their influences, yet cohesive in their own style. A mix of country and bluegrass twang meets folk and rock and roll, added to an upbeat groove and a little humor in the lyrics and you have the Blue Umbrellas. This is a band that can successfully pull off an added violin part without distraction or overbearing of the tune. It is a band that can actually sing in key together. It is a group that seems like they are having a blast playing music. It is addictive, effortless and fun.
They group will be performing a lot this month, so go check them out. Here is the calendar for April from their web site- www.theblueumbrellas.com.
Friday, April 2-
Kentuckiana Fox in the Morning
(TV Channel 41)
Show lasts from 8-9 a.m.
>Saturday, April 3-
Gerstle's (3801 Frankfort Ave.)
w/Chase Dabney and High Road Crown
899-3609
Show starts at 9 p.m.
Saturday, April 10-
Tink's Pub (2335 S. Preston)
634-8180
Show starts at 10 p.m.
Friday, April 16- (Columbus, OH)
Club 202 (E. Long St.)
w/ Katie Reider
(614) 469-SLAM
Sunday, April 18-
Uncle Pleasant's (2126 South Preston)
w/ Katie Reider
634-4147
Show starts at 8 p.m.
Saturday, April 24-
Maier's Tavern (3921 Shelbyville Rd.)
897-6386
Friday, April 30- (Buffalo, NY)
Mohawk Place (47 East Mohawk St.)
w/ Alison Pipitone, Pamela Ryder
(716) 855-3931
If you are interested in booking The Blue Umbrellas, contact Kelly Shouse at kshouse@gemwebservices.com.
Pick up the new CD, Metamorphose and check out The Blue Umbrellas live as soon as possible, you won't regret it.
As I mentioned last month, I have started doing a radio version of my column on 105.1 WLRS every Friday morning at 7:45 a.m. with Mudd, with a replay on Sunday nights during the local show at 11 p.m. Each week I feature a local act or service and I give my concert picks for the upcoming weekend. I have also been passing a few CDs to Mudd for airplay on the Kentucky Fried Radio Hour and it has been a really good experience. Here is a sample of what you may have missed on the Louisville Rock Lowdown on WLRS this month...
Week 7: Terry Harper and Flatlyne-
I want to spotlight a promoter that is doing some good for the local bands around Louisville and that person is Terry Harper. Terry books local and national acts on a regular basis and hooks up the locals with the signed acts whenever possible. Terry also plays drums for the band Flatlyne, which has a goodly amount of momentum right now in the scene and they are doing well for themselves.
For all the details on Terry's shows, or to purchase tickets online, visit his web site at www.kentuckyconcerts.com.
Week 8: 7 Day Sun-
A very dirty lowdown was the result of talking to Trey from 7 Day Sunday The band has some stories that make you want to be a rock star, or at least a member of 7 Day Sunday Trey told us all about the crazy encounters with females at their shows and what the band is up to right now. Aside from witnessing girl-on-girl at a certain performance of theirs, the group is hard at work getting their name out (since their break out of the Execrate mold) and is currently playing out regionally. I hope the FCC Nazis didn't hear this phone interview.
Week 9: Evil Engine #9-
Corey talked to us about the goings on of Evil Engine #9, gave a little background, some details on current projects and some future plans of the band. The group is currently assembling a management team to assist the band in their pursuit of a major record contract. They have been in regular rotation at WLRS for several months now and are playing out regularly to keep their name at the forefront. Keep your eye on these guys...
>Week 10: Demo King Productions-
Recording can be a major expense and many bands simply cannot afford to do it.
Paul Hart of Demo King Productions offers cheap rates to bands looking to cut a demo, or even record a full length CD to sell. Demo King's rates are $15 an hour or less. (Even I can afford that.) They also do short run CD Reproduction, so you can get your project done from start to finish. Rates are as low as 99 cents per CD and you can have your order in 3 days or less.
So far, Paul has recorded bands such as Kallus, From Within, Blyss and more. You can learn more about DK and check out some of Paul's work online at http://www.demokingproductions.com.
For more information on the local music scene, you can contact me at rocklowdown@insightbb.com, or visit www.louisvillemusicnews.com.
And that is the Louisville Rock Lowdown!