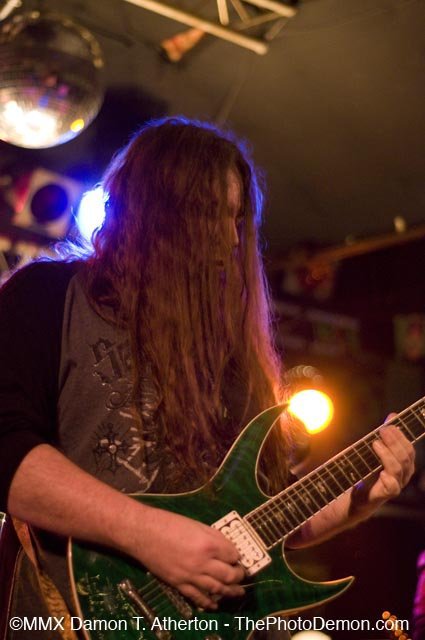 News From the Pit
News From The Pit - April 2004
Mad As A Mofo!
What in the world does it take for a band to make money these days? Why is it so hard for us original bands to make money playing our music? It seems every bar in Louisville won't pay squat.
A band recently complained to me, "we load our gear, buy strings, buy gas, we end up paying money to play!" I was thinking to myself "Wake up dude, that is the reality of playing original music!" All but a very few original bands do this year in and year out.
A Bit Of Advice To Original Musicians: If your band is all about the money, start a cover band! Then you can play Creed, Rage Against The Machine and Sevenmarythree till the cows come home and you'll make a hundred per member. Personally, I'd rather torch my Gibson Flying V and throw my $2400 Bogner guitar amp into the Ohio River than to play such radio tunes. But if money is what you are about, go ahead.
I'd say about 5% of the original bands around here make decent money, because they have a huge following and have something to negotiate. Bands like Plan Of Man, Flaw and Breckinridge have that leverage to work with because they bring in hundreds of people at each show.
It's not that they are better musicians than the rest of us, around here it's about how many of your friends and fans you can get to come out. If a band draws fewer than a hundred people at each show, chances are you won't make too much money and won't be put in the Louisville's elite category. If you struggle to draw fifty people at each show, then you might be able to buy some McDonalds on the drive home.
Being a promoter, this has sucked for me. I hate seeing the bands work so hard for so little but the fact is people don't realize how hard it is getting money from venues. It has to be the equivalent of trying to sell roller blades to a man with no legs.
I just want all of you to know this, so you won't improperly judge band managers, promoters or people who set up these shows. It is not their fault.
One venue in particular has paid nothing at all, for years, yet everyone still strives to play there! It's almost as if the bands don't mind. My band played there a few times and like everyone else, we received nothing, not even a drink special and my girlfriend had to pay to get in! Now that is just plain hardcore.
At least with the shows I put on, the bands get something cool: radio commercials with their music on it and a nice Louisville Music News ad to boot.
The bands always seem happy when they hear their own music on radio commercials, which makes me happy. The money issue is just something an original musician should learn to deal with, until you start drawing in hundreds per show. Yeah, reality bites, but what's a mofo to do?
The Metal Grapevine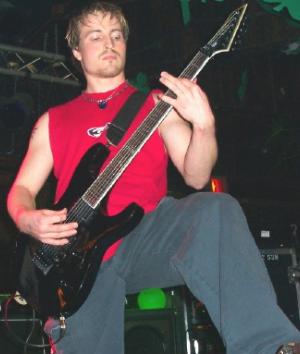 7 Day Sun Guitarist

Louisville Rock Pix: Don't forget people! If you have a digital camera, you can take pictures of live local bands and have them printed in our magazine and put on the LMN website! And you, the photographer, will get full credit, of course. Just be sure you have the name of the people in the pictures, identified left to right, the band name, the venue and the photographer's name as well. So go out there and do your thing and get your work seen by thousands.

Send pictures to editor@Louisvillemusic.net.

Cruise our website Louisvillemusicnews.com for Louisville Rock Pix and tons of other stuff.

Silent Q Seeks Vocalist! The band Silent Q has parted ways with the singer and are looking for a replacement. This band rocks, so if you can actually sing, give them a call at 432-4604. Ask for Aaron.

Krazyfest Coming In Late May! Krazyfest will be happening the last weekend of May this year. No band's have been announced yet, but hopefully they put at least a few metalcore or grind band's on the bill. Check out: http://www.krazyfest.com

.

After The Fall To Release CD: The band is having a CD release show at Headliners on Saturday April 24 in support of their new 12-song release, Blue Prints.

InTheClear Inthestudio: Intheclear is currently at work on their eight-song CD due out in early summer. Can't wait to hear this. This band rocks!

The Verdict: The new band Elysium features two of my former Inhuman bandmates. Guitarist John Keppel and drummer-turned-vocalist Eric Sachse have a cool thing going here. I recently heard their debut CD and it sounded great. It's not heavy but it's chock full of some great rock hooks. John has always been a great guitarist and Eric does an excellent job on the vocals. If you like good hard rock with cool soulful vocals, you might want to check this out.

7DaySun To Record Soon: In the next month or two, the band will get busy recording. In the meantime, go see them play.

Benefit Craze: Ok. This benefit thing has gone on too long. Some of you people will have a benefit for anything! I truly understand if you lost a family member or are having trouble paying bills, but c'mon, bands already don't make much as it is.

Please if you are going to have a benefit, wait till it is a good just cause. Not because your distant aunt died last month, or because you got some amps stolen. A charity to help sick kids with cancer: now that's a benefit show.

I think you get my message.

Louisville Music News Showcase At Uncle P's To Resume In May: There have been a few minor problems with booking as of late, so the LMN music showcase will resume in May at Uncle Pleasants. It will now be the Third Saturday of every month at Uncle Pleasants. See you people out there!

Upcoming Shows

Bulldog Tavern

Friday, April 9 - 7Day Sunday.

Headliners Music Hall

Saturday, April 24 - Breckinridge, After The Fall CD release, Intheclear and Fail To Falter.

Sunday, April 25 - Earache Record's Deicide, Incursion502, False, Assisting Sorrow. 7:30 p.m.

Oak Street Lounge

Saturday, April 3 - 7Day Sunday

Pappy's

Saturday, April 3 - Hollow and Lucid Grey.

Friday, April 9 - Filth Porn.

Saturday, April 10 - Panic.

Sunday, April 11 - A Dozen Furies, From Within, Snapdragon Expressway, Dominion and Severed Soul.

Saturday, April 17 - Estuary, Abominant, Quinta Essentia, Mangled Atrocity.

Friday, April 23 - Filth Porn.

Saturday, April 24 - Fill Dirt and Poetry Of The Dead.

Friday, April 30 - 7Day, Sun, From Within and Angerwound.

Saturday, May 1 - Summer Dying, Assisting Sorrow and Incursion502.

Monday, May 3 - Soilent Green (Relapse Records), My Own Victim, Incursion502, Kallus, VOA and Redboxnow.

Phoenix Hill Tavern

The Original Rock Showcase Series. On the first Friday, of every Month.

Friday, April 2 - Silent Q, Fail To Falter, Pilot Fish, Violenza and High Road Crown.

Friday, May 7 - Never CD release party with Intheclear, Month Of Sundaze, After The Fall and Doubting The Obvious.

Slammers Sports Bar

Friday, April 30 - 7Day Sunday

Uncle Pleasants

Thursday, April 22 - Doubting The Obvious and End Of Me.

Props Of The Month

This month's props go out to Jason Koerner of LMN, a supporter of the scene for many years and now a part of the WLRS 105.1 information team.

He has a segment announcing shows, news and all kinds of cool s**t, so tune in to the Kentucky Fried Radio hour and check out Mudd and Jason on WLRS 105.1 on Fridays at 7 a.m. and on Sundays at 11 p.m.

He has this weekly thing where he brings on guest musicians and people in the scene, even cheesy promoters like me!

So thanks for coming up with these good ideas and for taking the time out to do these things for no money and thanks to Mudd and WLRS for giving Jason a chance.