Name: Chris Schwartz
Age: 24
Instrument: Guitar
Band/Former Bands: Evil Engine # 9
How Long On Instrument: 9 years
Equipment: Fender Telecaster, Randall amp, Many different f/x.
Influences: Helmet, The Deftones, Old Korn, Snapcase and lots of other hardcore.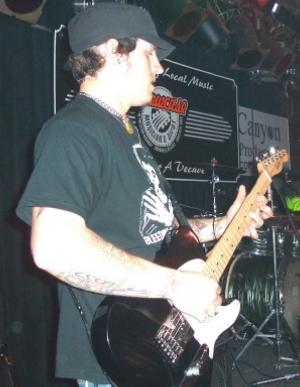 Chris Schwartz
Hobbies: Playing my music.
Favorite Movies: The Crow, The Boondock Saints, A Nightmare Before Christmas.
Favorite Food: Salad and Chinese Food.
Favorite Place: The fire tower at the forestry.
Hobbies: Going to concerts, tattoos, piercings, video games, movies, art and writing, cars, and anything else to pass the time....
What I'm Listening to Nowadays: Poison the Well, 18 Visions, Norma Jean, Dillinger Escape Plan, As I Lay Dying, Demon Hunter, Bleeding Through, Avenged Sevenfold, pretty much all hardcore and metal...the good s**t.
Coolest Thing I've Done: Had my nape pierced and woke up everyday covered in blood. And that was cool because I didn't die....that I know of.
Most Embarrassing Moment: You know I'm not sure I've got some embarrassing times but I can't remember anything off hand that is all that embarassing. .I guess I really don't get to embarassed; cause, frankly, I just don't care.