Name: Richard Bybee
Age: 33
Instrument: Drums are my instrument of choice.
But I can play guitar and bass also.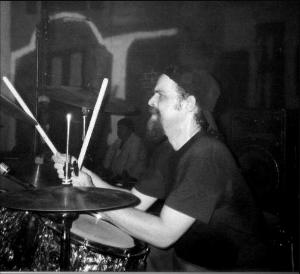 Band/Former Bands: The Grind, Electric Kool-Aid, Psychotic Ratbastards, the Ozzy Osbourne tribute Crazy Train and formed current band Luther in 92.
How Long On Instrument: 16 years, from age 15.
Equipment: Ziljian symbols, Tama Rockstar and Sonar drums.
Influences: Jon Bonham, Greg Ginn (guitarist of Black Flag,) Black Sabbath, Zeppelin, James Brown, Slayer, Yagermeister, Sex Pistols, Alice Cooper and Anton Lavey.
First Gig: 1988 at Barren county high school. I was in the nameless band. But we played anyway.
Hobbies: Following the spiritual advice of my bassist Andrew Smith, recording/engineering here of late, writing music, being lazy and smoking tea.
Favorite Movies: Amityville 2, Possession, Exorcist 1 and 3, The Omen Trilogy, Evil Dead, the original Texas Chainsaw Massacre, Cheech and Chong movies Up In Smoke, Next Movie and Things AreTough All Over; Pumpkinhead and Salem's Lot (unbelievably...the TV version is okay, too.)
Favorite Food: Chinese is my favorite, but I also like BBQ, Italian food, especially pizza.
Favorite Place: Snowshoe Mountain in Virginia, Crazy Train played a huge outdoor concert there and it was great.
What I'm Listening to Nowadays: Old Alice Cooper Love It To Death demos, Headpe Blackout, Zeppelin box set, Black Flag Live, Beastie Boys anthology, Black Sabbath Sabbath Bloody Sabbath," Dave Grohl's project Probot. I especially like the hidden track "I Am The Warlock."
Coolest Thing I've Done: Playing "Pops" in St Louis with Crazy Train. St Louis rocks!
Most Embarrassing Moment: Being so drunk onstage that my snare busted apart and I had to have another band's drummer set it up for me.