I've Got A Mind To Ramble
I've Got A Mind To Ramble
By Keith S. Clements
Handy Blues
I'm ashamed to admit that this was the first time I attended the W. C. Handy Blues & Barbecue Festival, which is now into its fourteenth year. W. (William) C. (Christopher) Handy lived in Henderson, Kentucky from 1892 to 1903. When he was traveling through Tutwiler, Mississippi, he had moment of epiphany at a train station. Handy heard another African-American sliding a knife over the strings of his guitar, singing "Goin' where the Southern cross the Dog." This "weird" sound influenced him to later write "Yellow Dog Blues." Handy would go on to compose forty blues songs, including "Memphis Blues," "Beale Street Blues" and "The St. Louis Blues." Handy admits he didn't write any songs while living in Henderson but realized at that time that he needed to set down his deep South experiences of the fields, bar rooms and the depot to "music that was characteristic of my race."
Since 1991, the town of Henderson has commemorated Handy's dedication to popularizing the blues with a weeklong festival that also includes a tennis tournament, street strut parade and a Zydeco night. The town was originally laid out with very wide streets for protection from spread of fire and access of equipment. Second Street was closed for a spacious concession area, which included such good eats as Roosters Cafe, Mama's Snack Shack and the Weenie Wagon. The stage was set up at one end of Audubon Mill Park, which overlooks the Ohio River.
Following a heavy downpour the night before, the river was up, with high water signs posted at the boat ramp. Fortunately, Henderson was spared during the 1937 flood because of its high elevation at 19' above flood level. Mature trees provided a green umbrella over the lawn where the crowd sat. The cottonwood seeds were gently drifting over the park throughout the day like bubbles, but the music was a world apart from Lawrence Welk's bubble music. It was the blues.
I arrived on Friday, June 18, just as a local band. The Huckleberries, were finishing their set. Hog-Maw Blues Band from Newburgh, Indiana followed This five-piece band covered the spectrum of contemporary blues from Freddie King's "Woman Across the River" to an original, "Don't Turn Your Heater Down." The Crawdaddies brought a Cajun feel to their set with an accordion and occasional rub board. This energetic group mixed ballads, gospel and even a little hillbilly with their blues. They threw fistfuls of beads to the audience to get the crowd up dancing. Lead guitarist and chief energizer James Hoyt was pushing their latest CD, saying, "It's like havin' us in your home without the unpleasantness of us in your home." They closed out with "Zydeco Party" that had a driving bass and drum jam.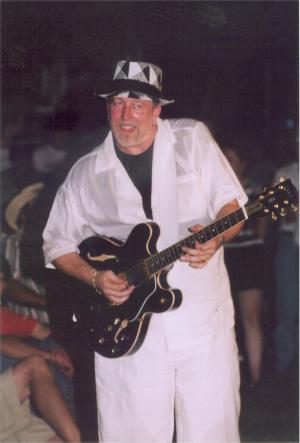 Photo By Keith Clements
Hamilton Loomis brought a punchy brass sound with his Gulf Coast Horns from Galveston, Texas. This young guitarist used a variety of axes, including a small instrument the size of a viola that he showed off as he proceeded out into the audience. "Pass the Peas" featured solos from all the musicians. Their arrangements were very polished and slick, a little too much for this blues festival.
Stacy Mitchhart tours in a big blue resurrected Greyhound bus, similar to Anson Funderburg and the Rockets, when he's away from his home base at the Bourbon Street Blues and Boogie Bar in Nashville, Tennessee. Stacy and his band, Blues-U-Can-Use, were all dressed for the occasion in white slacks and pale lavender shirts. Stacy's horn section of Peter Burger and Michael McDaniel on tenor sax and Jon Paul Frappier on trumpet was well synchronized, with their movements swinging from side to side. The band played several songs from their recent CD, "Midnight Breeze," including the title track and "Things Have Changed." "Home Wrecker" was a groovy soul blues about "poor vulnerable Stacy lamenting, "I'm out here trying to do right, she's out here makin' me do wrong." Midway through the performance, Stacy switched to his polished chrome resonator guitar and sat to go down South on his slide with "Every Time I Roll the Dice," backed up by Michael McDaniels on harp. Stacy and his three horns paraded out into the audience during "I Don't Know Why," rifling the air with riffs. There was a lot of showmanship in Stacy's set, which culminated at the end when he set his guitar down on the stage. After strumming the strings with his feet, he must have put some kind of a spell on the guitar for when he walked away it started resonating by itself and changing pitch with his arm motions several feet away.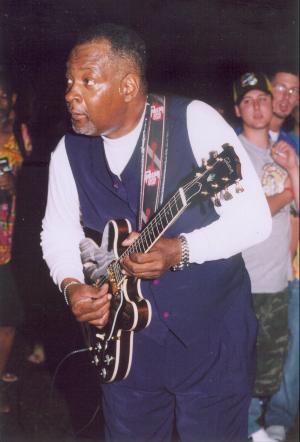 Photo By Keith Clements
Chicago blues guitarist, Carl Weathersby, started his musical career occasionally touring with Albert King as his rhythm guitarist from 1979 to 1982. He then played in Billy Branch's Sons of the Blues (SOB's) for fourteen years. In 1996 he formed his own band and has recorded four albums on the Evidence label. It has been four years since Carl last played at the Handy festival and released his last album, Come to Papa, for he had a stroke. He seems fully recovered and played several songs from his soon-to-be-released CD that was recorded in Nashville. Carl started his set by warming up the band with his back to the audience. But when he turned around he came ready to play, opening with "If That Ain't The Blues" and "Looking Out My Window." Carl let - forced, actually - Levy Walsh to step forward to take some guitar solos. They have been playing together since the Sixties. Near the end of his set, Carl told the audience that Willie Dixon told him, "Boss, I like the way you play the blues. Sing about what's happening in your life." Carl has done that, drawing on his experiences as a policeman, prison guard and service in Vietnam. Carl passionately sang "Hold On" for his encore with vocal assistance from the few who weathered the drizzle to the very end. KET didn't miss a trick or lick, videotaping all the music for future broadcast on the "Jubilee" series next year.
Battle of the Blues
The KBS Unsigned Blues competition is set for Sunday, August 15, at Stevie Ray's. This annual competition started back in 1993 at the Bluebird Cafe, when MR2 Blue was the first winner. Joe Pinkerton, their harpman, said the band is calling it quits after all these years. Unfortunately, bands and clubs come and go but this competition keeps rolling along. There will be an interesting mix of six groups that have entered this year. The Blues Cruisers and the King Bees are Louisville bands that have frequently performed at Stevie Ray's. Two bands from Lexington, Stella Bees and G. Busy Blues Review, are also in the mix. The Back Sliders are the duo of Brian Badgett and David Emery, who also performed as part of the Rock Garden Blues Band, last year's winner. Chad Norvhoff will be coming all the way from Clarksdale, Mississippi to compete as a solo act. Our judges include Greg Martin, guitarist with the Kentucky Headhunters and representatives from the Crossroads (Indianapolis) and Cincinnati Blues Societies. Firehouse BBQ will feed us and $5 will get you in the door. The music starts at 5 p.m. with each set lasting 30 minutes, with 15-minute breaks, so we can all go home by 10 p.m. But not before you purchase one of the new colorful KBS T-shirts. See you there.