I've Got A Mind To Ramble
Jammin' at Lisa's
Looking to unwind at the end of hump day? Try the weekly Wednesday night blues jams at Lisa's Lounge at Oak and Swan Street. Lisa's is your basic neighborhood bar, situated next to the Atomic Saucer Coffee House with a room addition on the back where the music is played. These jams started earlier this year with Lamont Gillispie and Steve Ferguson as hosts. Then it was just Lamont. After a brief lull Sue O'Neil has taken charge of the jam with Larry Holt on bass and Frank McCubbins drumming.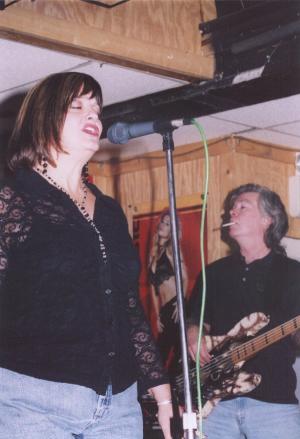 Photo By Keith Clements

When I arrived at 9:30 p.m. it was just Sue and her rhythm section. These jams are like a potluck blues buffet that changes each night. Sue recalled that bassists Monk Mackey and Jimmy Brown and keyboardist Gary Grissle plus guitarist Jim Masterson have shown up recently. She said "I like the sound in this room." I settled in the corner of the back room to admire the raw plywood revival decor embellished with beer paraphernalia. When Don Pollard got up on stage with his guitar, the band kicked in with "Honky Tonk." Then it was time for Sue who tore into "Gypsy Woman," "Spoonful" and "Hip Shakin'." Bobby Watson, the wild man on sax and the dance floor, joined the group on "I'm Ready" and sat in for the rest of the set. Jim Masterson arrived and blew some harp and took over for Don Pollard on guitar. After a brief break a young musician named Ray joined the house band with "Got My Mojo Workin'." He must be serious about his harps because he has them tattooed on both of his forearms. I left about 11:30 p.m. to Sue's raunchy chorus of "Wang Dang Doodle." Currently there are three blues jams a week in Louisville with Lisa's on Wednesday, Stevie Ray's on Tuesday and a Sunday jam at Air Devil's Inn. Mike Lynch, John Burgard and Denny Thornberry have teamed up again as the house band at Air Devil's after Jolly Mon's closed earlier this year.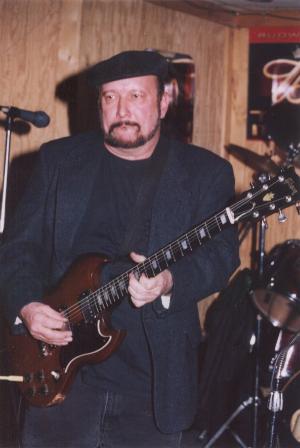 Photo By Keith Clements
Ray Revisited
The movie "Ray" has gotten at lot of interest and praise since it opened in Louisville on November 5. Jamie Foxx, who plays Ray Charles, is very convincing with all of Ray's mannerisms, especially when he lip-synchs Ray's actual songs. There is a brief 18-minute segment midway in the movie where Aunjenue Ellis portrays Louisville's Mary Ann Fisher. While they got her appearance accurate, they got her character wrong. Mary Ann first appears talking to Ray and his road manager in a nightclub where he propositions to her about going on the road with him. The opportunity for a wonderful scene was missed, because Mary Ann's account in her unpublished biography of their first encounter was much more colorful.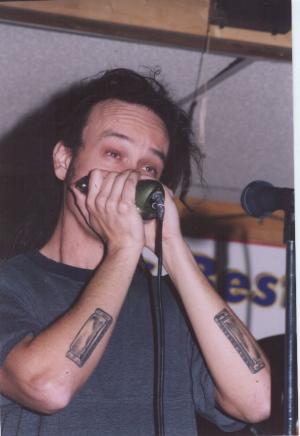 Photo By Keith Clements
Mary Ann frequently sang with the Fort Knox Army band at the NCO club where she was nicknamed "Little Sister" by the soldiers. One Friday in early 1955, she took a bus out to Fort Knox with a friend to pick up her paycheck. Her friend convinced her to hang around to see Ray Charles' show that evening. When Ray started to perform, the soldiers started chanting, "Let Little Sister sing." Finally it got on Ray's nerves and he reluctantly invited her up to the stage. When Mary Ann got to the microphone she looked at Ray's sax player, Don Wilkerson and asked if they knew "I got It Bad and That Ain't Good." They had recently done an arrangement for that song. Mary Ann and the band clicked and when she finished singing Ray was surprised. He smiled and said, "Come here, Little Sister, I liked that." Mary Ann hung around and she could feel the electricity in the air and the chemistry between Ray and her. Later that night they went back to Louisville to the Top Hat, where they were given the red carpet treatment. Later Ray told Mary Ann, "I'm leaving town tonight, but I'll be back on May 9th. I want you to be ready to go on the road with me."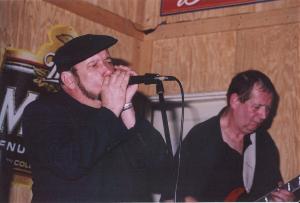 Photo By Keith Clements
While she was waiting for Ray to return, musicians and friends were skeptical of what Ray had said. But Mary Ann believed, especially when Dave Morgan of the Morgan Brothers Band was in Chicago when Ray was performing. After the show he asked Ray if he remembered Mary Ann. He told Mary Ann that Ray's face lit up and he said "Tell that black girl in Louisville that I'll be back for her. I wrote her a song called "Oh, Mary Ann." Ray kept his word and returned to Louisville for a show at the old Convention Center (Louisville Gardens). That night when Mary Ann walked to the stage the security tried to stop her but Don Wilkerson told them to let her come up and be part of the show. When the crowd recognized Mary Ann they roared. She sat down next to Ray at the piano as he began to sing "O Mary Ann, you know you sure look fine. I could love you all the time. Baby don't you know that I love you so. Can't I take you home tonight. If you let me, baby, I'll make everything all right." The crowd went wild and so did Mary Ann, as he had composed a sentimental song about her. After the performance Ray invited her up to his room at the Hooks Hotel. It was the beginning of a passionate relationship. To quote Mary Ann, "Ray knew exactly what he was doing and I could tell that he was no stranger to it." She stayed with Ray that night and got the nickname "Fish."
Early the following morning Ray said, "If you are going with me, you need to be back here by 3 p.m." Mary Ann had to figure out a way to extricate herself from a live-in admirer. After taking some flack for being out all night, she convinced him to go back to work. After he left she quickly packed and called a cab to join Ray and his band. Mary Ann left Louisville for the next gig in Dayton in Ray's 1955 canary yellow Cadillac, the beginning of two-and-a-half exciting years on the road.
Mary Ann's adopted son Tracy was very upset about the way his mom was portrayed in the film. Tracy said, "they treated her like a witch." The movie version of Mary Ann portrays her as being sexually aggressive. For instance when she found out that Ray was married to Della, she wanted to split them up. Actually, there was never any conflict between Della and Mary Ann. Once when they were having dinner together in New York Della said, "Mary Ann, I like you. You never threw it in my face that you were involved with Ray like the other girls did." Tracy who knew Mary Ann as well as anyone said, "She could get along with anybody." The parting shot of Mary Ann throwing a brick through the windshield of Ray's Cadillac is erroneous and misleading. After some friction developed between Mary Ann and the Raelets, Ray didn't want her to leave and she still cared for him. She told Ray she was not bitter and held no resentment against anyone. There were no words between them. She was ready to go to New York and start a solo career. Mary Ann had kept in contact with Ray, corresponding and seeing him backstage after shows when it was convenient. She even gave Ray a four-volume copy of Playboy in Braille when he performed with the Louisville Orchestra. The movie did give Mary Ann her due credit on the one song she recorded with the band and the Raelets. "What Kind of Man Are You," was recorded on the Atlantic label in 1957 and has Mary Ann singing three heart broken questions, "Why do you love me so? Why do you love one no more? Why can't I let you go?" She was probably feeling some of the hurt that Ray did to her.
This is Mary Ann's side of the story and I wish she was still here to tell it. ?>