Name/Nicknames: Robie Dixon
Age: 22
Instrument:Guitar
Band/Former Bands:MSD www.entermsd.com
How Long On Instrument: 12
Equipment: Marshall, Rocktron, Esp, Ibanez, Audio-Technica & korg.
Influences: I would have to say Johnny Cash & Nirvana.
First Gig:Somewhere in a garage a looooong time ago.
Hobbies: Been playing drums for 7 years and banjo for a few, so i keep busy with that, Partying and PLaying PLaystation 2 , lots of it , Jamming with my parents Bluegrass band on the off weekends as much as we can , Keeping Up with MY Dog is also pretty Time consuming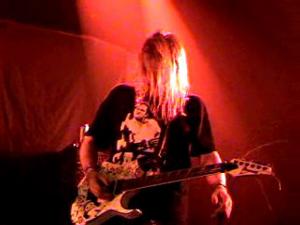 Favorite Movies: Many many many movies, but it all goes back to Evil Dead, always been a fan of The Halloween seires too.
Favorite Food: Steaks, thick ones.
Favorite Place: Anywhere with a drink in my hand.
What I'm Listening to Nowadays: If you were to go to my truck right now you would find Johnny Cash in no doubt, along with a lot of heaver s**t and a lot Of Ween, Kentucky Blue as well, but everything from Rap to Metal & Bluegrass.
Coolest Thing I've Done: Played some Huge National Shows with MSD.