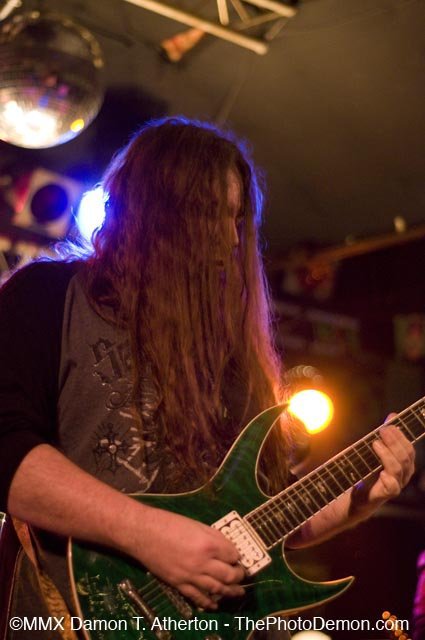 News From the Pit
Aye matey, we be cursed here! I feel nothing. I hear nothing. Wake up, Louisville! You ARE in a ghost story! Ok. Maybe I need to lay off the Pirates Of The Caribbean movie a bit, but what has started from a joke, is now a reality. ARRRRRR...I'm serious people!
It's the curse of the Louisville metal scene! Within the course of a year, more or less, many, many local metal bands have disbanded, leaving a huge void in our once great metal/hardcore scene. This sucks and seems more than mere coincidence.
Coincidence my a**! God is ticked at us, it seems! If you doubt me, check this list out: Flaw, My Own Victim, Outspoken, District Down, 13th Level, False, Kallus, Nemesis, Gasket, Flatlyne, Face The Day, Caustic, Silent Q and many more I'm sure that I forgot.
So, in my opinion, we gotta pick up the pieces and get the freak show back on the road! We gotta start kicking some ass again, by gum!
I know I'm personally trying to get MY band going again. And I noticed that quite a few other people from the disbanded bands have been trying to come up with a few new projects, which is good. Get that chit going! This metal scene is wide open now!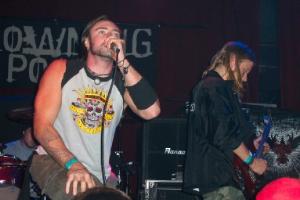 John & Robie MSD Opening for Drowning Pool
Thankfully, we have some really good newer bands to help fill in the void, including 7DaySun, Intheclear, Violenza, Antikythera, Surviving Thalia, Wasted Days and Never the Man.
The truth is, however, we could use a few more brutal metal bands. Alas, getting people together nowadays ain't easy. It's hard work and keeping it together is even rougher. But we gotta keep our chin up, no matter what gets thrown in our way and prevail like the strong metal people that we are.
The Metal Grapevine
Ministry At Jillian's In December! One down, one to go. Ministry will be that one on Thursday December 9 at Jillian's. This should be different, be there and buy me beers!
Fear Factory Rocked! Aside from a - hole road managers and old bosses who hold grudges, I had a great time. Fear Factory remain one of the best. (See review this Issue.)
Flaw's Teary - Eyed Departure: I wasn't able to attend Flaw's final show at Headliners on October 31, but I heard it was a "different" occasion. It was a show with emotions from both the band members and from the fans. At one point Flaw vocalist Chris Volz told the crowd in a heartfelt way, "I'm sorry I f****d up, It's all my fault." Fans seemed to forgive him and accept that it just wasn't meant to be, but then, later, I heard something that makes me think we might see them again.
Is it or isn't it, the end?????
ATTENTION: Aaron Lewis Plays PHT: Just so you know, Staind vocalist Aaron Lewis will be guest vocalist for Jimmie's Chicken Shack on Saturday, December 4 at the Phoenix Hill Tavern. Here's your chance, ladies! Women love this guy. It's an 8 p.m. show.
"Of Sound Mind" Debut Soon! Here comes something interesting. Former Outspoken vocalist David '"E" Frazier, former Flatlyne drummer Terry Harper, former Aqua Jones bassist Jimmy Stallings and newcomer Duncan Kallus have formed a new band called Of Sound Mind, which will be debuting in December. Frazier is a phenomenal vocalist. I can't wait to hear this!
Drowning Pool/Candiria: I recently saw Drowning Pool at Headliners and it was a helluva show! Not only did Drowning Pool far exceed my expectations, but they pretty much blew me away. I think the new singer, Jason "Gong" Jones, is as good as the first guy. Hell, maybe even better. Seriously, I thought that Drowning Pool would be kind of cheesy, but I was wrong; it was a cool show.
The sound was super-thick as they tore into popular tracks such as "Tearing Away," "Bodies," and their newer hit "Step Up." And guitarist CJ Pierce even let me check out his Signature Series Washburn "V" guitar that I have been checking into buying.
I admit I wasn't a DP fan, but I have discovered that underneath the radio commercial thing, there is a really cool heavy band from Dallas Texas, called Drowning Pool.
The crowd was okay but could have been a bit better. The people that were there were very grateful indeed though. Thanks to Terry and Spotlight Productions for this show.
Brooklyn's Candiria absolutely ripped, also. I hadn't seen these guys in years, so I was looking forward to seeing them again. They seemed to have developed a heavier sound. A lot less of the jazz influence. More back to the root, hardcore metal, but they were as good as Drowning Pool.
I managed to see the MSD set and it was great. I like these new songs I've heard. They have gone through a few changes but still remain a major force in this metal scene. Some vocal effects on John's vocals would have been nice; His melodic vocals almost call for it sometimes. Dry just don't do him justice.
Factor 9 Seeks New Vocalist, Is It You? There's no "curse" here, but there is another vocalist issue for the Factor guys. The band is currently seeking a new frontman. If you can sing very well, then you should get in touch with these guys. Check www.factor9.net.
Flatlyne on Hiatus! The "curse" has struck again. A band that has done very well recently is on hold. And their future as Flatlyne is uncertain. Despite gaining a darn good following, they still are splitting up. A few of the members are pursuing other musical projects, leaving the band in a state of hiatus. Having been through a few hiatuses myself, I can honestly say, "I hate `hiatuses.' They annoy me. But I hear that vocalist Chris Shewmaker has been contacted by a number of interested parties, one being Factor 9.
My Own Victim's Final Recordings: Despite being broken up, hardcore MOV fans can purchase the new CD that MOV was working on when they broke up.
Entitled Leadhead, the ninth and final MOV CD is now available at Ear X-tacy. Louisville artist extraordinaire Jeff Gaither did the artwork and I heard it was awesome.
Check out the final work of one of Louisville's all time great metal bands.
"Face The Day" Falls To The Curse: Another "curse" victim is Lexington's Face The Day, which was riding on a good buzz about the band. They have disbanded. Bassist Ryan Gold said "We will discuss everything and see what we will decide." Hopefully they will continue on with a few new members.
Gasket Succumbs To "Curse!" Another victim to the dreaded curse. The band Gasket is no more. They were some rowdy guys, rowdy but harmless. Their music wasn't bad either. Good luck, metal brothers!
Wasted Days, Impressive! The guy in Wasted Days who contacted me bugged the S*** out of me for a show, nonstop. So I figure, hell, why not? Once again, I am glad a band went to such extremes to get noticed, because these guys are damn good!
I would gladly give them another show. They showed true professionalism and played very well. If you haven't heard these guys yet, try to. I bet you will like them. The former vocalist for Superface is now singing for Wasted Days. I'm looking forward to seeing them again.
Antikythera, Visit Them: In this time of need for our metal scene, a new band emerges from the depths. These guys are talented. Check them out on www.myspace.com for pics and songclips. They may be THE new Louisville metal band on the horizon. They seem off to a very good start.
Upcoming Shows
Bulldog Cafe
December 4 - Valpurgus, Deadsun (TN), Descention, Violenza & From Within.
December 11 - Incursion, Descention & Renault.
House Of Music
January 2 - Antikythera, Look What I Did, Lao & Surviving Thalia.
Jillian's
Thursday, December 9 - Ministry.
Phoenix Hill Tavern
The "Original Rock Showcase Series," on the first Friday of every month, in the Roof Garden.
Friday, December 3 - Face The Day, Luther, Month of Sundaze and Jefferson County Drunktank.
Friday, January 7 - Of Sound Mind, MSD, Evil Engine # 9, Surviving Thalia.
Thursday, December 2 - Reverend Horton Heat and Split Lip Hayfield. 8 P.M.
Saturday, December 4 - Jimmie's Chicken Shack with Aaron Lewis of Staind doing guest vocals.
Tailgater's
Friday, December 3 - Antikythera, Descention and For Petes Sake. 21 +
Outtatownerz & Otherz
January 14 at The Klondike Saloon, south side of the square, Salem, IN 47167 - $5
Antikythera w/ Gasket - 65 north to Salem/Hamburg exit, turn left. Stay on State Road 60 until you cross railroad tracks Pass the tracks and take a right, which will still be State Road 60 Follow it until you get to the stop light in Salem. Take a right on Main Street and go all the way to the square. Klondike will be in the square.
Props of the Month
I reckon this here month is gonna go out to them there folks down at Jillian's for booking a crushing electro-thrash band like Fear Factory (see review in this issue) and also the freaks in Ministry, in December. There will be plenty of people who agree with me on this. Why? Because there are a lot of freaks in this town who are unhappy with the bands who don't play here. We need the unusual and freaky acts to WANT to come to this little town!
And Jillian's is doing some good there! Especially lately.
Keep it up, us freaks love our evil heavy s**t.
You can doooooooooooo it.