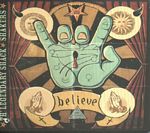 Gothic Tales of Sonic Exorcism
Believe (Yep Roc Records)
The Legendary Shack*Shakers
By David Lilly
They don't make a section in music stores for Th' Legendary Shack*Shakers' sort of melodic orchestrations. Well, actually they do, but this CD could be placed in rock, alt-country, polka, punk, waltz, blues, rockabilly, psychobilly or Goth; and any of those would be legitimate.

While TLSS could not be found in the hip-hop section, there's even at least one incident of "sampling" here. Not from someone else's song, though. Resident frontman (vocalist, lyricist and harmonica player) J.D. Wilkes went out and recorded some train sounds. The opening song, "Agony Wagon," contains a few blasts of those train-noise samples and features a good example of the dark lyrics Wilkes (a student of Middle English, John Keats and Willie Dixon) writes, such as "I'll ride this Agony Wagon/Forever to heaven or to hell/I'll ride this Agony Wagon/My bones are damned to roam these rusty rails" in the chorus. In this song you might notice a sort of gothic/polka/psychobilly/hoe down type of feel.

In keeping with the theme of darkness and fun, TLSS delivers the bold and eerie, "Where's the Devil...When You Need Him?" Here, as Wilkes' voice seems to come through a walkie-talkie, he taunts and shakes his head (this is audio - use your imagination) in mock disappointment at the dark lord himself. He also works in a good pun, referring to the Satanic One as "the Beast of Eden."

One of the more accessible tunes here is the primal rock-n-roller "Piss and Vinegar," which Wilkes claims to be full of (listen to this CD and you'll believe him). I'd wager that when they play that onstage, everybody is full of kinetic energy, because it's just plain rowdy rock 'n' roll fun. The one cover song on this disc is a smoldering version of the blues gem "Help Me" by the also "legendary" bluesmen Sonny Boy Williamson and Willie Dixon. One can only imagine what Williamson and Dixon would think of Wilkes' harp playing, but it works for me.

In stark contrast to the more raucous material is the beautifully waltzed, "The Pony to Bet On," including a lovely violin and the chiming in of clucking chickens. An instrumental reprise of "Agony Wagon" closes the CD, assuming the title "Misery Train," and briefly showcasing in low-key manner the tight musicianship of the band. Speaking of that, guitarist David Lee, slap-bassist Mark Robertson and drummer Paul Simmonz rank among the best players around. And speaking of that, one Paolo Williams now plays drums for TLSS.

TLSS is for the musically open-minded and adventurous (and it helps if you're attracted to the darker side of music), so if you're inclined to have a look or listen, visit the source at www.cockadoodledont.com/index.html

.