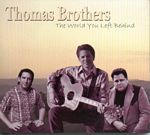 A Thomas Bros. Love Story
The World You Left Behind (Danger Records)
Thomas Brothers
By David Lilly
You're gonna love this h'yar forty minutes of country music on two or three conditions. One is that you're old enough to fondly remember the Cousin Jody era on the Grand Ol' Opry and the music portions of "Hee Haw." Two is that you're too young to have experienced those but have sought out any existing recordings. The third condition is, probably, if you like the Oak Ridge Boys.

The Thomas Brothers - who really are brothers, by the way - grew up on the western edge of Louisville back in a day when local TV frequently broadcast country music shows such as the aforementioned "Hee Haw," plus "The Porter Wagoner Show," "The Carter Family Show," "The Grand Ol' Opry," and others. The music got under the brothers' skin. At age seven, brother Dean got a set of blue-sparkle drums and the ball started rolling. He eventually took over on guitar, with brother Dave taking the drummer's seat and little bro Barry came of age to handle bass. Country music was their focus from day one.

As such, there is a broad audience out there for these Thomas Brothers. While I belong as far away from country music as possible, said audience should take that as a very good sign for them. The vocals on "The World You Left Behind" are smooth as a newborn baby's skin and the music should appeal to a great deal to listeners who like it Merle Haggard-, George Jones, Buck Owens-, or Oak Ridge Boys-style, a.k.a. low-key, simple and steady. In other words, this CD promises damn good listening for fans of country music.

Don't wait for details at 11 when you can head over any ole time to www.thomas-brothers.com/bio.html

.