Name: David "Sailor" Bryant
Age: Old enough to drink , vote, have sex and die for my country!
Instrument: Vocals and guitar (Sometimes) wash-tub bass and garbage cans.
Band/Former Bands: My Own Victim / Not Of This World and Fill Dirt. Former band was The Eight Foot Bunch.
How Long On Instrument: I've been singing and playing guitar since my day of conception in my mother's uterus/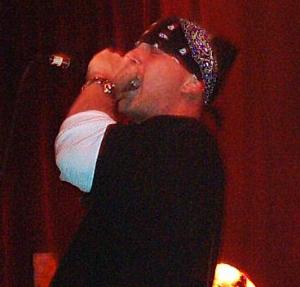 David (Sailor) Bryant
Equipment: Takamine or Taylor Acoustic guitars for when I want to do a little pickin' and a'grinnin'. Shure microphones for when I'm mad at the world.
Influences: The heaviest influences in my life have been 1.) My mother (I miss you terribly, R.I.P) for her unconditional love and support, even though I did not follow her favorite artist. (Celine Dion) 2.) Travis Meeks (Days Of the New) one of the best friends I have today 3.) Chris Goss (Masters Of reality) 4.) Early Black Sabbath (The Ozzy Days) 5.) Danzig (everything before Blackacidevil) 6.) And yes, Phil Anselmo (Pantera, Down, Superjoint Ritual, Etc) I dig a lot of the things he does except the Viking Crown and Necrophagia, they are more out of my league.
Hobbies: sex, sex, sex and sex! Spending quality time with my wife is very important since our schedules are different. (see hobbies 1 - 4 for reference)
Favorite Movies: "Scarface," "Slingblade," "The Exorcist," "The Apostle," "The Cannibal," "Holocaust," the first two Batman movies And my all time favorite, "Taxi Driver" with Robert DeNiro.
Favorite Food: Pizza rolls, fries and dip.
Favorite Place:: Louisville, KY because there is no other city with a music scene and musicians as talented as ours, nowhere!. And I've been From New York, NY, to McAllen, TX.
What I'm Listening to Nowadays: It varies from day to day, depending the mood I'm in. The following stays in my truck no matter what: Masters of Reality, Days Of The New, My Own Victim (Old and New) , Not Of This World (my project with Travis Meeks), Fill Dirt (my mellower side project) , Superjoint Ritual, Down, Brand New Sin, Pantera, Monster Magnet, Kinghorse, Sworn Enemy, Machine Head, After The Fall, Nemesis, One With Misery, Incursion 502, Jefferson County Drunktank, Phearus, Kallus, 13th Level, The Ville Billies, Haystack, Bubba Sparxx, and Hank Williams
Coolest Thing I've Done: I have several, but the ones that top the list are 1.) Meeting and marrying my wife Maureen. 2.) Joining M.O.V (I was a fan for a long time and love most of everything they had done.) 3.) Doing Not Of This World with Travis Meeks and being able to work with him out on the road. 4.) Being on and backstage with Down when they played the Ozzfest in Pine Knob, MI. I got to hang out with Pepper James Keenan, Rex, Phil, Jamie Josta from Hatebreed, all the guys in Meshugga, Flaw, Pulse Ultra, El Ninjo, and Black Label Society 5)Playing with The Black Label Society, Days Of The New, Cannibal Corpse, Agnostic Front, No Innocent Victim, Flaw and all the other fellow 502 musicians out there! You are the Heart and Soul of this City!
Most Embarrassing Moment: Does your girlfriend's mom walking into her daughter's bedroom and me being under her covers in bed with her daughter performing lip service count?
Eddy: uh, yeah, I'd say so.