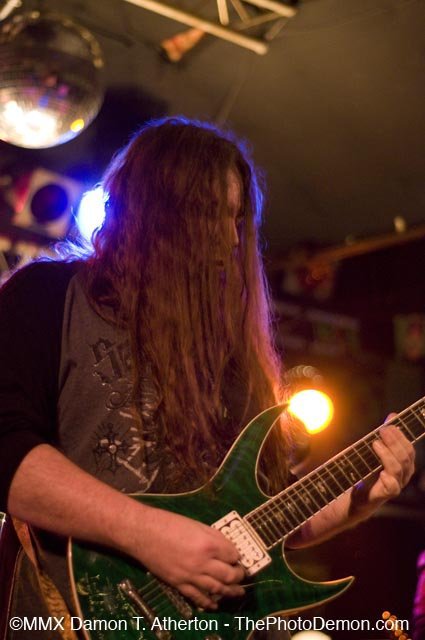 News From the Pit
What can I say? We are in a musical drought, it seems. There are about five to ten bands that are doing pretty well, but the remaining musicians are struggling to stay active and not making much money at all, if any.
The fact is, that there aren't that many places to play anymore. Well, there are, but it's one thing or the other: bad sound, too far to drive, a*hole managers. There always seems to be something messing things up. There are only three or four places worthy to play, in my opinion.
I've heard of poor attendance at several local shows and if you are under 18, you might as well give up on seeing some good Louisville music, because there are hardly any all-ages places left. I have no idea what happened to Expo 5/ it seemed to be a promising venue, but lack of promotion or advertising killed that pretty quick.
WLRS had me convinced they would continue to push Louisville music and put on more original shows, but I haven't seen or heard much from them lately. I was kind of hoping they would keep up the excellent work they did in 2003.
Maybe another band battle perhaps? The first one was very successful.
WLRS, WAKE UP! And kick some butt again! I don't know, people, we need some kind of shot in the arm. The scene is becoming kind of stagnant.
I guess maybe winter is like our off-season or something, because the shows always seem to dwindle a bit. But if you can, try to check out some of the new venues like Pappy's and Uncle Pleasants, I bet you'll like it.
The Metal Grapevine
Unreal: The vocalist of a Louisville band that has gotten signed has basically been told by the record company to "fire your band because they are too old and fat," because they don't fit in with today's trends. Meanwhile, these old fat guys mentioned can get down on a guitar, bass or drums like demons possessed, excellent musicianship! It's a damn shame these record people see things this way.
Six Feet Under: Tuesday, February 17 at Headliners, Metal Blade recording artists Six Feet Under will be here to stomp on your skull for a small sum of money. Special guests will include Reflux, Full Blown Chaos, Cosmonaut and Ghostrider Black. The show is 18 and over and starts at 7 P.M. Tickets are $12 in advance or $14 day, of show. This should be a good show, don't miss it!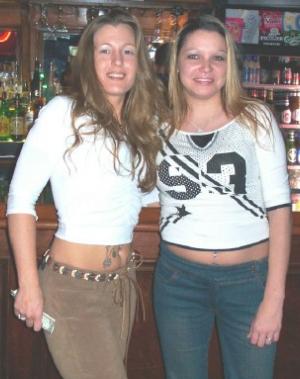 Two Fail To Falter fans at Phoenix Hill. By Eddy Metal
Rumors? Rumors are flying that Jennifer from Tekworld has been looking for a venue. I'm not sure if this is true; I guess that's why they call it a rumor. If so, we need the venue, so you go, girl!
Beautiful Is No More: Bobby Burns, formerly of the Primer 55 project Beautiful has broken up. I'm sure Bobby and friends will be back in no time.
Eclectic Getting Signed Soon? These young guys who won the WLRS battle of the bands, beating 200+ bands, have recently snagged some out-of-state gigs that could prove to be a great thing for the band. In my opinion, I think these guys may get signed soon because they pack the people in wherever they go! They could have a concert at a slaughterhouse and there would be 200 - 300 people, mostly women, dancing around having a ball! lol.
Phearus Hits The Road: These guys landed a tour during spring break along the Gulf Coast (which is my fave) and the Atlantic Coast as well, hitting such cities as Miami, Fort Lauderdale, Panama City, Daytona, New Orleans and Corpus Christi. Sounds like a good time to me. This is rare for an unsigned band to achieve. We wish them luck.
Got Practice Place? The Mellwood Arts and Entertainment Center is currently under development in the Clifton Neighborhood. If you're not familiar with this facility, it's located in the old Fischer Packing plant on Mellwood Ave. They are currently leasing out 77-square - foot studios to artist for $100 a month. Unfortunately (for musicians), they are only giving space to visual artists for the time being because of noise concerns. but they do have plenty of available space throughout the complex that could be converted into designated musician rehearsal space if enough interest is shown throughout the community. So if you are in a band (or just need a place to make noise) and would be seriously interested in such a space, then send an email to Kelli Torpey at kelli@mellwoodartcenter.com. All units would be for individual monthly lease, would be available 24 hours a day, and they will feature a per-unit security system so that no one could get in and run off with your gear.
Eddy: I have heard a lot of you people complaining about no practice place. Here is something that may help you bands big time, so don't screw it up. Thanks to Jeremy of the Dead City Rejects for this info.
Pappy's Gettin' Brutal! I have been hearing all kinds of metal shows (even national acts) have been happening and are being planned at Pappy's, a bar off Old Third Street. Unfortunately it's kind of far out, but they been having a lot of bands playing there lately and the people who run it are cool. So if you are in for a dose of the heavy stuff, get your rumps out to Pappy's and get brutal!
New Band Alert: Sane Anonymous is a new four-piece metal band from Louisville that is into heavy Corrosion Of Conformity type music, but a little more melodic. You can see them open for Factor 9 at the Phoenix Hill on February 6.
The Verdict: Otium: A very good new band here! The vocalist has great range and tone a bit too similar to the guy in Tool, but other than that, these guys jam and I recommend checking them out.
The Verdict: 7 Day, Sun: This new band featuring former members of Execrate have really got it going on musically. I saw them recently and Wow! they had a great response from the crowd. At some times it reminds me of Flaw and the nu-metal style, but they still keep it heavy as hell. These guys have come a long way since Execrate, go see them!
13th Level Seeks 2nd Guitarist: Candidate must have pro gear and must be reliable. Style needed is Thrash/Hardcore/Metal with clean guitar capabilities also with effects. eddymetal1@aol.com
High Road Crown CD Release: Saturday February 28 at Tailgaters, doors open at 8 P.M. Special guests include Pornofishtank & Silent Q.
Upcoming Shows
Bulldogs Cafe
Saturday, February 7: 7 Day Sunday
Pappy's
Saturday, February 7 Assisting Sorrow, Kallus, The Revenants and From Within.
Saturday, February 14: 7 Day Sun & Antigriffith.
Sunday, February 15: Unenlightened & Institution.
Friday, February 20: Burning Through Autumn, Atria & Panic.
Saturday, February 21: Makeshyft, Silence The Epilogue & Red Box Now
Friday, February 27: Fill Dirt & Jayson of OWM.
Sunday, February 22: Metal Blade Records recording artists As I Lay Dying with Himsa. 6 P.M.
Thursday, March 4: Remembering Never, On Broken Wings and Calico System. 6 P.M.
Phoenix Hill Tavern
The Original Rock Showcase Series.
Friday, February 6: The return of Factor 9, District Down, Garden Of Stone, Noise Bucket and Sane Anonymous.
Friday, March 5: Eclectic, My Own Victim, Evil Engine # 9, : 7 Day Sun
Uncle Pleasants
Friday, February 13: Incursion502, Luther and Hollow.
LMN showcase
Friday, February 20: Peace In The Jones, Milo and Unenlightened.( not confirmed )
Saturday, February 21: Mudbreakers, Digby, Twincam and Manda & The Marbles.
Outtatownerz and Otherz
Saturday, February 28 at the Fern Creek Community Center: Incursion502, Flatlyne, Deadsun, Factor 9, 7 Day Sun, Evil Engine # 9, Loki ( WI ), Sinckwhole ( IL ), and Left For Dead ( IL ). All ages! 6 P.M.
Props Of The Month
Julie McGrath has been putting on a lot of metal shows lately and has shown much determination and fortitude by putting on shows at a venue that is a bit too far for most people to want to drive to. She doesn't give up and that is an admirable quality. And Pappy's gets thumbs up for having the balls to book a lot of the city's wild-ass metal bands. Thanks for showing the love to the metal scene.
Final Note
Be sure to send all Info and Showdates to me by the 15th of every month. eddymetal1@aol.com