I've Got A Mind To Ramble
Sue Meets Sylvester
Every year since 1989 the Kentuckiana Blues Society has given the Sylvester Weaver Award to someone who has "dedicated their life to presenting, perpetuating and preserving the blues." For those of you who are not familiar with Sylvester Weaver here is a very brief history lesson. He was a Louisville musician whose claim to fame was that he was the first blues guitarist to accompany a singer on record. This historic event happened in New York in 1923 for the Okeh label, with Louisville's own Sara Martin singing "Longing for Daddy Blues." Weaver grew up in the Smoketown neighborhood, which had many saloons where the blues were played. Sylvester mastered both ragtime and slide guitar styles and played on several of Sarah's recording sessions in New York, Atlanta and St. Louis from 1923 to 1927. His most famous instrumental was "Guitar Rag," later recorded by Bob Willis as a western swing version titled "Steel Guitar Rag." Earl Hooker also recorded several versions of the same rag. Sylvester is also credited with discovering Helen Humes. He first heard her at The Palace (11th St. & Walnut) and with her parents permission took her to New York to record at the tender age of 14. Weaver traveled the T.O.B.A. circuit throughout the south. In his later years Sylvester moved to Old Shepherdsville Road and was a chauffeur for the Lemon family. He died in 1960 and in 1992 the Kentuckiana Blues Society dedicated a headstone at his gravesite in the Louisville Cemetery.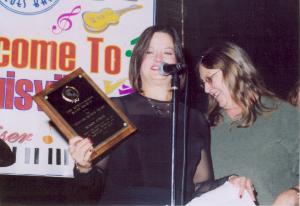 Sue O'Neil Gets the Sylvester Weaver Award from KBS President Brenda Major - Photo (C) by Keith Clements
Sue O'Neil received the Sylvester Weaver Award at Stevie Ray's on November 29 following her first set with her band, Blue Seville. She was totally taken off guard, which is the way we like to plan it. Brenda Major, the perpetual KBS President, presented the plaque to a surprised Sue. She becomes the third female singer to receive the award following Mary Ann Fisher in 1996 and Tanita Gaines in 1999. Blue Seville includes "Professor" Bill Dean on keyboards, Larry Holt on bass, Frank McCubbins drumming and Larry's brother, Sam Holt, on guitar. This was just Sam's third gig with the band, having recently replaced Rocky McClure who needed a break due to back problems. Sue sang several new originals, including "Down On The Corner" and "Stay With Me," both written by Rocky. Contemporary singers like Robert Cray, Susan Tedeschi and Shemekia Copeland have influenced Sue's repertoire. She feels Cray's voice is his best instrument and she did a powerful rendition of Copeland's "It's Too Late Now."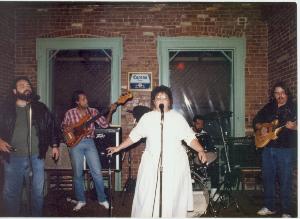 da Mudcats at the Rudyard Kipling, circ 1988. L to r, Jim Rosen, B. G. Johnson, Sue O誰eil, Gene Wickliffe, Andy Brauner. Photo used by Permission
After the show, we arranged to do an interview and Sue graciously came to my place with her scrapbook, loosely filled with photos, clippings, autographs and other memorabilia. Sue started singing in the choir at St. Rita's Catholic Church during grade and high school. She also sang in the 4H talent contest at school doing "Johnny Angel." Once when WHAS was holding auditions for the "Ted Mack Amateur Hour," she rode up the elevator with Cassius Clay and he signed her sheet music. Sue first met her husband, Rick, at the Function Junction in the mid-70's, during 25 cent beer night. At the time, he was playing with Just Foolin', a variety band and they needed a vocalist. This group gradually transitioned into Kessler's Friends. They were a hot band during the late Seventies. Besides Rick and Sue, the band had Martha and Harland Brewer, John Kennedy, Jerry Hopkins and Mike Alger or Mike Franklin on drums. Sue and Rick got married in 1980 and she quit the band in 1982 when little Ricky was born, but continued to promote and manage Kessler's Friends.
Da Mudcats got together in the fall of 1987. Their first gig was a tailgate party for a U of L football game at the Fairgrounds. After Sue, Jim Rosen andy Brauner, B. G. Johnson and Gene Wickliffe rehearsed for a few months, they showed up and found a generator, two small speakers and a six channel mixing board in the parking lot. Since there was no sound man, nobody knew what to do. Sue said it was a "logistical nightmare." She got Jerry Harris, Martha Brewer's brother, to hook it up and bring a monitor. They did 45 minutes of material and snuck away. The Bluesday Tuesday jams, hosted by Scott Mullins, were going on at the Rudyard Kipling at this time. Sue went one night and signed up to sing. Scott kept passing her up since she was unknown. Finally Jim Rosen's sister-in-law, Mary Bryan, told Scott, "We've been here for hours waiting." Scott reluctantly called Sue up and she sang "Blow Top Blues." After that, she had no trouble getting up. Da Mudcats soon made the rounds of the current blues bars like Cherokee Blues Club, Fat Cats, Uncle Pleasants and the Butchertown Pub. Later, they were the house band at Barry's.
I asked Sue if she had a good Jim Rosen story that was suitable for print. She thought for a moment and recalled the time da Mudcats played at an outdoor barbecue in Elizabethtown. The band was setting up in a park under a gazebo. Sue noticed that someone kept moving her mike stand from where she originally set it. When the time came for her to sing, she moved it back to where she wanted it. In the middle of her song, Sue leaned back and felt something running down the side of her face and into her shirt pocket. A bird up in the rafters of the gazebo had just let loose. Sue said, "Jim just lost it and sat down and doubled over on the stage laughing. Rob Pickett started to break up too and the set turned into a train wreck. Just to see a big man like Jim crumble, showed how he reacted." Later that night the band had a gig at the Cherokee and Jim had bought a little bird and attached it to her microphone. That little bird followed Sue around for awhile. That's the "dirty bird story."
Sue was a founding member of the Kentuckiana Blues Society , coming to our very first meeting at the Rudyard Kipling in 1988. She served as membership chairperson , gathering all the names on a data base and was editor of our newsletter for two years until 1992.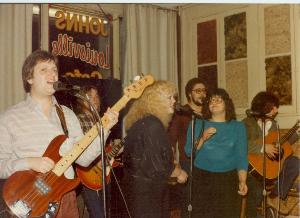 Kessler痴 Friends, 1982. L to r: Rick O誰eil, Martha Brewer w/Susan O誰eil sitting in
Sue left da Mudcats in 1992 and soon her second son, Blake, was born. But Sue said, "When I wasn't singing, it felt like a part of me died." So she formed the Blueshounds with Rick on bass, Bill Dean on keyboards, Mark Stein playing guitar and Gary Gizzell drumming. After five months of rehearsals, they got their first gig at Stevie Rays in December 1994. This band stayed together for seven years, with Martha Brewer occasionally sitting in to sing Aretha Franklin and Pointer Sister songs. When Mark left to play with Lamont Gillispie and Bill didn't like the direction the band was headed, the band broke up in 2001. Then Walter Lay asked Sue if she would like to sing with Dr. Hemiola and The Blues Activators. She liked this brief six-month experience, for she didn't have to worry about bookings and managing the band. There was a contrast in styles with Walter going in the direction of country blues and Sue preferring urban blues. So after their last gig at Barretones, they split. When Sue started Blue Seville in 2002, she asked Rocky McClure and Larry Holt, who had been playing in Walter's band, to join her.
Sue has two CDs in the works. The first will be her own CD, which is due out next summer. It is a composition of original songs, taking rhythm tracks from when she was with da Mudcats, Blueshounds and Blue Seville. Rick is producing the record in Jeff Carpenter's studio. One track, "Wailing In the Wind" with Rodney Hatfield on harp, has already been released. Sue is working and writing material for the other CD with Blue Seville, which will be released later.
I always wondered where the da Mudcats logo came from. Sue showed me her hand-drawn sketch of the cool fish with chapeau and shades which she created in 1987 with Mary Bryan, Marty Rosen's wife. Wrapping things up, I asked Sue what her take was on the local blues scene. She said "the blues is cyclical. How many times has it gone and come back? Bluegrass, especially in Louisville, is the big movement now, but every dog has its day." Regarding venues, Sue said, "back in the fun days the phone was ringing off the hook, but now you have to talk `em into having you." Her son Ricky is listening to Led Zeppelin, so there may be hope that the youth will go back to the roots. Sue thanked the KBS for the honor of receiving the Sylvester Weaver Award. You can celebrate the New Year with Sue at Stevie Rays on January 16 and 17 and Zena's on the 24th.