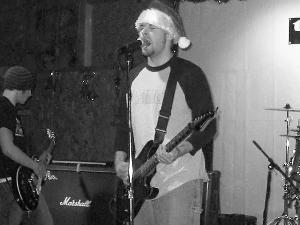 Louisville Rock Upclose
AGE: 23 that's 3.2 years in dog years.
INSTRUMENT: Guitars, Vocals, Drums, Bass, I can do it all.
BANDS/FORMER BANDS: Nemesis, MTH - Assisting Sorrow, Kallus, Inidle, Asphyxia, Blue Car Keys, Pancake Orphus, The Slackers, FuSiON, sorry to bands I forgot.
HOW LONG ON INSTRUMENT: Drums 20 years, Guitar 16 years.
EQUIPMENT: (takes deep breath) Schecter, Jackson, AriaPro2, & Electra guitars; Fender Extra Heavy picks (for extra heavy metal); Ernie Ball strings; Shure mics; Behringer V-amp preamp; Marshall JCM900; Crate Xcalibur; Samson S series poweramps; Marshall JCM1960 cabs; Boss pedals; Sennheiser wireless; and Calzone rack cases.
INFLUENCES: 311, Air, Atari Teenage Riot, Bjork, Cannibal Corpse, Cave In, Dead Kennedys, Deicide, Fear Factory, Filter, Grade, Mazzy Star, Megadeth, Meshuggah, Nirvana, Pantera, Piebald, Joe Satriani, Sepultura, Sigur Ros, SRV, Stabbing Westward, Static-X, Suicide Machines, Tool, Type O Negative and anything Q2 played on the air in 1995.
HOBBIES: Record engineering, web design, baseball, chess and creating music.
FAV MOVIES: American Beauty, American Psycho, Atlantis, all the Kevin Smith movies, Dirty Work, Fight Club, Ghost World, Hackers, Lord of the Rings Trilogy, Pulp Fiction, Reservoir Dogs, SLC Punk, Snatch, Suicide Kings, The Family Guy DVD and The Matrix. Oh and dirty, dirty movies.
FAV FOOD: Pizza and Powerade.
FAV PLACE: Cherokee Park in the Summertime.
WHAT I'M LISTENING TO: Radiohead, Piebald, Sigur Ros, Cave In, Scatter the Ashes, Submethod, Look What I Did, Tyrone, Red Sun, Bodyhammer, Face Make Model, Helgeson Story and Between the Buried and Me.
COOLEST THING I'VE DONE: Two chicks at once.
MOST EMBARRASSING MOMENT: I don't take good pictures, there are probably a few funny looking faces I'm making in some of them.