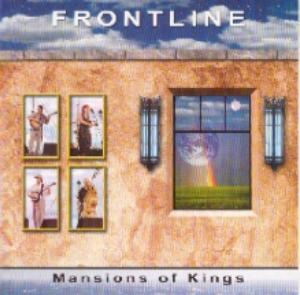 Bluegrass From Some Different Mountains
Mansion of Kings (Independent)
Frontline
By Bob Mitchell
I was fortunate enough to be in the audience when Frontline opened the showcase portion of IBMA 2002 in Louisville. They are an accomplished group of musicians from the Pacific Northwest who create a pleasant blend of traditional and contemporary bluegrass.
Frontline's arrangements are well thought out and harmonies are right on the money. They project bluegrass with a gentle elegance and energy, due in large part to the vocal talents of Leah Larson and Joseph Wilmhoff and the guitar work of Dale Adkins. Adkins also makes significant contributions with his mandolin, strong baritone in the three part harmony arrangements and an original instrumental composition, "Twisted."
Larson's voice and fiddle are as fresh as her majestic Pacific Northwest mountains. Her work is especially fine on a heartfelt "What Kind of Love is This" and "I've Just Seen the Rock Of Ages."
Joseph Wilmhoff's bass fiddle and vocals blend perfectly with every nuance of each song. His pen also strengthened this project with three remarkable original compositions: "I Know You Still" (a homage to his home state of Kentucky), "Sweet Dreaming Man," and "When Life is Good" (a marvelous song stressing the importance of gratitude).
Dale Williams is Frontline's banjo player; as a teenager, he toured and recorded with Kenny Baker and Josh Graves. His original instrumental "Dead End" is sure to get your toes tapping. Everyone gets to stretch out in this one.
Michael Witcher guests on Dobro. No stranger to bluegrass, he has worked with Peter Rowan, Tony Rice, Laurie Lewis and the Lonesome River Band. His playing is consistently solid but he really shines on "I've Just Seen the Rock of Ages."
This recording was well engineered and captures the naturally sublime sounds of the human voice and stringed instruments.
If you were not at IBMA and if you won't be in the Oregon Washington area soon to see these folks live, get a copy of this project. Frontline is one of the better emerging groups and, with the right breaks, they will be around a long time. Find out more at www.frontlinebluegrass.com.