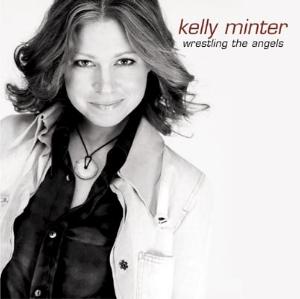 Hanging Tough
Wrestling With Angels (Cross Driven Records)
Kelly Minter
By Kory Wilcoxson
Perseverance is the key word for Kelly Minter. After a strong debut album in 2000, she lost her record deal and wandered the desert looking for the promised land of a new label and a new start. She's found both and the result is her second album, Wrestling with Angels.
The tracks on Angels reflect Minter's rocky road and the faith that has sustained her. When she sings of loving God in the midst of suffering ("Yet Will I Praise," "Walk Me Through"), her words ring with sincerity. The lyrics of songs like "Open Up the Sky" and "Miss You Here" embody a weather-beaten wisdom that belies Minter's young age.
Musically, Minter is solid but not outstanding. She compares easily to the likes of vanilla Christian vocalists Kathy Troccoli and Margaret Becker (who produced a few of the tracks on "Angels"), but Minter doesn't do anything to distinguish herself. Her highs and her lows are too close together and her music is treading all-too-familiar ground.
If Minter can show as much growth musically as she has personally and in her songwriting, she could definitely be a voice worth listening to in the future.