Bluegrass Beat
How true is the title of a John Hartford CD _ My Oh My, How The Time Does Fly. I just looked and the 17th of June _ deadline for this bit of "wisdom?" _ is three days away and one of them is Sunday. I always thought things slowed down when you got older, which I did. I crossed the 74 line the 8th last. And that goes to a John Hartford song in the album mentioned, I think, _ "I'm Still Here." May not mean much to you but, it sure does to me!
June 4 is now behind us and July 4 is just ahead, depending, of course, on when you are reading this. A day for celebration and a day for common sense, something that seems to be a rarity these days. Celebrating the Fourth might be called the celebration of an old-fashioned event. Let's do it in an old-fashioned way. Somehow the term "old-fashioned" has a negative connotation. Is courtesy, consideration for others, thoughtfulness, integrity and respect such an awful thing? WHY? Maybe "it" is old-fashioned, but it's right and is that such a bad thing? If that's a bad thing, then what is a good thing!? Be careful in everything you do to celebrate and keep yourself safe. As some old fellow supposedly said, "The Fourth was fine but, that `fifth' liked to killed me."
John Hartford Tribute
On the 6th of last month, I had a "Remembering John Hartford" tribute on the Sunday Bluegrass show [WFPK 91.9 FM, 8-11p.m]. Judging from calls and e-mails received, it was appreciated. Visitors to the show, sharing memories and experiences with John, were Capt. Kevin Mullen, Capt. Bill Ray (both from the Belle of Louisville) and Capt. Alan Bates, retired. I will share a representative e-mail expressing the thoughts of his and many listeners: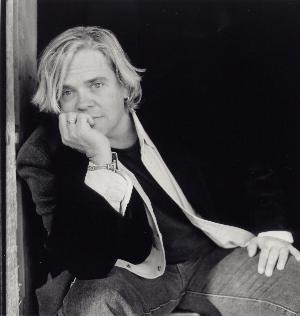 John Cowan will be at the Scottsburg Jamboree on July 2
"Your tribute last week to John Hartford's passing three years ago, was something special. Thank you for that program. I recently purchased a 2002 CD entitled John Hartford Natural To Be Gone 1967-1970, with 28 of his older songs and 78 minutes of his music. John Hartford fans really understand what a wonderful musician we've lost." Ron of Crescent Hill.
The CD referred to in the note brings to mind a comment made by Larry Perkins at John's funeral. Something was mentioned about John dying and Larry said, "It's just as natural as being born."
Wade & Julia at Charlotte Festival
I have been to the Charlotte, Mich., festival and can't tell too much about it at this time because it happened after the deadline for this edition. Will maybe give a report next time. I was especially looking forward to seeing Wade and Julia Mainer. I know most of you know this, but to me it's impressive enough to repeat. Wade was 97 in April and still performing and performing strongly.
He and Julia are looking forward to making a trip to North Carolina in July. This will be to the University of North Carolina for an interview, picking a few tunes. This is a "private" thing, no audience.
In 1987, Wade received the National Heritage Fellows Award. If you were there - well maybe next year. As best as I can figure, this was my 18th year as MC for this show, which is the oldest continuous bluegrass festival in Michigan. Long may it last.
I recently received a box set of Roy Acuff from my friend in England, Chris Clark. It contained 101 songs, put out by a company in England. By comparison, their price was very reasonable. The label is Proper Records and can be found on the Internet. Their catalog is not extensive as yet, but I believe it will expand and probably very quick. I think I spotted a Bob Wills set in there I will eventually have to add. Use your "favorite" search engine and put in Proper Records.
Puny Pickers
Just got an e-mail saying the Puny Pickers have a new CD. This is an excellent group of youngsters from Virginia. Listen for them on Sunday Bluegrass.
Pickin' time, date, place and who
• Scottsburg, Ind., Jamboree, July 2, 7 p.m.: John Cowan with special guests Tony Bryant, Shirley Bryant, John Gates, Steve Miller and Chris Webster.
• Renfro Valley, July 1-2: Osborne Bros., Dale Ann Bradley, IIIrd Tyme Out , The Lewis Family, Larry Stephenson and more.
• Riverpark Center, Saturday Matinee Series, Owensboro, Ky., 2 p.m.: July 10, Rhonda Vincent; July 17, Mountain Heart; July 24, Osborne Bros.; July 31, Valerie Smith.
• Derby, Ind., July 9-10 (C.R. Wilson and Dennis Howell): Saturday, Lewis Family; F&S, Pine Mountain Railroad; F&S, Melvin Goins; F&S, Sammy Adkins; F&S, Tommy Brown; F, Bluegrass 101 and Saturday, Joe Isaacs w/Dan Jones.
• Vince Combs 16th Annual Bluegrass Festival, Xenia, Ohio, July 16 and 17:Friday, Vince Combs, Gillis Bros., Warrior River Boys, Sullivan Family and others. Saturday: Bluegrass Mountaineers, Dean Osborne, Joe Isaacs, David Peterson and more.
It's time to hit the old "SEND" key and get this on the way to the editor. He really expects these things to be in on time. Have a good 4th, stay safe and trouble-free, Stay tuned for Sunday Bluegrass. If you don't, you have no idea what you might miss. Also, stay COOL!