Cowboy Corner
Toby Keith Tops ACM Winners
Toby Keith has historically been treated like a red-headed step child when it comes to award recognition from the music industry and his peers. Well, that all changed when the 39th Annual Academy of Country Music Awards were handed out in Las Vegas May 26. Keith was not only honored with the top dog prize of Entertainer of the Year, but also Top Male Vocalist, Album of the Year for Shock `n Y'all and Video of the Year along with pal Willie Nelson for "Beer for My Horses." Upon being announced Entertainer of the Year, Keith said, "I always kept hoping this night would come."
Alan Jackson and Martina McBride trailed Keith with two wins each. Jackson's smash duet with Jimmy Buffett, "It's Five O'Clock Somewhere," was named Vocal Event of the Year and Single Record of the Year. McBride won her third consecutive Top Female Vocalist trophy and was voted the Home Depot Humanitarian Award winner for her dedication to helping abolish domestic violence.
Willie Nelson was presented the Gene Weed Special Achievement Award. Ray Price was presented the ACM Pioneer Award.
And the winners are: Entertainer of the Year: Toby Keith; Top Female Vocalist: Martina McBride; Top Male Vocalist: Toby Keith; Top Vocal Duo: Brooks & Dunn; Top Vocal Group: Rascal Flatts; and Top New Artist: Dierks Bentley.
Album of the Year: Toby Keith's Shock `n Y'all; Video of the Year: Toby Keith & Willie Nelson's "Beer for My Horses"; Vocal Event of the Year: Alan Jackson & Jimmy Buffett's "It's Five O'Clock Somewhere"; Song of the Year: Randy Travis' "Three Wooden Crosses"; Single Record of the Year: Alan Jackson & Jimmy Buffett's "It's Five O'Clock Somewhere"; Pioneer Award: Ray Price; Gene Weed Special Achievement Award: Willie Nelson; and Home Depot Humanitarian Award: Martina McBride.
Congratulations to all the winners!
Faith Hill Hits the Silver Screen
Country-pop singer and cover girl Faith Hill may not currently be touring, but that doesn't mean that fans can't go out and watch her perform this summer. The blonde beauty has hit the silver screen for her acting debut. Hill plays obedient wife Sarah Sunderson in the major motion picture remake of The Stepford Wives. Although she does not have a great deal of screen time during the movie, her role is crucial to the plot and she enjoys equal billing with the star-studded cast of Matthew Broderick, Glenn Close, Nicole Kidman and Bette Midler. Not too shabby for a country girl from Star, Miss. who had never acted before!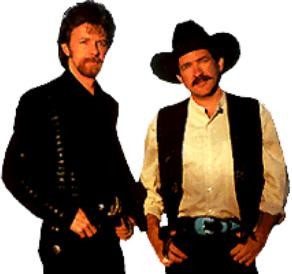 Hill has received significant publicity from her debut movie role, appearing with her co-stars in interviews on shows like The View and Primetime and gracing the covers of magazines lining the grocery store checkout lanes. Her famous co-stars have been overly complimentary of Hill's performance and even more complimentary on how refreshing, uplifting and pleasant it was to have the country diva on the set.
The Stepford Wives is in theaters now.
Polish Your Cowboy Boots for the State Fair
More than ever before, our pals at the Kentucky State Fair and Triangle Talent have really outdone themselves when trying to whet the appetite of us country fans when it comes to the fair concerts. This year, they have gone above and beyond to please every country fan with a whopping seven country concerts. There's no hotter tour these days than Kenny Chesney and Uncle Kracker, who will roll into Freedom Hall on Thurs., August 19. If you haven't already bought tickets, well, unfortunately you're out of luck as this show sold out in a very few days.
Brooks & Dunn are returning to the fair on Saturday, August 21 and they're bringing Gary Allan and hot "Long Black Train" newcomer Josh Turner along with them. Tickets are already on sale for $36 (which includes fair admission) and can be purchased at the Freedom Hall box office, all TicketMaster locations, or by calling (502) 361-3100.
"I Melt" trio Rascal Flatts will have the ladies melting as they stop by the fair to wrap it up on Sunday, August 29. Opening this highly-anticipated show will be Chris Cagle. Tickets are scheduled to go on sale July 12 and will cost $36 (which includes fair admission).
As if these three paid concerts weren't enough, the free concert lineup is better than ever this year. The Oak Ridge Boys will perform their annual state fair concert on Sunday, August 22. The Kentucky Headhunters will warm up the fans filling Cardinal Stadium before Trace Adkins (the voice of Kentucky Fried Chicken) hits the stage on Tuesday, August 24. Brad Paisley will perform a free show on Thursday, August 26 and none other than country traditionalist Randy Travis will wrap the free concert series on Saturday, August 28.
The 100th Kentucky State Fair promises to be big fun for the entire family and will run August 19-29 at the Kentucky Fair & Exposition Center.
Country Stars Go Platinum
Keith Urban, the country wonder from Down Under, is selling records like hot cakes these days. His sophomore album, titled Golden Road, was recently certified double platinum, having sold 2 million copies. This much sought-after disc has produced an amazing three chart-topping hits: "Who Wouldn't Wanna Be Me," "Somebody Like Me," and "You'll Think of Me."
Gretchen Wilson is the hottest little redneck singer to hit the country music scene in quite some time. Fueled by the release of her debut single, "Redneck Woman," Wilson's debut album, appropriately titled Here for the Party, was certified platinum for having sold a million copies in the first month of its release. Upon the release of "Redneck Woman" to radio, the single leapt to the top of the charts, helping Wilson break history as the first artist to have their introductory album debut at the top slot on Billboard magazine's Country Albums Chart and No. 2 on the Billboard 200 list, which includes all genres of music.
Rascal Flatts is hotter than ever these days and its record sales are definite proof. The band's sophomore album, the critically-acclaimed Melt, was recently certified double-platinum for shipments of 2 million copies. The album is still going strong after producing hits "I Melt," "These Days," "Love You Out Loud," and "Mayberry." The trio is currently off the road and putting the final touches on a new album which is scheduled to hit store shelves in late September
Glen Campbell Heading to the Slammer
"The Rhinestone Cowboy," 68-year-old Glen Campbell, was granted permission to push a court date stemming from his extreme DUI and leaving the scene of an accident arrest last year in order to appear at Nashville's CMA Music Festival (formerly known as Fan Fair) last month, but he couldn't skirt around the charges. Upon returning to his home in Phoenix, he attended his sentencing hearing on June 15 and was slapped with a 10-day jail sentence, two years probation. He must perform 75 hours of community service. The judge granted Campbell permission to leave the jail twelve hours a day as part of a work furlough program.
While in Nashville for the CMA Music Festival, Campbell addressed the topic of his arrest. He stated that the entire incident stemmed from him merely drinking two drinks. He said, "I had not drunk in 15 years. Totally unknown to me, I blacked out and so you can imagine that Glen Campbell will never run any more whiskey down his neck."
Brad Paisley Speaks Out About Drunk Driving
When Brad Paisley feels passionate about a cause, he lets others know about it. His family was affected by the growing epidemic of drunk driving before their guitar-pickin' country superstar was even born, when an uncle was killed by a drunk driver. To help promote awareness and try to curtail this dangerous practice, Paisley joined the MADD (Mothers Against Drunk Driving) National Board of Advisors last year and recently recorded public service announcements for the organization in hopes to "stop drunk driving, support the victims of this violent crime and prevent underage drinking." He is joined on the board by the likes of TV chatter and sitcom star Kelly Ripa, poet and author Dr. Maya Angelou, tennis star Serena Williams and TV personality Joan Lunden.
"Initially, I became involved with this cause because my family was personally impacted when my uncle was killed by a drunk driver before I was born. But most recently, I've felt the additional responsibility to become involved with MADD, beyond service on the board, by participating in their PSA program. My current single, "Whiskey Lullaby," like many country songs have over the years, talks about people affected by alcohol. So it seems like the right thing to do - especially now."
"Whiskey Lullaby," Paisley's duet with Bluegrass sweetheart Alison Krauss, is currently climbing the country charts. Be on the lookout for the song's accompanying video, which was recently shot in Nashville and directed by Rick Schroder of "Silver Spoons" and "NYPD Blue" fame.
Country Health Watch
In recent months, I've reported that the "Red-Headed Stranger," Willie Nelson, was scheduled to undergo surgery for carpal tunnel syndrome and then that he was merely taking time off the road to rest his hand to prevent going under the knife. Well, publicists and concert promoters have finally gotten their stories straight and are on the same page. Nelson ended up undergoing surgery recently. The legend's daughter, Lana Nelson, reports on her famous father's official website, "After a year of trying everything from arnica to zinc to relieve the pain, he finally had to break down and let them whittle on it a little. Doctors tell him he'll be back playing Trigger [his famous guitar] after the incision is totally mended, followed by a few weeks of physical therapy. He's trying as hard as he possibly can to get back to his fans and the life he loves, making music with his friends."
"Suds in the Bucket" singer Sara Evans is planning yet another trip to the maternity ward in the upcoming months. Evans recently announced that she and her husband, Craig Schelske, are expecting their third child later this summer. Congratulations to the happy couple.
Well, that's all the news for this month. Here's hoping you all have a wonderful Independence Day holiday. Always remember: "Keep your boots shined up and your hat on straight `cause country music is comin' your way."