I've Got A Mind To Ramble
Cave Run Rock`n'Blues` n' BBQ Festival
The blues festival season has officially begun with the 1st Annual Cave Run Rock 'n' Blues 'n' BBQ Festival. This two-day event was held on May 28 and 29 at Twin Knobs Recreation Area, on the shore of Cave Run Lake. This scenic area is a part of the Daniel Boone National Forest near Morehead, Kentucky. Two days earlier, heavy rainstorms hit the park and collapsed the canopy over the stage from the weight of the water. The grassy seating area was filled with ponds and the beach area was closed due to high water. On Saturday when I arrived, the grounds had dried out to where there were just a few muddy areas. The park rolled out the red carpet, with freshly resurfaced asphalt on the roads and parking area. The powerful sound system carried Greg Schaber's guitar and voice right to the car as I got out. I walked past the BBQ booths and down the gentle sloping hill through a grove of trees to where the stage was set up by the lake. Several small boats and Canadian geese were sitting in the water within easy listening range. In the knobs across the lake, a family of bald eagles was roosting. Thanks to some park naturalists, you could observe these majestic birds through telescopes. As the "Stormy Monday" lyrics say, "the eagle flies on Friday and Saturday I go out and play."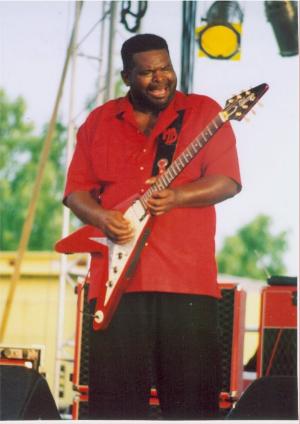 Photo By Keith Clements
I set up my chair to the side of the stage where the musicians gathered and to get out of the blast of the powerful speakers. Greg's band, High Street, includes Ron Esposito on bass and Jeff Dobins on drums. This tight trio from the Queen City frequently plays at Stevie Ray's and other festivals in the region. There is a lot of Lonnie Mack-style tremolo in Greg's guitar. Their set closed with Greg's signature song, "Jim Beam Blues." These lyrics lament the pitfalls of Kentucky bourbon, which contrasted with the nonalcoholic regulations of the park.
Tanita Gaines kept the energy going with a short, soulful set. Her band, which included Dave Witherspoon, Darnell Douglas, Paul Bennett and John Burgard, arrived just before show time on the back of a red pick up truck. Her covers of "Summertime" and "Ain't No Sunshine" showed the power of her mighty, sultry voice on these show ballads.
After Tanita's set, it was time to try the taste tests of the BBQ competition. You could sample various kinds of BBQ and vegetables for free from eight different vendors. When the winners of the cook off were announced there were so many categories for 1st, 2nd and 3rd place, everyone got a prize.
Michael Burks is an intense, no nonsense, guitarist who uses an arsenal of Gibsons, including several Flying V's. When he sang "I Wonder Why" you could close your eyes and imagine Albert King up on the stage. Michael is quickly maturing into one of today's better guitarists with a forceful voice that is mellowing each time I see him perform.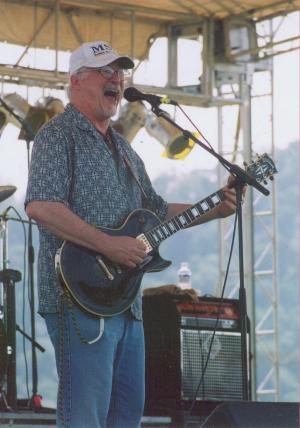 Photo By Keith Clements
Anson Funderburgh and the Rockets with Sam Myers arrived during Michael's set in a gray SUV with a U-Haul in tow. Anson said his bus driver was ill so they didn't use their usual vintage Greyhound tour bus. It is interesting to see how the musicians mix and watch each other perform. When you are traveling on the road so much, the opportunities to hear other bands perform are rare. Anson opened with his "One Woman I Need" from his recent record, Which Way Is Texas. This beautiful, slow ballad has a nice country feel. I hope Anson continues to test his vocal talents, which complement his excellent guitar work. Sam moves very slowly and deliberately, due to his restricted vision. It takes him a minute to light up but, when he blows on his harp instead of inhaling his cigarette, the sound is deep and strong.
A beautiful black Epiphone guitar was raffled off before W. C. Clark closed out the evening. Clark, another Texas bluesman, has been performing for over 40 years and is considered to be the Godfather of the Austin blues scene. He mentored Stevie Ray Vaughn by playing bass in Stevie's early band, Triple Threat Review and composing "Cold Shot." W.C., which stands for Wesley Curley, has survived prostate cancer and a devastating accident in his van in 1997. True to the Texas blues tradition there are a lot of influences in W.C.'s music that are both soulful and contemporary, with lots of shuffles thrown in. Clark sang several songs, including "Snatching It Back" and "Got Me Where You Want Me," from his recent Alligator album, From Texas with Soul. I headed back to the car listening to his encore of "Further On Up The Road." Let's hope this festival, sponsored by the Morehead Tourism Commission, will begin a long legacy of good music. Paul Hitchcock, the general manager of Morehead State Public Radio and host of the program, "Nothing But The Blues," was optimistic about the event.
Butcher Holler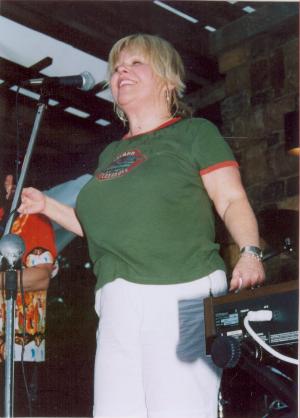 Photo By Keith Clements
Between festivals, I took a little side trip to BBQ, Blues & Blush at the Equus Run Vineyards on June 12. This celebration was for the grand opening of their new amphitheater and introduction of their new wine, Bacchus Blush. Equus Run is situated on Moores Mill Road, an idyllic approach lined with hand-laid stone walls and horse farms in the Bluegrass Region near Midway, Kentucky. The rains threatened to dilute the pleasures of this event, but they subsided just as I checked in. The gravel path to the amphitheater meandered by the rows of lush green grape vines. People were setting up their chairs on the stepped tiers in front of the elevated stage, which was constructed of concrete with a stone wall backdrop and wood trellis. There was a large plastic tarp draped over the stage, just in case. The BBQ dinner was provided by Billy's and the blues by the Patty Butcher Blues Band. Patty has performed around Lexington since 1995 and she brought a full band of veteran musicians this evening. The guitarists included Linsey Olive, who played some stinging slide and Johnny Roy Hedger, who also plays with the Rub Tones. Johnny has been playing with Patty for seven years and recalled playing at the old Cherokee Blues Club with the band Jack O' Diamonds. I was surprised to see Mark Hoekstra on harp. He is back in Louisville after spending the last couple of years in Boston and Chicago. Mark has performed with West Side Heat and is featured with Steve Arvey on a new CD recorded live at Blues on Grand in Des Moines, Iowa. Mark is living in Germantown and has been sitting in with Sue O'Neil's band, Blue Seville. He took a lot of strong harp solos throughout the evening. Chuck Land also was in the spotlight with some romping keyboard solos. The drummer was the colorful Gatewood Bledsoe, who was with the original Ohio Players. Patty refers to him as `The Caped One,' for she never knows what outlandish outfit he will show up wearing for a gig. When I called Patty a week before the show, she said, "we play mostly Chicago blues." Her takes on Etta James' "I'd Rather Go Blind" and KoKo Taylor's "I Made Me Some Connections" were true and blue. After prodding from someone in the audience to do a Janis Joplin number, Patty responded with a soulful "Me and Bobby McGee." During the second set, the red wine and the blue notes finally got the crowd on their feet and dancing. Just as they got to their final encore, Patty pointed to the west and the audience caught a glimpse of a beautiful purple sunset on the horizon. Patty packs a lot of punch for her petite size, growling and wrenching her vocals. She told the crowd the next day would be her 51st birthday and she was celebrating already. After the show I asked her if she is interested in performing in Louisville. She said in her sweet, Kentucky drawl, "I really enjoy most, performing in front of my friends."
Next month I will take you to the W. C. Handy Blues & Barbecue Festival in Henderson, Kentucky for more of the same good music and food.