Louisville Rock Lowdown
"Gone Fishin' with Sailor"
By Jason Koerner
I have interviewed many musicians over the past few years and in varied settings. Some are over the phone, others are on tour buses, some happen backstage and some take place at my house. However, this was the first interview I have done on a fishing trip. I always get a little more than I bargain for when talking to Dave "Sailor" Bryant, lead singer of My Own Victim, so this was of no surprise. In this instance, we did a "9-hour interview" on my boat talking about his most recent project, Fill Dirt, music in general, conspiracy theories and the Illuminati and of course, South Park.
There is much time for conversation when on a fishing trip, so you learn a lot about the people you are with. You are either in the car or on the water together for hours without technology to distract you in any way. Now that I think about it, it is a perfect setting for an interview, if you really want to find out about the person you are talking to. It was a great experience and I walked away with an infinite amount of respect for him as a person, a musician and a friend.
Fill Dirt is the name given to this musical endeavor that explores the softer side of Sailor, a more emotional, vulnerable man behind the metal. Initially, it was just a way to get some other elements into his music. Later, it took on a much deeper meaning.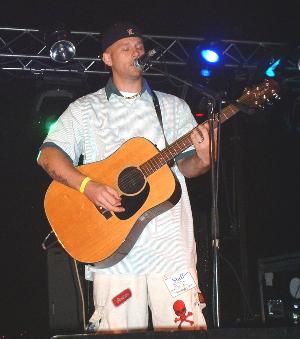 Sailor of Fill Dirt
Sailor's mother, Catherine, was fighting an arduous battle against cancer. Obviously, that took a toll on her loved ones as well. Sailor found inspiration in songwriting about the struggles he faced during his mother's sickness and after her untimely death. Driving the cause further was the comments from his mother about his pleasant singing voice, which is heard very little in My Own Victim material. This motivated him to continue the songwriting that was so therapeutic to him, as well as others going through similar challenges.
What started as a small emotional exercise has turned into a full project with 13 songs completed and more in the works. Sailor asked Mike Taylor, formerly of Nemesis, to assist him in recording the songs he wrote. Taylor added some instrumental tracks to the songs and was later asked to join the project and play out live as well. You may even see me at some shows backing the guys up on bass.
Fill Dirt has played at Headliners, Pappy's, Bulldog Café and Air Devil's Inn. Sailor utilized Open Mic nights at Air Devil's to get used to playing guitar and singing to audiences. (Imagine him with the least bit of stage fright!) It goes to show that he has his heart on his sleeve when he sings this material. It is very personal, which is something a lot the music on the radio today is missing.
The name of the project is just as meaningful as the music itself. He decided on the title after his mother's burial when her grave, as many do, had sunk into the ground somewhat, leaving a depression. They use fill dirt to correct such a problem to level the ground and a worker at the cemetery told Sailor they were going to put some in. Couple that with the feelings of sadness after losing your own mother (feeling like dirt) and there you have it. He knew that was it.
Sailor continues the project in memory of his mother and believes her spirit is with him everyday. As he was telling me stories about her, we noticed a yellow butterfly around the boat. He told me that it was her favorite and they had a butterfly design on her casket for that reason. Seeing things like that makes him feel she is still with him. Whether or not you believe in the afterlife, the soul, etc., you must admire a man's connection and dedication to his spirituality and optimism despite such tragic events.
"What about the music?" It's great! There is a staple of acoustic guitar work and vocals, along with the usual suspects of backing instruments. It is a far cry from My Own Victim's heaviness, but it still has that flavor to it in the lyrics and the intensity. The style is something that is unlikely to be heard often, blending Travis Meeks and Hank Williams, Jr. with Phil Anselmo with a Sailor twist. I think it will pleasantly surprise many people when they see it for the first time. Go see for yourself and be the judge...
As far as fishing goes, Sailor kicked my ass. He caught a nice four-pound bass that you will be able to see on his wall after December or so. I caught the big one that got away. He was tearing up the bluegill all day, as well as the small catfish. I got a few. Damn you, Sailor. I'll get you next time!
In Other News...
Well, it was fun while it lasted. The "Louisville Rock Lowdown" segment on WLRS is no more. The Villebillies were my final guests on the segment. It was a great opportunity for the Louisville bands that were featured in the 20 or so weeks on air. It was also great exposure for Louisville Music News and me, which in turn equals more exposure for Louisville music. However, all good things come to an end. I am appreciative of the time and energy spent by Ken Mudd and WLRS for keeping it going as long as they did. I think the bands, as well as the Louisville music scene in general, feels the same way.
There have been a few other endings this month, the most disappointing one to me being the demise of the band Kallus. Those guys are incredible at what they do and have persisted in playing the heavy stuff for a long time. Their energy onstage is not matched by many acts around town, so it is a definite loss to the scene. I am anxious to see if anyone is up to the challenge of becoming the next Kallus...
Last but not least, Brian Omer quit My Own Victim. The band is currently moving on as a four-piece and will continue work on the upcoming album Leadhead. There are no plans as of now to replace Brian on guitar. Best of luck to them. It would be a loss to the scene to see the group come apart.
For more information on the local music scene, contact me at rocklowdown@insightbb.com.
Keep rocking (and fishing), Louisville!