Louisville Rock Upclose
By Eddie Metal
Name: Christy Gambrel
Age: 29
Instrument: Vocals
Band/Former Bands: Vocalist for Garden Of Stone, formed in September 2002.
How Long On Instrument: I have been singing my whole life. I always wanted to play Little Orphan Annie in the Broadway production. I used to sing buck naked in the shower. And momma said I used to drown out the TV when I was a kid.
Equipment: Just my lungs, dude.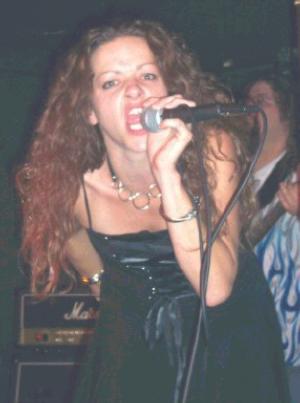 Christy Gambrel
Influences: Little Orphan Annie, Whitney Houston, Stevie Nicks, Boston, Ann and Nancy Wilson, The Judds, Mariah Carey, Linda Ronstadt, Steve Miller, Cindi Lauper, Guns-n-Roses and Aerosmith.
Hobbies: Singing, writing songs and poetry, dancing, partying with my friends, playing with my kids, talking on the phone, hustling old men, 4:20, Jack Daniels, flirting with underage boys (I like them young), skinny dipping, horseback riding, drawing and video games.
Favorite Movies: Lord Of The Rings, Titanic, Scooby Doo, Scarface, Goodfellas, The Others, The Nameless Porno, Meet The Parent's, Big Daddy and Terms Of Endearment.
Favorite Food: Steak and veggies, soup and chocolate.
Favorite Place: The stage is my favorite place to be.
What I'm Listening to Nowadays: Incubus, Trapt, Toby Keith, Usher, Kenny Chesney, Evanessence and Tupac.
Coolest Thing I've Done: Witnessed the birth of a close friend's son, Jacob Taylor Wallace. And I actually cut the umbilical cord.
Most Embarrassing Moment: I was a young woman, I was trying to get the attention of a handsome young man.
I was walking backwards in a very cool, smooth manner trying to look cute, when I turned around and head-butted a tree! Needless to say, the guy and his friend saw this and had a good laugh on my account.
Another For The Road: At a show we played at, I thanked WLRS onstage for hosting the show and supporting us. The trouble was it was a WTFX 100.5 the Fox show!