News From the Pit
What good is a local music publication if it tells you only half the story? I reckon it's kinda like watching the gangster drug movie Scarface on regular TV. Ridiculously edited to appeal to the masses. Almost comical, commercialwise.
This is why I don't watch regular TV. I WANT my daily dose of sex and violence!
The reality is, that is life. We live in a time of violence and hate and bands now express this through their music. And we are being punished for this.
There is a new music publication in town that is telling us what they think we should be reading, by leaving out pretty much any band that is too heavy or too intense.
I have been watching the progress of Smell - ah - city and these people act as if the brutal metal scene doesn't exist. As if we were old nasty prostitutes on the street that no one cares about. lol. Sorry to burst your bubble, smell - ah - city, but you need to wake up and smell your hazelnut mocha French cappuccino! There is a killer metal scene in town and you need to recognize it! Give some of these bands some exposure! Surely you would prefer to appeal to more than just alternative yuppies and females?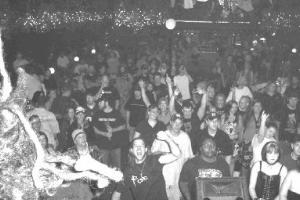 Photo By Eddy Metal

The facts are: the average Kentucky redneck guy is into heavy metal. Sorry to disappoint you. So even with all your pretty color pictures, your racks on every street corner and your limitless funds, your publication mean's nothing to a lot of us in this music scene.

As for LMN? It's true I'm not the best writer nor am I highly educated. Hell, I have even been to a school for troubled youths! But I can tell you this. The staff of LMN knows and covers this scene like no one else.

We cover everything from country to black metal to jazz! We leave no musical genres out because we personally don't like it. To do that would be lame. And to be honest, I could not work for a publication that ignores a thriving metal scene such as ours, no matter what they paid me. Well, maybe for a million bucks. lol.

And oh yeah, I'm still PO'ed about smell - ah - city stealing my musician feature of the month idea! It must be nice to have no conscience. To be able to swipe someone's good idea without a second thought. It's okay, though. You fans of this scene know where to come for the real music information. LMN!

The Metal Grapevine

WLRS Band Battle Coming! I raved for months about how cool the WLRS Band Battle was last year. The cool venue, the good sound system, the ton of exposure the bands got, the good crowd turnout, good people to hang out and party with and last but definitely not least, the finale at Waterfront Park. Wow! A local band trying to get ahead in the music business cannot ask for more.

Thankfully, the people at WLRS have decided to have one for 2004.

This is super good news for our music scene. WLRS is without a doubt the fairest station in town. They try to hook ALL of us bands up! AND - they hook up heavy bands, too! So don't be discouraged if your band is brutal or weird. Trust me! This is going to be good. Do not miss this year if you missed last year's/ That goes to band and fan alike.

Kallus Breaks Up! The band Kallus has broken up. This was probably my second favorite metal band in Kentucky. These guys were getting really, really good! I'm bummed.

Silent Q's New Name: The new band name is Every Last Plan. You can see the new lineup on August 6 at the Phoenix Hill Tavern.

Omer Leaves My Own Victim: Louisville metal veterans My Own Victim have parted ways with longtime guitarist Brian Omer. Rumor has it that Omer has another project going now. This is a trip, he's been with MOV for what seems like forever. I'll keep you informed.

After The Fall Returns With A Vengeance: The band After The Fall is now back in action after a short hiatus due to their singer's departure. Their new singer is 23 year old ex-Wasted Days vocalist Matt Allinger. I am glad to see them playing out so soon.

Incursion502 Adds An Axe: Louisville metal veteran Incursion502 has added another guitarist to their lineup: Eric Angelini is now the band's second axeman. He is a Rob Zombie-looking cat who fits right in with their image. Welcome to the scene, dude.

New Fear Factory CD Kicks A$$: Fans of this national heavy metal/thrash act need to run out and mug someone in order to get this new CD, Archetype.

It's very good, only Dino Cazares isn't in the band anymore. And who could possibly replace the short-n-tubby, lightning-fast, triple-picking Dino on guitar? None other than Byron Stroud, former bassist of Strapping Young Lad and Grip Inc., two bands that can peel the skin from your face with their music. And Byron replaces Dino quite well, I might ad. Definitely buy this!

Soulfly's Prophecy With Bobby Burns! The national act Soulfly has a new CD out that to me is Chaos AD part 2. The CD is entitled Prophecy and it kicks rump. It's the best stuff from ole Max since he left Sepultura! I'd buy it if'n I were you.

And another very cool thing is that former Primer 55 guitarist and Louisville native (the last I heard) Bobby Burns is featured on a few songs playing bass. Very cool. indeed!

Dillinger Escape Plan Coming! Relapse Records recording artist Dillinger Escape Plan with guests: Daughters, Planes Mistaken For Stars and Read Yellow Saturday, August 14 At Keswick Democratic Club in Louisville Kentucky. Advance Tickets are NOW ON SALE online at www.kentuckyconcerts.com

or at local retail stores Ear X Tacy and New Age Gifts Dixie.

The Buzz About: I have been hearing a lot about two band's I don't know much about. I hear they are the bomb. Pylot from Glasgow and Skrewed are the bands. Hey, guys, send me a CD or sumthin. lol.

New Band Alert! Old school thrash and metal fans should like the new band ObsCUREity. They are somewhat new and want to play out as much as possible. We need more old school rockers like these guys! Go see them soon.

13th Level Reunion? Yeah there is some talking in the works. I know I'm ready to rock! We got a lot of people who want to see it happen, so let's see if anything comes of it. I'll keep you informed.

Upcoming Shows

Air Devils Inn

Saturday, July 17 - All Access and Dresden.

The Bulldog Cafe

Saturday July 10 - Caustic, Sixth Floor and Phearus.

Saturday, July 24 - Hollow Theory, Violenza and Euphoic Remedy.

Friday, July 31 -Violenza.

Kelly's

Friday, July 31 - Point Of Anger. (Point Of Anger at Kelly's? that's like having Incursion502 play at a line dancing establishment! lol)

Oscar Brown's

Saturday, July 10 - 7DaySun, Eclectic, High Road Crown and Doubting The Obvious.

Pappy

's

Friday, July 1 - Moirai, The Phantom Pains, The Jonbenet, Ghostrider Black and Until Summer's End. 7 p.m.

Phoenix Hill Tavern

Friday, July 2 - Garden Of Stone, Never The Man ( formerly known as The Constant ), High Road Crown & Manmade.

Thursday, July 15 - Garden Of Stone, Euphoric Remedy, Violenza & Phearus.

Friday, August 6 - Factor 9, Flatlyne, Fail to Falter, After The Fall and Skrewd. 8 p.m..

Tailgater's

Friday, July 9 -Violenza and Caustic.

Uncle

Pleasant's

Saturday, July 17 - Louisville Music News Showcase with Luther, Jefferson County Drunktank and Skrewd.

Union Station

Friday, July 1 - All Access and Spitalfield.

Outtatownerz and Otherz

Friday, July 30 at the Glasgow Music Barn - Pylot, 7DaySun and DeadSun.

Saturday, July 17 at the Fern creek Community Center - Caustic, Violenza and 2 T.B.A.

Friday, July 23 at the Fern Creek Community Center - Violenza.

Props Of The Month

This month's props go out to Julie McGrath for booking national recording artist Pissing Razors. Julie has done pretty much all local acts, until this show. I really wanted to go. I love Pissing Razors! Unfortunately, it was a weeknight and I had to get up at the butt crack of dawn, so I was unable to attend. Nonetheless I think she deserves this for taking the risk of hiring a national act on a weeknight. And for getting some local heavies to open up the show! Good job Julie! Keep it up.