Louisville Rock Lowdown
FLAW concert recap/ Derby Night at Oscar Browns
The trouble with a monthly publication is that some things fall right after the deadline and have to wait a while until the next issue. This month's column is a classic case of that, as I am going to take a trip back in time to 4/20 for the FLAW shows at Mom's Music and Headliners Music Hall and to Derby night for the after-party at Oscar Brown's, featuring 7 Day Sunday
Marijuana Day, A.K.A. "4/20," is the day celebrated in April by pot-smokers across the land. It happened to be a good day for music as well, as FLAW was back in town performing music from their new CD, Endangered Species. The band has taken a turn in the lineup since Through the Eyes but is back strong with the new material hoping to solidify their spot in rock and roll fame.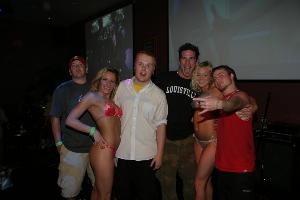 The group played an intimate set at Mom's Music in Jeffersonville, Indiana that afternoon for WLRS 105.1 FM listeners. The performance was free for those who won tickets from the radio station. The band expressed their gratitude for the fan support they have received from folks at home over the years and did their best to pay back (no pun intended) their admirers with a few songs new and old. They put a lot into the short performance, as they left for Headliners immediately following a meet-and-greet, to play a longer set. There was no holding back for the show that night, as I thought there might be. Hats off to Chris Volz for really giving the crowd something worth waiting for and not coasting through the songs to save his voice for the bigger show. Amazingly, he showed no fatigue that night at Headliners, when others would have nothing left.
The performance at Headliners was with national recording artist Ill Nino and Louisville artists MSD, In the Clear and Institution. The show was a huge success and the room was packed. The heat was immense and the energy was understandably high. I missed Institution, but I made it for the rest of the show.
In the Clear is an incredible band, to say the least. None other than Andy Paul, formerly of Factor IX handles the lead vocals. The band is a much better match for his style and range. I have been most impressed while watching their progress. Recent performances have blown me away. The band is still fairly young, but are very talented musicians. A little more time and these guys are going to be a main act in Louisville.
MSD has been the subject of many debates over the past year or two, mainly due to their change in image when they started playing without the makeup and gore. The band's sound has changed considerably since then, further fueling the opinion battles. Like them or not, a few things must be credited. First, they are a big draw and have maintained a following with a limited number of performances. Secondly, they are still here. Even after the bashing from disgruntled fans, the image makeovers, the closing of Tek World - a mainstay venue for MSD and many other bands - they are still around. That should count for something. I have become less interested in their music over time, but still give them credit where credit is due.
FLAW was the highlight of my night. It was a little awkward watching them perform without the lineup I knew them for best, but comforting to know they are still out there, keeping Louisville in the limelight. I noticed the subtle stylistic differences between Chris' old drumming and his replacement's technique, but their newest member is a great musician in his own right. We all experienced the same culture shock when Jay was no longer onstage. I am a rookie to FLAW when compared to some of the real old-school fans of the band who have been there from the start, but I have my connection to them like the rest of Louisville. They are a great band that deserves any success they can get their hands on. I wish them the best of luck in achieving their goals and helping to keep Louisville on the musical map.
Ill Nino headlined the night and rocked the place. The crowd did thin out a bit during their set, as a good number of people were there to see FLAW only, but those who stayed got a treat. I have been a fan of the band for a while and love the sound they produce on stage. Their combination of tribal timbres with modern metal is always a winner in my book. Their singer has a great voice and screams equally as well.
Who is the one behind such a great show? You guessed it... Terry Harper is the man behind the curtain for this event. Like many other successful shows he has promoted, this one proves age ain't nothing but a number. His talent speaks for itself. A special thanks from me to him for the courtesy on the concert.
The time of the year was quickly approaching for the next logical reason to party- Derby, of course.
As usual, Derby events were abundant here in Louisville this year. I had a blast on Derby Day doing the obligatory drinking and gambling thing; and that night I checked out some live music at Oscar Brown's "Club Infinity" downtown. Trey from 7 Day Sun is an employee of the club and was kind enough to invite me out to see the show. It was well worth the effort, as the place was very nice and the music was excellent. The lineup included Evil Engine #9, Doubting the Obvious, High Road Crown, 7 Day Sun and Common Ground. WLRS 105.1 FM was at the show doing some promotion for the event. It not only featured live bands, but a bikini contest as well! (Nice one, Trey...)
When I arrived, Doubting the Obvious was onstage putting on a great performance as usual. They are truly one of my favorite bands of all time, signed or unsigned. If you have not heard them yet, be sure to check them out. It will be worth your while. JT Watson has come a long way on vocals since high school, when we embarrassed ourselves in a talent show together! He was good back then and incredible now. The group has a slightly different lineup since my feature column on them last year in the bass and drum departments and the band continues to move forward with their goals.
7 Day Sun (former members of Execrate) put on a great show and keeps getting better and better every time I see them. Jon is "illegal good" on the guitar and Trey has the crowd enjoying themselves each show. Their music is edgy, but has moved in a more mainstream direction and it is really paying off for them. They have some big shows coming up at Oscar Brown's along with Waterproof Blonde and Doubting the Obvious on June 12 and another gig there on July 10 with Eclectic and Doubting the Obvious. Hats off to Trey and the boys for getting these shows together.
Be sure to check out the web sites of all the bands that night and go see them live at their next performance.
Here's what you may have missed on the Louisville Rock Lowdown on WLRS this month...
Week 15: Wasted Dayz-
Up-and-coming bands such as Wasted Dayz are in a hard market, as metal is not the most widely accepted genre in clubs in Louisville. However, talent can go a long way. Ben Madden, lead singer of the band, also runs sound at Uncle Pleasants, so he sees a lot of the competition. Maybe that is why they have such a crafted sound after just a few months of breaking him in. The guys plugged away at their latest news and the show that night with My Own Victim and Caustic. Anybody that missed the gig missed out. Check them out at www.wasteddayz.com for their upcoming shows and information.
Week 16: Jim Roberts, owner of Twice Told-
Jim Roberts has been an avid supporter of local bands and the local scene around Louisville for quite some time now. He came on the show and discussed his upcoming events at the venue, his reasons for moving the coffee shop/performance café to Oldham County from the ever-popular Highlands location and his projections of the next big band out of his neck of the woods- East 146. Get over to his site at www.twicetold.net, or better yet, go see a show at the "new" location. You will love the mocha shakes and the music.
Week 17: My Own Victim-
Never has there been a better metal band in Louisville - in my humble opinion - than today's My Own Victim. Lead vocalist, Dave "Sailor" Bryant, woke up bright and early to talk to me about their new album on the way called Lead Head. I cannot wait for its release and I encourage everyone and their mother to buy this disc. I could talk to Sailor for days on end because he is so opinionated, smart and outspoken. It is a formula for success, especially when your band is on top of the world like his. Too much talent in the group for too little recognition... Get the album and help spread the word of the Minister of Metal. Need to know how? Visit www.myownvictim.org.
Week 18: Sol 17
Not exactly metal, but definitely good music. Sol 17 is a three-piece band with a female vocalist, Melissa Gaddie, who is less Phil Anselmo than Sailor and more Ani DiFranco. Guitarist Ray Wegimont also kindly joined us for the interview. We covered various topics of the band's history and style and plugged away about their CD Release Party to be held that night at Atlas in Jillian's. The group has a fresh sound with checking into at www.sol17.net. Buy the CD!
For more information on the local rock scene, contact me at rocklowdown@insightbb.com or visit www.louisvillemusicnews.com.
That's the Louisville Rock Lowdown!