"Coal Miner's Daughter" Gives Her Native Kentucky a Less Than Spectacular Performance
Anticipation was high as Butcher Holler, Kentucky's favorite "Coal Miner's Daughter," Loretta Lynn, prepared to take to the stage of Louisville's eclectic Palace Theatre April 24. The classic theater was about to experience one of the biggest hillbilly hoedowns it had ever hosted, as Lynn's daughter Patsy (who, along with twin sister Peggy, opened the show with a near-flawless mini-set) returned to the stage prior to the piece of resistance to peddle her legendary mama's CDs, books and photos, reminiscent of country music pioneers selling merchandise from the trunks of their cars. This archaic, yet effective, marketing ploy was proof that Lynn is merely a down-home gal and the ultimate example of the cliché "What you see is what you get" as she lives and breathes the lyrics to one of her self-penned classics, "When you're lookin' at me, you're lookin' at country."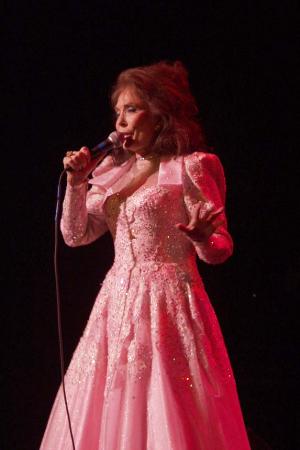 Photo By Michael W. Stout
Dressed in an elegant pink floor-length evening gown, Lynn was heartily welcomed by the roaring near sell-out crowd as she sauntered into the spotlight belting out "Hey, Loretta." What a thrill to be listening to the genuinely raw and honest voice of a poor Kentucky girl turned country music superstar who wrote and sang about women's lib before it was ever popular. The "Loretta Lynn Love Fest" had officially begun.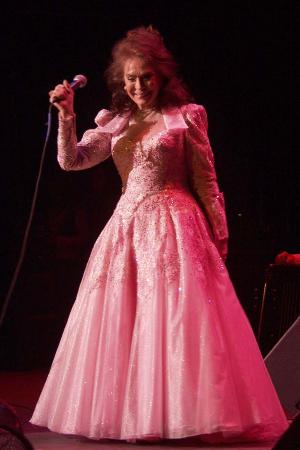 Photo By Michael W. Stout
Before her opening number was complete, Lynn had stumbled on some lyrics, but, hey, it's her first song, the applause was thunderous, so no big deal, right? Well, she kept the momentum going with "You Ain't Woman Enough," but not without forgetting more lyrics. Hmmmm, "What's up?" everyone must have wondered. Throwing all pride and stage presence aside, Lynn asked for a chair and sat center stage, legs crossed, until her closing number, stating she had had a "heck of a week" and she was tired, so she was going to sit. As she sat, she forgetfully rambled with the audience and the momentum of the show shifted from a typical concert setting to an unusually intimate gathering, sitting around country's favorite grandmother in her living room. Lynn fielded questions from her "house guests," the audience and recounted growing up in Kentucky, breaking into the music business, losing a tooth a few days earlier and numerous stories of her late husband Doolittle "Mooney" Lynn's many infidelities, scattered with classic tunes between her brutally honest tales.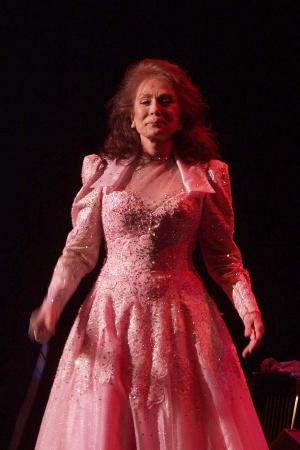 Photo By Michael W. Stout
As the evening waned, Lynn's performance grew increasingly embarrassing as she continued to forget lyrics, sometimes entire verses, of hits like "One's On The Way," The Pill," and "Blue Kentucky Girl." With all structure thrown out the window, the concert had turned into a listener request show, thus feeding her forgetfulness, which even sparked her to sing "Fist City" twice. The second go-round, her "Coal Miners" band had begun to play "Don't Come Home A'Drinkin' (With Lovin' On Your Mind)," but she mistook it for "Fist City" and surprisingly remembered all of the lyrics the second time. Lynn relied heavily on her lead guitarist to feed her the first line of numerous tunes and frequently resorted to ask him to identify the song they were playing when she didn't recognize the music. She quipped, "Ain't that bad? These songs all sound alike and I wrote `em."
Of the nineteen songs Lynn attempted to perform, she delivered a mere five without a hitch: "Here I Am Again," "Fist City," "Your Squaw Is On The War Path," "I'm A Honky Tonk Girl," and "Table for Two." Hats off to the "Coal Miners" for their instrumental brilliance at changing songs, omitting verses and prematurely ending songs in hopes of saving face for their boss lady and disguising errors the less-versed Loretta Lynn fan hopefully did not recognize. Another disappointment was Lynn's promise early in the evening to debut a few new songs from her brand new, critically acclaimed album Van Lear Rose (produced by rocker Jack White of the White Stripes), which she forgot to sing.
Nearly ninety minutes after taking command of the stage, Lynn arose from her chair and began her personal favorite tune, her signature "Coal Miner's Daughter." She was joined onstage by her twins, The Lynns, just in the nick of time as they carried their mama's most beloved tune in the latter verses as she once again stumbled on her lyrics. Despite the fact that she forgot as many lyrics as she remembered and babbled aimlessly at times, the members of the audience seemed to be forgiving as they realized they were in the presence of a country music legend. As biographer Alanna Nash stated, they had attended an old-fashioned "Loretta Lynn Love Fest."