I've Got A Mind To Ramble
A Decade of Cruisin'
This year's blues cruise marks the 10th anniversary for what has become one of the Kentuckiana Blues Society's most popular annual events. In 1995, we started out for dinner at Willie Bright's 537 Lounge. This year, we appropriately finished up at the same place, which is now managed by Norman and Katie. Over the past decade, we have visited many bars and clubs that are no longer in business, including the 26th St. Tavern, Velvet Rose, Big Heavy's, Gilbert's Blues Garden (Red Devils Motorcycle Club), Billy's Place (at the original Wilson Avenue location), Sharmanes, Goodloe's Sports Bar and the Black Cat.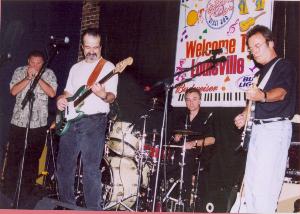 Photo By Keith Clements
One of the early highlights was having Sue O'Neil, who was on our first cruise, sing a few songs with Joe Wells at the 26th St. Tavern. Another special occasion was hearing a true blues legend, David "Honeyboy" Edwards, accompanied by David Sherry, perform at Big Heavy's on our second cruise. When we were at Goodloe's two years ago, Fred Murphy, Smoketown Red and Joe Wells were united for a nostalgic evening of the `real thing' from three of Louisville's blues veterans. Last year, when we had Mary Ann Fisher on board, she got up to sing as they played her recently released CD over the sound system. She later joined George Brackens on stage at Billy's Place. These blues cruises were inspired by my experiences on the late night bus tours that ventured deep into Chicago's South and West Side neighborhood bars during the Chicago Blues Festival. These memorable excursions were, and still are, promoted by Michael Frank of Earwig Records. Also, when I did an interview with blues bass musician Marshall Anderson, he suggested doing a blues cruise to generate some interest in the society.
So here we are ten years and counting. On May 15, nearly 50 cruisers boarded two school buses at the Mid-City Mall. Unfortunately, we had to park our cars on the side streets along Baxter Avenue because the mall management was enforcing their policy of not allowing parking for those who had no business at the mall. Several cars were towed off the lot as we waited for all of our cruisers to arrive. We got to Stevie Ray's just in time to watch Smarty Jones on TV make it eight wins in eight races with a powerful finish in the Preakness. Bootleg Bar-B-Q Catering had a tasty dinner ready so we could fill our stomachs to get fortified for the long evening. River City Blues opened with "Little Red Rooster" and "Keys to the Highway," playing in a low-key style sitting down. Then they revved their sound up a notch with a nice mix of blues that included "Too Tall to Mambo," which had an easy rolling beat. River City Blues recently formed out of the Sunday night blues jams at Jolly Mon's (Jolly Mon's has since closed). Mike Lynch plays bass and does most of the vocals. Denny Thornberry adds his harp and is now doing some singing. Wayne Harbin is the guitarist and also plays with The Louisville Blues. Steve Holmes drums and goes back to the days of Buster Brown. Mike, who also is with the Mudcats, said the Mudcats are opening up to a new audience by playing "unplugged" blues at upscale venues like Oscar Brown's.
At 9 p.m., we rolled into Lisa's Oak Street Lounge and made our way to the back room, where Lamont Gillispie and the 100 Proof Blues Band were ready and waiting. Every Wednesday, Lamont and Steve Ferguson have been hosting a blues jam, starting at 9 p.m. Lamont said his band will play at Lisa's each Saturday for the rest of May (and I hope longer). He lives just around the corner, so he can walk to his gigs. Those of you who remember the condition Lamont was in seven years ago after barely surviving several serious operations on his gall bladder know he is the "miracle musician with a mission." Lamont performs like a flash of bright lightning with his white hair and sharp angular features as he bolts all over the stage. He has reached the maturity and mastery of his harp and vocals that puts him in a class by himself. Lamont is supported by two `towers of power,' Mark Stein and Ricky Mason on guitar. This is a Fender-bender dream team as they trade off scorching solos and rhythms.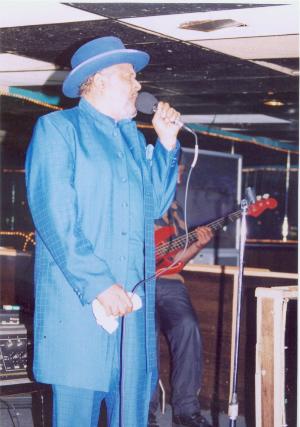 Photo By Keith Clements
Byron Davies has recovered from a motorcycle accident and is back on bass. Steve Walls briefly stood in while he was recovering. It was a pleasant surprise to see Paul Tkac keeping the steady beat behind the drum set. Paul has been away for awhile but with him and Ricky back, it's like a homecoming for the Homewreckers. Near the end of the first set, Lamont gave the band a brief break, with a romping solo of "Way Up There By The Peaches Tree," filled with juicy innuendos. Lamont shares the spotlight with all the great talent in his band, letting Mark take the lead with "Sugar Coated Love" and Chuck Berry's "Carol." If you like straight-ahead, unadulterated blues, -like good bourbon- Lamont Gillispie and 100 Proof is the best local band. We could easily have stayed at Lisa's all night, but it was 11 p.m. and time to go back across the tracks on Oak St. to the 537 Lounge. We left during "Keys to the Highway," saying good-by to Lisa who was perched on the stool by the door.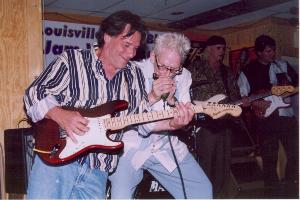 Photo By Keith Clements
Skip Zimmerman, a regular blues cruiser, remembers the original 537 Lounge when it was on 12th Street between Walnut and Magazine. He said "They served the best ribs in town." Then it moved over behind Tube Turns and finally it relocated to Preston and Oak, replacing Jim Dandy's. The KBS used to hold their regular meetings there when Willie Bright was on the board. We had a memorable general membership party in 1991 when Foree Wells and the Walnut St. Blues Band backed Pinetop Perkins. (Were any of you there when Bobby `Blue' Bland crooned to the ladies with his mellow voice in 1992?) You enter the 537 Lounge through a small door off Oak St. and proceed through a long corridor and then you enter a large room with a low ceiling and checkerboard-patterned floor. The mirrored walls are outlined in strings of tiny white lights. The band was corralled in a raised platform with a low wall. Jennings Gilbert assembled a group of veteran musicians that included Sonny Sitgraves on drums, James Watkins on bass, Fred Towns on keyboards and Joe Junior on lead guitar. Most of these musicians performed at the 26th St. Tavern during the `80s, `70s and earlier. Joe Wells, attired in an indigo suit with matching hat and shoes, fronted the band, singing mostly soulful golden oldies like "Daddy's Home," "Reach the Turning Point," "Someone Else Been Steppin' In," "Please Please Please," "Bring It On Home," "Knock on Wood" and "Fannie May's Café." Joe can contort his voice with wavering falsettos and gritty growls, extracting the maximum emotion out of each song. He sang the kind of blues that most African-Americans are used to hearing. That is the soulful Malaco sound with a touch of Al Green, James Brown and Little Milton that you hear all day long on WLBJ 1570 AM. The blues genre is more diverse today then it has ever been, pushing the limits into rock, but the soul-based blues style is still very strong in the black communities and in the South. Some of the cruisers were not used to this genre of the blues, plus the sound system was poor and they were ready to leave on the early bus that departed at midnight. A few diehards like myself stayed until the end of the second set, enjoying Joe pleading for a little love.