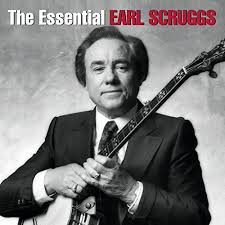 Off-the-Scale Good
The Essential Earl Scruggs (Sony)
Earl Scruggs
No review of this two-CD project will do it justice. However, a few words that come to mind for this must-have release are: incredible, exuberant, eloquent and phenomenal. Scruggs' technique and tone have inspired countless numbers of musicians for more than fifty years and has thrilled millions and millions of listeners worldwide. Scruggs is one of a select group of artists about whom little or nothing new can be written. I knew when I met and heard him in the 1950s he was special. Little did I know how special he really was.
His eightieth birthday is celebrated in this remarkable collection of music that begins with his classic 1946 sessions with Bill Monroe (these are the songs that gave birth to Bluegrass). The compilation then moves to those wonderful 1949-50 tracks recorded with Lester Flatt and the Foggy Mountain Boys. This section contains often covered masterpieces such as "Earl's Breakdown," "Flint Hill Special," "Pike County Breakdown," "Dear Old Dixie," and "Foggy Mountain Breakdown." Disc 2 starts with Scruggs' historic 1959 appearance at the Newport Folk Festival, featuring "Cumberland Gap" and "John Henry." Following that are eight outstanding songs from the 1960s Flatt and Scruggs era. Every track is pure gold, but some of my favorites include "Reuben," "Sally Goodin" and "Foggy Mountain Top."
The remaining tracks focus on "Scruggs after Flatt: The 1970s and 80s" including a track from The Nitty Gritty Dirt Band's monster release, Will The Circle Be Unbroken and nine additional cuts centering around The Earl Scruggs Review. Guests on this project are Tom T. Hall, Johnny Cash, Vassar Clements, Linda Ronstadt, Mark O'Connor and many more household names. In addition to the music, there is a 16-page booklet with rare photographs, extensive liner notes, personal notes from Scruggs and a tribute from Bela Fleck. Plus, all tracks have been digitally re-mastered for optimum sound quality. On a five-point scale of excellence, this release is a 10. The Essential Earl Scruggs is a limited time edition, so get your copy today.