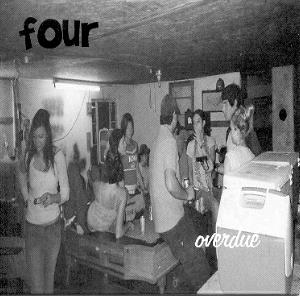 Four Chords, No Waiting
Overdue (Independent)
Four
By Kevin Gibson
Chris Meece is apparently on a mission - to revive rock at any cost, one song at a time. This Louisville rocker and his band Four, with new release Overdue, aspires to live out this rock 'n' roll dream through lots of chunky, sustained guitar riffs, singable hooks and accessible melodies. Frankly, it's a pretty good starting point.
I would quickly point to track four, "Wendy," as an illustration. There aren't many better songs for putting the top down on your convertible on a June afternoon and hitting the highway toward rock 'n' roll salvation. The sustained guitar crunch and Meece's earnest vocal carry it for miles on a fun ride that really only lasts three minutes, 55 seconds. Bandmates Vinny Flick (bass) and Caleb Sunderman (drums) seem more than enthusiastic to be along, adding another element of fun to Meece's toe-tapping composition.
This is one of those rock albums with song titles like "Saturday," "Far Away" and "Civic Girl" (any pop-rock record worth its salt needs a title with "girl" in it, as well as one with a female's name and one with pained longing). Such a disc also needs a couple of tunes that are familiar without going too far toward being reworkings. That said, "Came" bears a striking resemblance to 38 Special's "Hold On Loosely," from the tone to the structure to the melody, to the guitar-only breakdown leading into the final chorus. But it's not over the top, nor is it a rip-off. It's just a rock song and a pretty good one at that.
"Happy" steps in with an acoustic-based emotional turn, riding on Fick's bass line and given final life with Sunderman's drumbeat that sounds like a cross between a waltz and a march. Absolutely smile-inducing.
OK, before we go farther, let's cut through some obvious criticisms: Yes, this is an indie record to the core, perfect fodder for skater boys, the kind of stuff a million other bands are playing in a thousand other towns across the U.S. If these guys stepped on stage in a sold-out arena, with Green Day heading the bill, you'd never stop to think twice - and for some, that's less than a compliment. But this just in: Rock 'n' roll can still be fun and Four exemplifies that as well as any band I can think of. Sure, it's been done before, but so has ... well, just about everything.
So sit back, turn up the volume and let Four take you on the ride of the summer with these sixteen tunes. I, for one, can't wait to see where it goes.