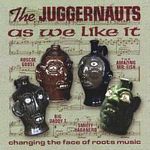 Sounds Good, Tastes Like Chicken
As We Like It (Independent)
Juggernaut Jug Band
By Kory Wilcoxson
Local icons the Juggernaut Jug Band have returned with their fifth CD in eight years, carrying on three important traditions: the authentic jug band sound, incredible musicianship and songs about chickens. Once again, they deliver on all three.
JJB populates its albums with early-century pop tunes, swing and blues standards and the occasional intriguing cover. Filling that slot this time around is a version of "Wipeout," with the frenetic drum solo replaced by a washboard and some other bells and whistles (literally). JJB also tackles Lynyrd Skynyrd's "Gimme Three Steps," turning it into a waltz (get it - three steps?). And they throw in a lick or two from "Sweet Home Alabama" for good measure.
Their creativity serves to underscore the principle aim of JJB: to have fun. It's an added bonus that they also are excellent musicians. You never know when Roscoe Goose might break out in a jug solo (as he does on "San Francisco Bay Blues"), or when a sublime guitar solo by new member Smiley Habanero will be punctuated with kazoos. "As We Like It" also includes two tracks JJB performed as part of the Actors' Theater performance of Shakespeare's "As You Like It," as well as an original composition, "The Kokomo Hum," by band member Gil Fish.
It's refreshing to find music that is enjoyable, well-crafted and family-friendly. Kids will laugh at "You Gotta Have Skin," the more experienced among us will reminisce to "Christopher Columbus," and, of course, poultry will cluck along with "Ain't Nobody Here but Us Chickens." JJB is a local treasure that keeps growing in value.