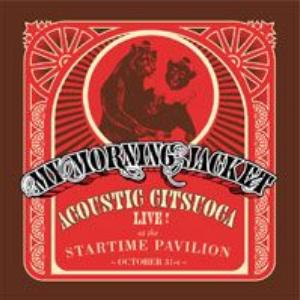 Past to Present
Acoustic Citsuoca: Live at the Startime Pavilion (ATO/RCA)
My Morning Jacket
By John Bohannon
Fans will argue that My Morning Jacket is the greatest thing to come out of Louisville since Abe Lincoln and his goofy top hat. And with how good these guys are, I'm sure there won't be much complaining over that. After plenty of critical acclaim on their latest album It Still Moves, on ATO/RCA records, Jim James and his crew are climbing to the top and it's about damn time. Over the past few months, the band has gone through disappointing turmoil after the loss of the beloved band members Johnny Quaid and Danny Cash. But this band isn't about to quit anytime soon.
So they just released a limited edition, live EP, recorded very close to the departure of Quaid and Cash. If you have heard all the hype or you're just a fan since back at the Twice Told Coffeehouse days (I'm sure those few people already have this disc), then this is an extraordinary preview of the magic of MMJ. You owe yourself to get this and if you live in Kentucky and spend any sort of time with music, I can guess you've already experienced the incendiary band that is My Morning Jacket.
So let's get one thing straight: The few that don't like My Morning Jacket like to say that the drowning reverb over James's voice is a gimmick and he would sound awful without it. A hand holding the Tennessee Fire album should be slapped across their faces, because if you draw back to those days, there were a few tunes on there without reverb that will leave you in awe. This live EP brings back those astonishing moments James takes the stage solo for three out of the five songs.
For the few that were invited to see this intimate live show in Braintree, Massachusetts, you were in for quite a treat that Halloween night. The full band kicked off the set, rockin' on Tennessee Fire's "The Bear" and transferring so comfortably into a rare performance of the Chocolate & Ice EP's "Sooner" to leave the crowd in an evident sense of amazement. As the band leaves, James pulls out a version of At Dawn's "Bermuda Highway" that grabs you immediately. It ends on a high note (literally) from James' melodic voice (and there had to be that one guy who screams "You kick ass!"). The EP ends on two intimate performances of the truly shining version of "Golden" and the southern feeling "Hopefully," where James' voice almost cracks off midway, but he pulls it out and makes it sound, well, even better!
By having a compilation of the past to present, this is a great glimpse of what My Morning Jacket is about. Trust me. This is only six bucks and I don't think you can get a better 25 minutes of music anywhere at the moment. You owe it to yourself to make the drive to Ear X-tacy (one of the only carriers of this!) and pick it up before it's too late!
(By the way, according to Cash, you may wind standing next to him at the next MMJ concert. He strongly advises that no one yell out "Freebird," as that person may be promptly slugged.