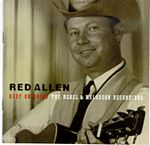 Bluegrass Time Capsule
Keep On Going: The Rebel and Melodeon Recordings (Rebel Records)
Lonesome and Blue: The Complete Country Recordings (Rebel Records)
Red Allen
By Bob Mitchell
I am a sucker for a good historic set of Bluegrass recordings and this is a good duo. Each CD is packaged separately with some of the most interesting and extensive liner notes I've seen. Each CDs booklet is nineteen pages long and contains fabulous photographs. Even before the laser hit the disc, I knew this would be a special project.

Allen, a Kentucky-born singer and guitarist, enjoyed a distinguished career with the Osborne Brothers, worked on New Dominion Barn Dance and also played with the likes of Scotty Stoneman, Frank Wakefield, Bill Emerson, Richard Greene and David Grisman. Today, Allen is recognized at one of the most forceful pioneer voices in Bluegrass. These recordings were made between 1963 and 1967, a time when Allen was at the top of his game.

The recordings are a time capsule that allows us to look back to a time when Bluegrass music was a mere "teen-ager." Keep On Going has 23 tracks (more than 60 minutes worth) and Lonesome and Blue has 25 tracks (70-plus minutes). The sound quality is amazing on both discs. In most instances, Rebel was able to use the original reel-to-reel masters and they took care to capture the highest playback quality on this digitally re-mastered project. Forty years after these songs were taped, they still sound remarkable. A tip of the reviewer's hat for a magnificent job.

And now reviewer's dilemma is kicking in - i.e., so much music, so little space. What can be said in 400 words or less? This: My favorite tracks include a dynamic "I'm On My Way Back To The Old Home" (Bill Monroe), the classic "We Live In Two Different Worlds" (Fred Rose), the poignantly patriotic "Purple Heart" (Curly Seckler), the previously unreleased "Seven Year Blues" (Louvin Brothers), "Send Me Your Address From Heaven" (Bailes Brothers), "I'm Lonesome and Blue" (Flatt & Scruggs), a tenacious version of "Hello City Limits" (Benny Martin), the rocking instrumental "Bluegrass Blues" (David Grisman), "My Baby's Gone," "Are You Waiting Just For Me" (Ernest Tubb) and Allen's title cut, "Keep On Going."

In summary, this dual release is a winner. Find out more at www.rebelrecords.com

.