The Derek Trucks Band
By Martin Z. Kasdan Jr.
As previewed here in December, the Derek Trucks Band (DTB) played Headliners Music Hall on January 29, as well as a WFPK-FM "Live Lunch" performance the following afternoon. These musicians have been together for several years now and it shows in the members' ability to listen to one another and improvise creatively. New member Mike Mattison sings on several of the numbers, showing his influences such as Curtis Mayfield and Nina Simone.
The first set opened with a low-key instrumental, followed by an Allman Brothers Band-style blues. The DTB seemed to hit its stride with a "Louisville-style soul stew," which segued into "I Hear Voices," replete with a bass solo by Todd Smallie. The blues classic "Feel So Bad," a staple on this tour, followed, with Trucks building tension in his slide solo by playing softly over the syncopated rhythm of his bandmates. "Maki Maani," the song based on the Qawwali singing which has inspired Trucks, was next. At fourteen minutes, it nonetheless kept the interest of the audience with a series of solos beginning with Trucks, followed by a flute solo by Kofi Burbridge, which inn turn was followed by a second Trucks solo. He teased out the scale of this piece with slidework beginning in the bass register and moving up to a violin-like climax. The set closed with the title song of the DTB's album Joyful Noise. The DTB took the crowd to church on this, with the smoky funk of the opening giving way to a double-time organ solo by Burbridge. Trucks soloed next, again beginning with the song's laid back groove before escalating into a fast frontal assault reminiscent of the sacred steel romps of Robert Randolph and others.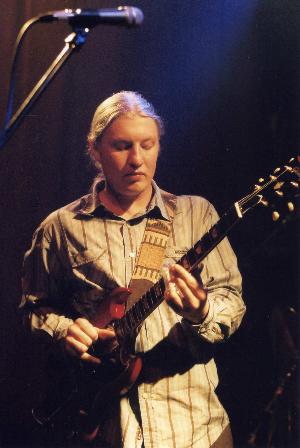 Derek Trucks. Photo by Bill Bench
The second set opened with Son House's humorous "Preachin' Blues" and a new song. Another updated blues, "Leavin' Trunk," and a song "Seeds of Time(?)" were next. Things got serious, then, with a drum solo by Yonrico Scott whose rhythms were then embellished with the incredible flutework of Burbridge. Bassist Smallie and Trucks joined in, with Burbridge switching to organ and the band moving into some serious jazz riffing reminiscent of a speeded-up Jimmy Smith outing. Ultimately the instrumentalists made room for Mattison to rejoin on "For My Brother," with the beat dropping back into an earthier jazzy funk, before the instrumentalists took the song out with a guitar/flute duet and then a guitar solo. Mattison showed off his falsetto chops with a vigorous reading of the title song from the more recently released "Soul Serenade." After a solid hour of high energy music, the band encored with a fast Latin flavored piece (possibly an instrumental version of "Kam-ma-lay"). Trucks broke a string, but that just opened up the music for a keyboard solo by Burbridge, with Trucks rejoining the fray for another solo before the song came back to earth with another flute solo. The DTB sent the crowd home with a well-received version of the immortal Rahsaan Roland Kirk anthem, "Volunteered Slavery."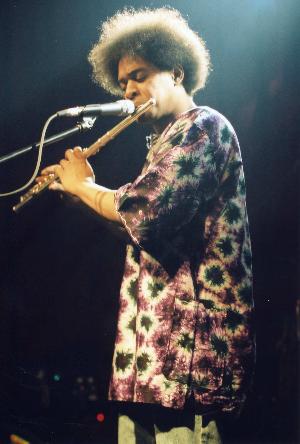 Kofi Burbridge.Photo by Bill Bench

<

The next day, at the Live Lunch performance, the audience gave "Volunteered Slavery" a standing ovation well before the end of the hour-long performance, certainly ironic in light of the loss of jazz on WFPK during accessible hours. Another highlight of the radio broadcast was the unexpected vocal duet on "Move Away From Here" by Trucks' wife, Susan Tedeschi, with DTB singer Mike Mattison.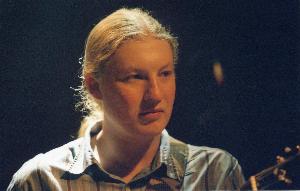 Derek Trucks. Photo by Bill Bench
Throughout both performances, Trucks was impressive for his combination of technical abilities, emotional playing and an almost self-effacing stage presence. His solos are exercises in restraint, without losing the ability to ratchet up the intensity when called for. I had the privilege of interviewing him a couple of weeks before his shows here. He was enjoying time off the road with his family, while looking ahead to tours with his own band and the Allman Brothers Band (ABB). I asked him about how his approach to these bands differed and he replied that with the "legendary" nature of the ABB, he felt like he had to hit his stride immediately, as opposed to his own band, where he could stretch out more and take his time building a solo. Regarding his jazz influences, he commented that with the DTB, he was trying to break down barriers.