I've Got A Mind To Ramble
Jammin' The Blues
Blues jams provide the opportunity for young musicians to get some experience and seasoned musicians to stretch out with friends. There is the element of anything can happen within this unpredictable mix of musicians. The mother of Louisville's blues jams was the Bluesday Tuesday jams during the early 80s at the Rudyard Kipling. Scott Mullins hosted these jams and Curtis (Marlatt) and the Kicks were the house band. I recall Steve Ferguson frequently showed up in his stovepipe hat and a young Screamin' John Hawkins would rip into the strings of his white Fender. During the mid-80s, Air Devils Inn had a jam on Thursdays, when the bikers were swarming. Steve Eilers, John Burgard, Michael Murphy and Mike Lynch jump-started the music which lasted for ten years.
Currently there are two venues that are attracting musicians for the weekly jams. Jolly Mon's Bar and Grill opened two years ago and is located at 6121 Bardstown Road in Fern Creek. It was voted "Louisville's Best Sports Bar" by Louisville Magazine in 2002. The manager, Rick Mitchell, said, "The jams started seven months ago when Mike Lynch suggested the idea to drum up some business on Sunday evenings." Against the spacious backdrop of palm trees painted on block walls, numerous inflatable and neon beer signs and twelve TV's suspended from the high ceiling, you can hear three hours of good blues - with no cover - from 8:30 p.m. to 11:30 p.m.. Mike plays bass, John Burgard is on guitar, Mike Alpers drumming and Denny Thornberry blows harp. This house band, known as River City Blues, will be opening at Stevie Ray's the evening of the KBS Blues Cruise on May 15.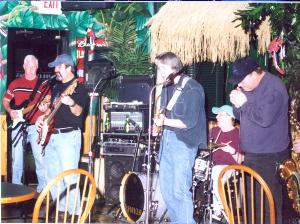 River City Blues @ Jolly Mon's on February 8. Photo By Keith Clements
Other musicians joined in, including Mark Bright on sax. Gary Higdon brought his new band and did the second set. Gary gets a good gritty blues sound out of his guitar. The house band closed out the jam with Mike Ramer on harp and Wayne Harbin on guitar sitting in. Wayne has his own band, The Louisville Blues, which is starting to get some exposure around Louisville. Between the televised basketball games and karaoke, Jolly Mon's is working some blues into their schedule, with MR 2 Blue and Robbie Bartlett performing during February.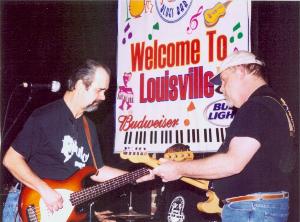 Mike Lynch & Reed Davis at Stevie Ray's on February 10. Photo by Keith Clements
On Tuesday evening, the blues jam moved to Stevie Ray's where it started at 9 p.m.. Stevie Ray's celebrated their 200th jam in January and the night I was there, it was number 204. Mike Lynch was back again with Reed Davis and Gene Wickliffe on guitar and drums. This house band calls themselves Muddy Shoes. Musicians gradually drifted in and signed their names on the clip board at the front of the stage. There were several familiar faces from Jolly Mon's, including Gary Higdon, Mark Bright and Denny Thornberry. Dallas, a guitarist, was the first to join the house band, singing "Born Under a Bad Sign." Then sax man Mark Watson joined Gary Higdon for a brief set. There was a steady flow of musicians the rest of the night. Mike officiated a guitar duel between Reed and Max. Tim did some soulful vocals including "Knock, Knock, Knockin' on Heaven's Door." The jam got a country rock flavor with Larry Manning's vocals and guitar. Steve Hill, a guitar slinger from Canada, came on late to do some solid solos. Mike kept the music going along at a steady pace and filling in with an occasional song. Reed said, "when other national musicians have been in town, they have sat in on the jams, like Anson Funderburg and Kenny Neal." Several new blues bands have gotten their start at these jams, including The Louisville Blues and Cap'n Jive and The Nail Drivin' Five. There was another blues jam the following night at Zena's but I was too bluzed out to do three in four nights.
Blue Moon Blues
The Mudcats will have their new CD, Blue Kentucky Moon, out in March. There will be a low key release party at Stevie Rays on March 12 and 13. Gene Wickliffe, drummer and one of the Mudcats founding members, said, "all the eleven cuts are originals except for the cover of Little Walter's `Little by Little'." Mike Lynch, bassist and singer, resurrected some of Jim Rosen's old songs including "I Wanna Play In Your Big Back Yard" and "Hollywood Smile." If anyone can come close to Jim's carborundum-coarse deep vocals, it's Mike. Rob Pickett adds his voice and incendiary guitar, plus a little help from Rod Wurtele on keyboards. Martha Brewer, Robbie Bartlett and another Mudcat founding member, Sue O-Neil, add background vocals on "Eye Witness News." The recording was done at Jeff Carpenter's Alfresco Place studio. Jeff said "there were tough expectations, since this was the first recording without Jim, the band's heart and soul." The Mudcats haven't recorded since 1998, when they released "Live at Mom's" just after Rosen passed away. Jeff went on to say, "the band has maximized their own sound using a different approach to capture a live feel." The Mudcats have been invited back out to play at the Monterey Blues Festival on June 27. This will be their third appearance. L.A. Groove represented Louisville at last year's festival.
The Lowdown Hoedown
Greg Martin, lead guitarist with The Kentucky Headhunters, asked me about some information on Louisville performers, Cliff Butler and Preacher John Stephens. Greg met Cliff in 1980 and wondered if he was still alive. Cliff died in 1981 after a colorful career as a blues singer, radio DJ and preacher for The House of Truth Church. I plan to interview Cliff's son Lamont and fill both Glen and you in on the details for next month's article.
Preacher Stephens had recorded "Glasgow Kentucky Blues," about Martin's hometown, and he was trying to find a copy so the Headhunters could record their version. Does anyone have this obscure recording? Greg hosts a radio show, "Lowdown Hoedown," each Monday night from 9 p.m. to 12 a.m. on WDNA (D93) in Bowling Green. Greg said, "I play 90% blues with some soul and gospel added for good measure." Listening to a recording of his February 9 program, which was dedicated to pianist Johnnie Johnson, I enjoyed Greg's folksy commentary during the three-hour show. The Kentucky Headhunters were recently written up with several quotes and pictures of Greg in the Fall 2003 issue of Hittin the Note magazine. The article provides an in-depth background on their recent CD, "Soul." Joining these five warriors from the hills of Kentucky on the CD are Johnnie Johnson, Jimmy Hall on harp and Reese Wynans on the B-3 organ. Even though the Headhunters are musically hard to pigeon hole, Greg confessed, "I'm still a country boy who loves the blues."