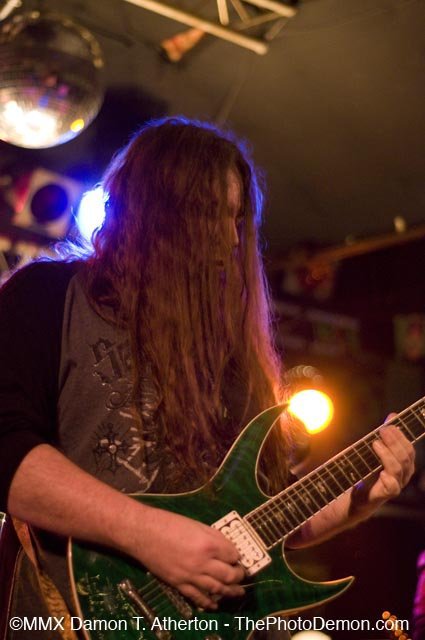 News From the Pit
Hey there you sinful wretches!
Who's ready for the summer? I know I am. This cold-ass weather is killin' a man.
And it's been depressing, bleak and morbid and not to mention there isn't hardly anything going on here recently, other than a few Phoenix Hill and Uncle Pleasants shows, along with the brutal stuff at Pappys. No big national shows.....Bummer. Except Six Feet Under at Headliners (see review in this issue).
It seems this weather depresses us all, because a lot of the bands and couples aren't getting along and breaking up over stupid s**t. One thing that gets on my nerves is guys who are p***ywhipped by their girlfriends. This subject has broken up many a band in this town. It's sad to say but I know guys who really had something cool going, playing their music in front of thousands and they blew it by being lazy and wanting to hang out with their girlfriend or wives. Or was actually threatened by them into quitting.
No real original band will tolerate a lazy member who doesn't show up half the time, nor will they ever accomplish anything jamming once or twice every two weeks.
I once had a girlfriend who wanted me to quit jamming, but I stood my ground and laid down the rules! She left me, lol, but at least I felt a sense of pride and dignity that some of you wussies never display! I have seen an excellent musician leave the scene for a chick, who five years later dumped him for another guy! Five years that he coulda been jamming with a top band. I mean this guy smokes on guitar, playing Randy Rhodes solos to the tee!
What I'm really saying is: Love is great and all, but the world is an evil place festering with mountainous boils of human weakness and deceit and at any time the person you love most could betray you. It happens all too often. Love rarely lasts forever.
I'm not saying we guys are perfect, because we can definitely be weak deceitful dogs too, no disrespect intended.
So be true to yourself, never give up your dream or musical goals, or even jamming for fun! And most importantly, do not let anyone change you from what you really are.
The Metal Grapevine
Date Set For Flaw Release! May 4 is the release date for Flaw's highly anticipated second CD, "Endangered Species." On May 3 at ear X-tacy, there will be a CD release show at midnight. Be there!
Eclectic Earns Spot On A and R Compilation! Eclectic's first single, "Breathe," from the album Tables Turned has been selected for a compilation CD by A&R Worldwide, a talent discovery and development group in Beverly Hills, California. The compilation, titled Unearthed, Vol. 1, is a sampler of independent musical talent from around the world. It is distributed to radio stations and music industry executives worldwide.
"The A&R Worldwide compilation CD is an exciting step in Eclectic's career," said Manager/Producer Doc Smith. "This compilation is going worldwide to major radio programmers, promotions companies, tour managers, film producers, rock media outlets and record labels. It gives us an opportunity to spread this incredible project, Tables Turned, to the masses. Not just anyone is asked to be on such a major project and we are honored that A&R and Mike Savage asked us to contribute."
Eddy: Very cool! Good luck guys! And BTW I think what you guys did for the Cancer Benefit was a very unselfish thing to do. Raising $3000 dollars is no joke, great job!
Factor 9 Alive And Kickin': After a long hiatus, Factor 9 is alive and now playing out again. They are looking for shows, so give them a ring.
Point Of Anger Video Coming! POA was scheduled to film the video for their single, "Abandoned," Saturday, February 21 across the street from The Louisville Slugger Museum. DK Records Promotion Company has already secured airplay on Fuse and MTV Europe and is working on MTV 2. So don't be surprised if you see some of our local boys on the tube one night.
Farewell To Kings Recording Soon: Farewell to Kings will be heading into Canyon Studios in March and April to start work on their new EP. Farewell to Kings will also be filming a " Behind The Scenes" of the recording to be released with the EP on DVD. Be looking for a late spring/early summer release.
New Policy For Original Rock Showcase Series: Dear band members, managers or whomever this may concern.
I have been putting on these shows for four years now and I have decided to make these concerts a non-profit event. Almost every original band knows that you don't make much money playing original music, unless you are signed, then maybe.
Not to mention I have at least four bands on each bill, sometimes five. So instead of having your band getting a small amount of money, the base pay that the bands make will go directly into buying radio airtime promoting our show.
Yes....The Venue already buys radio commercials, but it promotes numerous bands and rarely announces ALL the bands on the Original Rock Showcase bill. They have to cram two weeks of shows on those commercials, so they are very rushed and impersonal. The Original Rock message does not get across, is what I am saying.
Therefore I have made a deal with the Radio Station that I think is pretty damn good. With the help from our sponsors Showcase Musicians Depot and Canyonstudios and with the bands forfeiting their money: each monthly showcase will now receive over a thousand dollars worth of radio commercials!
Before I made this deal, we only bought $420 worth of radio ads at the most in a month and since we lost Jay's Needful Things as a sponsor, we have only been buying $280. But now, since I made this deal, the bands will receive exposure big time. We are now getting Howard Stern radio spots on the Thursday and Friday of the show. This is something we've never been able to afford.
And because the bands and sponsors are putting in together, I have made it so we get about an additional $300 worth for absolutely free! In other words for $780 we get $1080 worth of commercials. Now there will be no squabbling over the splitting of the money, or complaining of lack of, because the money goes back into exposing the bands name.
Are you in?
No disrespect, but anyone who does not wish to forfeit their money to the Original Rock Showcase cause does not have to play these shows again. Also, anyone who doubts my word may call the radio station and get proof of the radio ad purchases, I have nothing to hide. Ask and you shall receive...
So you get tons of commercials with your music on it, including several Howard Stern spots, a newspaper ad in LMN (which I purchase myself) and get to jam at the Hill on a Friday night. I don't think you bands are giving up too much. The bands make out like bandits on the exposure and it saves me a lot of hassle, so we all win! I look forward to working with you all. Eddy Metal
New Band Alert, Sternum: I would like to announce that Sternum is now finishing up pre-production and is about to record at DemoKing, so be looking for the eight-song CD and some shows sometimes in late March or early April. Sternum plays moderately heavy rock featuring ex-members of From Within, Rampant and Point Of Anger. More info coming soon.
The Verdict: I recently got to see a new band called Hollow and I must say I am pretty impressed. They looked very young, but you couldn't tell that by their playing.
The vocalist has a great voice, both singing and screaming, kind of a `best of both worlds,' which is what I dig. And the band was skilled as well. Hollow plays semi-brutal stuff with a tinge of melody here and there.
Check them out if you get the chance!
The Verdict: The new band Sane Anonymous is damn good! The vocals are a cross between Accept's Udo Dirkschneider, Motorhead's Lemmy Kilminster and AC/DC's razor-voiced Bryan Johnson. The grooves are kinda bluesy, old-school metal with some catchy riffs! The guitarist rips! This self proclaimed "ugliest band in Louisville" kicks butt and I look forward to seeing them again.
Upcoming Shows
Expo 5
Saturday March 20 Dope, MSD, Flatlyne and Doubting The Obvious.
Kelly's
Friday March 19 7DaySunday
Saturday March 20 7DaySunday
Pappys
Thursday March 4 Remembering Never, On Broken Wings and Calico System.
Saturday March 6 One With misery, Incursion502 and 2 bands T.B.A.
Friday March 12 Cosmonaut, The Tony Danza Tap dance Extraveganza (TN), Wings Of Scarlett (WI).
Saturday March 13 Scapegrace, Vilejive (Bowling Green), Engrind, Blyss and Among The Fallen.
Friday March 19 Among The fallen, Straight line Stitch and 1 band T.B.A.
Saturday March 20 Fremen, Valpurgus and 1 band T.B.A.
Saturday March 27 Odesa CD release show with Arch, Kallus, Boozer and Gasket.
Phoenix Hill Tavern
The Original Rock Showcase Series.
On the first Friday of every month in the Roof Garden.
Friday March 5 Eclectic, My Own Victim, Evil Engine # 9 and 7DaySunday
Friday April 2 High Road Crown, Pilot Fish, Fail To Falter, Silent Q and Violenza. 8 P.M.
Rudyard Kipling
Tuesday March 9 Absence Of Faith.
Friday March 12 7daySunday
Uncle Pleasants
Props Of The Month
This month goes out to the guys in Factor 9. This is a band that is dedicated and does not give up, even through numerous lineup changes. A lot of people would have given up and sought another band, but the determination is there and I respect that. Not to mention they have the coolest local music website and messageboard in town.
So keep up the good work and keep being a good example to us other bands that one or two little disagreements doesn't necessarily mean the end of a band.