Peace in the Jones CD-Release Party
Headliners: still intact
Manna and the Devils hits the street
By David Lilly
Who occupied the crowd before the Peace in the Jones CD-release party got started? That's right...The Who (the original four). Headliners put them on the screen at the back of the stage while 40 or 50 of us waited for something local and current, like Slackshop, Digby or those Peace in the Jones boys.
Suddenly, from the foggy darkness of the stage, four guys called Slackshop appeared, plugged in their instruments and did their thing. Their repertoire answered the ancient question: is it possible to rock out and still sound relaxed or at ease? It sure is. Their music sounded like a cup of hot rock-n-roll chocolate on a frigid night. Good for dancing (though 9:30 or 10 p.m. was apparently too early for that); good for inspiring perseverance; and great music for watching the daily activities of insects, which fascinated some of "us," on the big screen.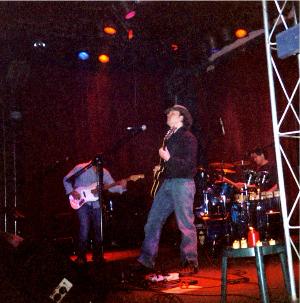 Peace In the Jones. Photo by David Lilly
When Slackshop finished, it seemed like only a few minutes later that Digby was setting up their equipment and tuning. I was intensely grateful when "Wacky Tobaccy" (on the house sound system) was cut short so Digby could play. Heartbeat drumming, wind-chimes keyboards and throbbing bass got Digby off to an exciting start. By the middle of their second song I was thinking, "these guys are too big for this place;" "this place" being the operative and ambiguous phrase. Digby's music can be your alarm clock, your caffeine, or your weekend at any time. And yet, they also exhibited a quiet side with a slow and solemn number or two. Paul Moeller is a top notch singer and front man who excels regardless of what the band plays.
In a nutshell, Digby answered the question of whether radio-ready rock music can still be any good. Their answer onstage at Headliners was definitely yes.
I would not want to belong to any band that has to follow Digby onstage, but we've arrived at the main reason for the evening. Peace in the Jones, whose Manna and the Devils 6-song EP officially hit the streets January 30, set up, lit their candles and took a few quiet moments backstage before playing.
Then Jones gang returned. As if in a rock-n-roll relay race, they picked up where Digby left off, carrying the torch in their own excited, funked-up way. They opened their set with the rhythmic rumbling boogie of, "Balancing," the song from whose lyrics they've drawn the title of their new CD. Kirk Whitehouse's lead vocals ride on and punctuate the band's music in a perfect fit enhanced by his energy and sheer passion for what he's doing. When he sings with guitarist Tommy Sturgeon and drummer Mike Loscalzo, the harmonies are like a sound coming through them from some other realm, rather than from them. These harmonies were showcased in a delicious Jones-ified cover of Bob Dylan's "When I Paint My Masterpiece." If I know Bob (and I don't), I bet he would really dig what PitJ does with that song.
For the most part, PitJ rocks out. They do, however, have a quiet side. This they put on public display for what Whitehouse called a homage to their roots. It included three beautifully played acoustic songs, after which the rocking resumed.
Whitehouse is the onstage spokesman for the band, communicating verbally with the audience like a friend. Sturgeon is the Angus Young of PitJ, his body constantly in motion, exuding energy and nonverbally communicating as he plays, reveling in the moment.